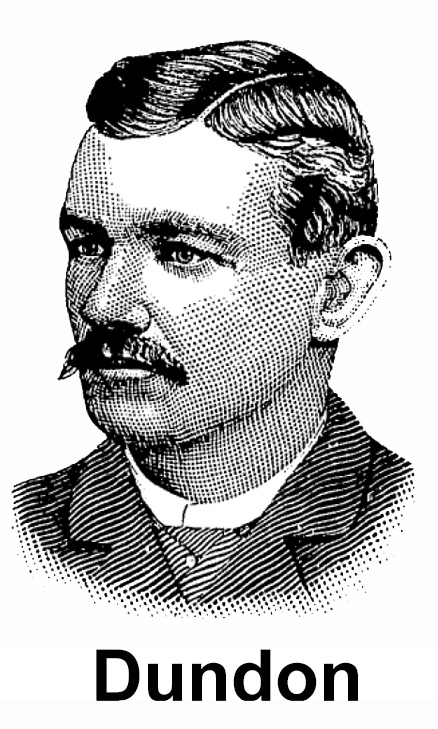 Finishing in third place in the inaugural Southern League season in 1885, Nashville manager Walt Goldsby carried over players Norm Baker, Ollie Beard, Tony Hellman, James Hillery, Lefty Marr, Len Sowders, and Billy Taylor into the second season. He picked up former major leaguers Ed Dundon, Billy O'Brien, and George McVey to form the nucleus of the "Americans" to begin the 1886 season.
Nashville Builds a Team
O'Brien's career began with the St. Paul White Caps and Kansas City Cowboys in the unsuccessful Union Association in 1884 before spending part of the 1885 season with Memphis. McVey had previously played for Chillicothe in 1884 and Brooklyn and Atlanta in 1885.
O'Brien, a first baseman, played the entire season with Nashville and in between various stops over the next six years, he returned to play another season with the Nashville Tigers in 1893. His baseball career ended in 1896. McVey, a catcher, was released by Goldsby in May and he signed with Chattanooga. He retired after the 1895 season, his twelfth in organized baseball.
Born Deaf
Dundon's story is different in more ways than one. Born deaf in 1859, he attended the Ohio Institute for the Education of the Deaf and Dumb in Columbus and was a pitcher for the school's baseball team. At the age of 24, the right-handed pitcher, who stood 6'0″ tall and weighed 170 pounds, joined the Columbus Buckeyes of the American Association and was 3-16 for the 1883 season. He returned to the Buckeyes in 1884 and had a 6-4 record. In 1885, he was 21-12 with a 1.44 ERA and 205 strikeouts for Atlanta in the new Southern League, helping to lead the Atlantans to the pennant.
Not to be Fooled
On March 22, a cool day in Nashville, the Americans won, 13-6, in exhibition win over Pittsburgh of the American Association. Dundon scattered seven hits and struck out 15. During the game a controversial play allowed Alleghany centerfielder Fred Mann to take first base, and as the Nashville infielders gathered near home plate to make their plea to the umpire, Mann took off for second as Dundon's back was to the field of play.
If Mann thought Dundon's affliction was something to take advantage of, he was sorely wrong, as the Nashville pitcher was holding the ball while keeping a keen eye on him, unbeknownst to the gutsy runner. Before Mann had gone a third of the way to second, Dundon turned and threw him out.
It is likely that Dundon had seen the deception before and was aware of an opposing player attempting to exploit his inability to hear his teammates or even the crowd. The spectators, nearly 1,000 in number, gave him a rousing cheer from the grandstand.[1]
Gift From the Ladies
It was not going to be a successful year for either Dundon or the Nashville club that season, but one of his highlights happened in Charleston, South Carolina, on May 1. In front of 5,000 fans, the opposition accumulated only seven hits and three runs, but his teammates only garnered six hits and scored 2 runs in Nashville's loss. However, the handsome Dundon was presented with a gift from a group of Charleston ladies, a large floral pyramid.[2]
He finished the season with a record of 13-15 and Nashville finished in third place for the second year in a row.
Career in Decline
The next year, he hurt his arm playing with Syracuse, playing sparingly, and was 13-5 for the 1887 season. He had begun to battle alcohol addiction and was often suspended.
In 1889 he joined Evansville in the Central Interstate League, and with a record of 14-8 things went downhill for him as he was fined and suspended for intoxication and insubordination and he retired from baseball.
Death from Alcohol Addiction
The battles he fought with alcohol were at the opposite end of the spectrum from his ability to overcome his deafness with savvy. On August 18, 1893, he died from consumption and was buried at Calvary Cemetery in Columbus.
---
Author's note: In addition to the sources listed below, Ed Dundon's biography by Brian McKenna was referred to, published on the sabr.org (Society for American Baseball Research) website as part of SABR's Bio-project, retrieved March 22, 2022: https://sabr.org/bioproj/person/ed-dundon/
Sources
Baseball-reference.com
Newspapers.com
Sabr.org
Notes
[1] "Slugging With a Vengeance," The Daily American, March 23, 1886, 5.
[2] "Another Off Day," The Daily American, May 2, 1886, 4.
© 2022 by Skip Nipper. All Rights Reserved.