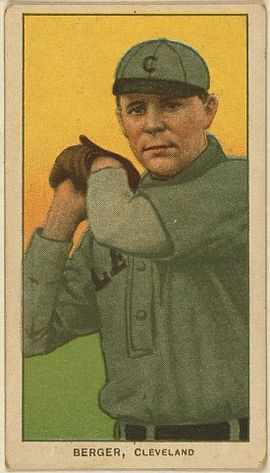 Heinie Berger, spitball pitcher for Nashville in 1914 (20-17) and 1915 (12-7), is born in LaSalle, Illinois, on this day, January 7, in 1882. After his 1915 season with the Vols, Berger retired from baseball.
The 5'9" right hander previously pitched for Cleveland in the American League from 1907-1910, where he had a cumulative major league record of 32-29 with a 2.60 ERA.
On September 16, 1907, Berger tossed a one-hitter against the New York Highlanders.
He passed away on February 10, 1954, at Lakewood, Ohio. At the time of his death he was a shipping clerk at the Bing Furniture Company. He died from a heart attack at his home and is buried at Lake View Cemetery, Cuyahoga County, Ohio.
Sources
Baseball-reference.com
Nashville Banner
Nashville Tennessean
Newspapers.com
© 2023 by Skip Nipper. All Rights Reserved.