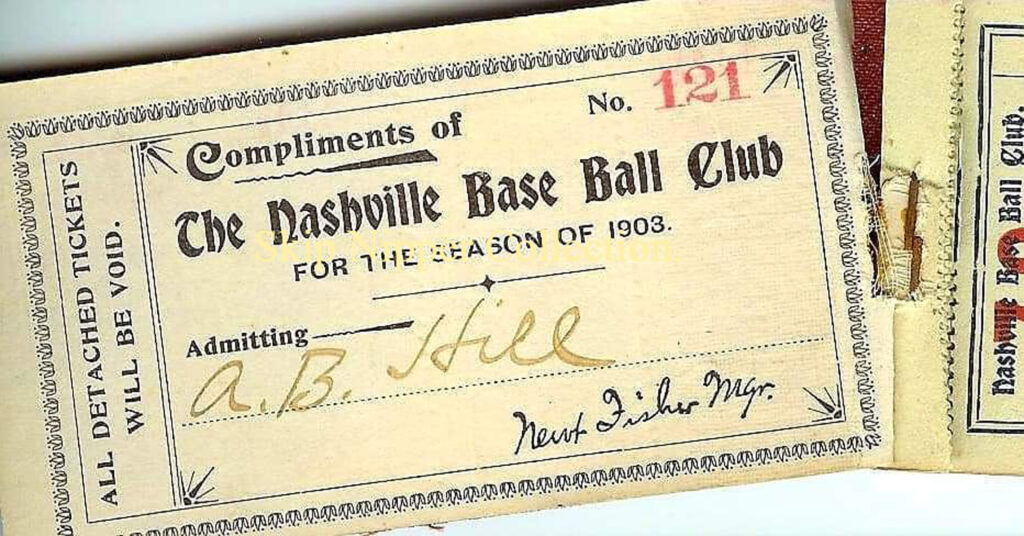 Building a memorabilia collection is a terrific way to reflect on the past. I have been fortunate to build a small collection, either by trade, purchase or gift, and am always looking for that special item. I have my eye out for Nashville Vols, Nashville Elite Giants, or anything else that correlates to Sulphur Dell, but the pickings are getting pretty slim.
1903 Season Ticket Booklet
My most prized possession is a 1903 season ticket booklet for the Nashville Baseball Club. Inside there are four remaining tickets. I have not seen another like it, at least not for Nashville. There are others out there for other teams, I am sure.
Photographs are much easier to collect, especially from internet images, as sometimes it just takes the energy to "right-click, save to" with one's mouse. One must be careful to not illegally publish something that is copyrighted.
Autographed Balls and Bats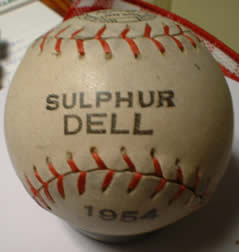 Signed baseballs and bats, programs and other ephemera, and souvenirs are not quite as accessible, but they can be found with a bit of research and diligence.
A collection is never complete, either. I have been able to collect Nashville Vols programs from 1938 through 1963, for example, but am open to any program that is of better quality than the one in my possession. Autographed programs, scored or unscored, are all considerations to make my collection better.
Just be aware of those who may be offering an item that is counterfeit or stolen. Especially difficult to spot are fake autographs, so be wary. There are unscrupulous collectors out there, too.
The problem is one of trust. I have read that Mickey Mantle would often let the clubhouse boy, the one who shined Mantle's shoes, autograph baseballs and other items for him. To many, that detracts from the value of a Mantle ball in someone's possession. The same is said of Shoeless Joe Jackson, who was unable to formally read or write.
However, if my dad had given me a ball he said was signed by Mickey Mantle, then it was a Mickey Mantle-signed baseball. I trust him and the value he gave to things.
Baseball Cards and Other Items
Baseball cards are relatively easy to accumulate. I have collected cards of players who have a connection to Nashville baseball, and by keying in on that area has kept my collection simple and uncluttered with cards that have no meaning. That's not to say I would pass up on an opportunity to purchase the right card at the right price, but scrutinizing the cost is always at the forefront of any purchase.

Jerseys, pennants, miniature bats, mini-baseballs, lapel pins, and baseball banks are other items in my collection. I will be sharing images of those items in later blog entries.
Have Fun Collecting
In the meantime, I encourage anyone to find a subject of interest, filter through yard sales, flea markets and on-line auctions, and key in on items of interest. They do not always have to have a monetary value, either, and small items are easily archived when larger ones are not.
Your very first consideration: determine your budget and stick to it.
If you have an item that you would like for me to see, whether you wish to sell it or not, I would be happy to take a look. If I can give you personal assistance in valuing an item, feel free to let me know about that. Mostly I would hope that you would find collecting as enjoyable as I do.
As far as baseball goes, collecting is another way to "Enjoy the Game."
© 2023 by Skip Nipper. All Rights Reserved.