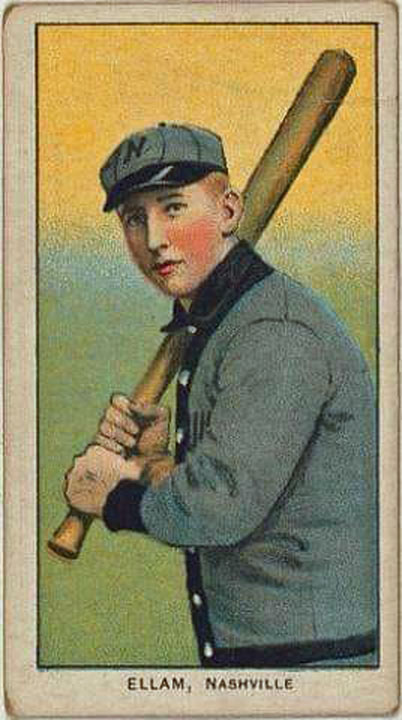 Roy Ellam, player-manager of the Nashville Vols for five seasons, including a championship in 1916, was dismissed from his duties on October 5, 1920. An outstanding defensive infielder, he was an average batter.
He held several fielding records, mostly during his career with Birmingham. Most notably, he played in 161 games in 1915 for the Barons and handled 573 assists, both Southern Association records for one season. He holds the lifetime fielding record for shortstops for most putouts, 3,709, most assists, 5,143, and most chances, 8,842. He also played in 1378 games.[1]
His overall managing record in Nashville was 312 wins against 339 losses, never finishing higher than fifth place after his first season in 1916. Ellam stated from his home in Conshohocken, Pennsylvania, "I understand they charge me with not getting results."[2]
His managing career continued the next season 1921 with Galveston in the Texas League, with later stops in Lakeland, St. Augustine, and Tampa in Florida. He ended his professional career in 1929 and 1930 as manager of the Montgomery Lions. A pipefitter by trade, Ellam was stuck by a falling 150-lb. weight while working on the fire escape of the Knights of Pythias club in Conshohocken and died on October 28, 1948.
Conshohocken is a small borough of approximately one square mile in suburban Philadelphia, located on the Schuylkill River, and a manufacturing and industrial mill town. First settled around 1920, it was named from an Algonquian language spoken by the Lenape people, and means, "pleasant valley."
Ellam's mother, Ellen, and father, George, were both born in England, and made the pilgrimage to the United States where George found work in a woolen mill while Ellen stayed home to raise their children.
The 1910 Federal Census lists his mother as head of household, along with Roy's sisters Susie and Edith. Susie, 12 years older than Roy, was a weaver. Edith was six years younger than Roy, and he had two brothers, Irvin, a wool sorter in a woolen mill, and Harry, a machinist in one of the local shops.
Sadly, on October 28, 1948, Ellam was stuck by a falling 150-lb. weight while working on the fire escape of the Knights of Pythias club on Second and Harry Streets in Conshohocken. His death certificate describes his injuries as "Bruises on L side neck, L. shoulder,' and the immediate cause of due to a broken neck.[3]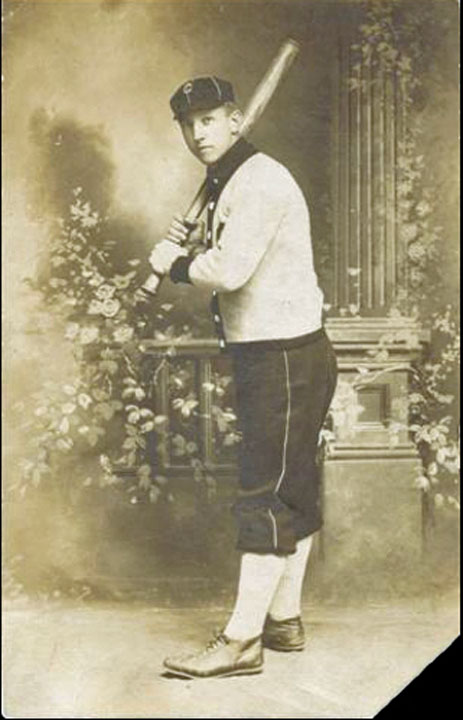 The image of his baseball card is #163 from the 1909 T206 White Borders Old Mill card set. A complete set in this series has a value of as much as $500,000, and Ellam's card often fetches close to $1,000 depending on condition.
The card was produced from an image of Ellam playing for a team in Connellsville, Pennsylvania, and as often happens an artist changes imagery to match the card being produced. The "C" on Ellam's cap was changed to an "N" for Nashville. But here is the curious part: In 1909, Ellam was in Birmingham, not Nashville.
It would be seven years later before Ellam joined the Nashville club.
Was it an artist's stroke of luck, a simple mistake, or did the artist just guess where Ellam was to spend the 1909 season? If you own one of these cards, you certainly have something of value, but not as an "error" card such as collectors seek out from time to time. But Ellam's 1909 offers a value of curiosity, doesn't it?
Sources
1910 Federal Census
Ancestry.com
Baseball-reference.com
Findagrave.com
Newspapers.com
Nashville Banner
Nashville Tennessean
Net54baseball.com
Library of Congress, Source Collection, Baseball cards from the Benjamin K. Edwards Collection
The Sporting News Baseball Players Contract Cards Collection
Notes
[1] Raymond Johnson, "One Man's Opinion" Column, Nashville Tennessean, March 9, 1948, 16.
[2] Blinkey Horn, "Roy Ellam is Dismissed As Leader of the Vols," Nashville Tennessean, October 6, 1920, 8.
[3] "Roy Ellam, Former Ball Player, Killed," Hanover Evening Sun, October 29, 1948, 14.
© 2023 by Skip Nipper. All Rights Reserved.