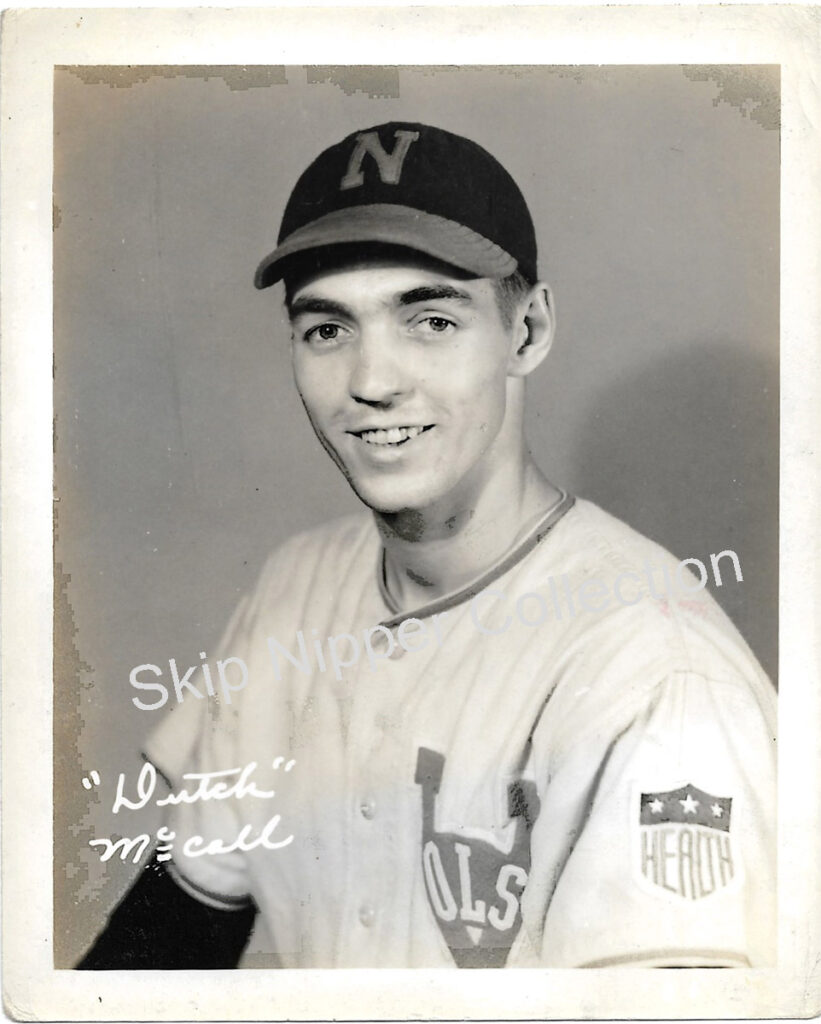 Nashville was hopeful for July 19 to be pivotal in their quest for a second pennant in three years in 1942. It was the beginning of a 10-day home stand at Sulphur Dell, and though the ball club would finish four-and-a-half games behind Little Rock at season's end, the Vols' wish came true on this day by winning both games over Birmingham.
Home Run Duel
The first game was a slugfest. According to Nashville Banner sportswriter, Fred Russell, it was a duel of home runs.
"(Nashville pitcher) Chief Vallie Eaves seemed to have plenty of stuff but could not keep his fence ball out of there and before retiring in the fourth had been belted for two homers by Mike Dejan, another by Lonnie Goldstein and successive doubles by Matuzak, Gamble and Conway that accounted for six runs. Malone was touched for four hits and two runs in the fifth as the Barons seemed headed for an easy win."[1]
Eaves was lifted in the fourth after giving up eight hits and six runs, including three home runs, in only three innings. Manager Larry Gilbert called on reliever Pat Malone with the Vols down by a 6-0 score.
Nashville Comes Back
In the bottom of the fourth, Nashville began a comeback.
"Gus Dugas' sixteenth homer of the season after English had singled gave the Vols two in the fourth. Then English lifted a 3-2 pitch over the leftfield palings with two on in the fifth to make the count 8-5, which it remained entering the last of the eighth. Here Matuzak developed a rare streak of wildness which enable the Gilbertmen to rally for six runs." [2]
Lefty Charlie Gassaway pitched in the ninth, giving up two runs before quelling a Barons comeback, and the game ended with Nashville ahead, 11-10.
McCall Wins Second Game
Dutch McCall, from nearby Columbia, Tennessee, was called on to start the second game. It was a scheduled seven-inning affair. In his previous start, McCall allowed only three Memphis hits in a 1-0 whitewash of the Chicks, also at Nashville's home ballpark. The last time a Nashville pitcher tossed two shutouts in the same season at Sulphur Dell was Ace Adams in 1940.
Two major league scouts were in attendance to see McCall's performance and watch slugging center fielder Charley Workman. He had only one hit but led the Southern Association with eighteen home runs.[3]
In the fourth inning, Vols left fielder Cal Chapman barely missed snagging a long fly ball by Baron's centerfielder Clyde Volmer. The miscue nullified McCall's potential second straight shutout. McCall allowed only four singles.
Mike Schultz limited the Vols to four runs before being lifted after 5 1/3 innings when Nashville scored six in the sixth. Bob Malloy finished the game for Birmingham as Nashville won, 10-1.
Dugas, English, and Brewster Starred
Gus Dugas, who had his 16th homer in the opener, drove in two runs in each game. He increased his RBI total to ninety-five, and Charley English added eight to finish with 88 RBI. He had three singles, two doubles, and a home run to accomplish his brilliant performance.
In the two games, shortstop Charlie Brewster started three double plays. The highlight play was in the nightcap when he nabbed a drive over second and flipped the ball behind his back to second baseman Johnny Mihalic for a force out. In the first game, Mihalic had nine chances and six putout. Brewster contributed five hits on the day.
With two wins against the Barons, Nashville closed to within ½ game of Little Rock and Atlanta, who were tied for first place in league standings, but the Vols would finish the ten-game homestand with only six wins against four losses.
Sources
Baseball.reference
Nashville Banner
Nashville Tennessean
Newspapers.com
Retrosheet.org
Sabr.org
Wright, Marshal D., The Southern Association in Baseball 1885-1961 (2002; McFarland & Co., North Carolina, and London)
Notes
---
[1] Fred Russell, "Dellers Only .008 Points Out of First," Nashville Banner, July 20, 1942, 10.
[2] Ibid.
[3] [3] Raymond Johnson, "Vols Closer to Rim Than Any Time Since April 10, One Man's Opinion column, Nashville Tennessean, July 20, 1942, 9.
© 2023 by Skip Nipper. All Rights Reserved.