December 25, 2020
Baseball is Paradise
This is a work of fiction based on historical fact. Events occurred in the summer of 1913 in east Nashville, downtown, and at Sulphur Dell, and is researched for historical perspective and clarity.
Stephen McCall and his best friends, Bud Lee and Jonas Hart, grew up playing baseball from sunup to sundown every day of the week except Sunday. That was the day they attended the Baptist church at the top of the hill from their east Nashville neighborhood, First Baptist Church on Main Street, and their parents would not allow the youngsters to pursue their favorite frivolity on the Sabbath.
That is, not allowed to play. But watching was a whole other story.
When church was over, and their families gathered for Sunday dinner, the boys would gush with joy when one of their daddies said they would be crossing the river to Sulphur Dell to see the "big-boys" play. The professional team, the Nashville Baseball Club, was white – and Stephen's hero was one of the pitchers, Charlie Case, a 6'0″, 170-pound right-hander.
Stephen's love for baseball was anchored into his life when, in 1902, 13-year-old pals Bud and Jonas organized their neighborhood baseball team. Naming it for the location of the church they attended, the "Baptist Hill" team was born. It was a full-fledged team, too, with intentions of playing any local team who would take them on. But the team needed a name other teams would identify them with, something that gave them extra style, and Bud suggested "Swifts." In proper order, Stephen seconded the motion when Jonas agreed to it. They thought the name captured perfectly how their squad was going to play.
The Baptist Hill "Swifts" were born, and Stephen was destined to become the star player.
Neighborhood teams had no place to play other than sandlots around the community. Fields were often left littered with rubber tires, broken glass, and trash, so extra time was needed to get the area in playing order. It was a routine exercise that made for a minor delay before starting a game, but they went on with a circus announcer's enthusiasm.
Through his schoolboy years and into early manhood, Stephen would play throughout the heat of summer into the coolness of fall, still exiled to fields across the city. By the age of 20, he spent his mornings as a bootblack, shining shoes at Cheatham & Bibb's barbershop, but most days, he'd scurry off across the river and home once Mr. Bibb returned to work after his 3 o'clock nap.
The barbershop was a transforming place: gossip from all over the city permeated the conversations between customers and barbers. Stephen would gather newspapers and magazines left behind when he wasn't busy, stopping for a moment or two, turning the pages as quickly as he could to read any news about baseball in the east. Sometimes travelers told their stories about the Giants and Yankees, and he would listen intently to them as he fingered his shoe polish and popped his cloth on their black or brown boots or brushed their hats.
Soon he had something more important to tend. After a long courtship that lasted three years, he and the new love of his life, Miss Lettie Bush, were married in a lovely ceremony on the evening of Thursday, February 20, 1913, at the bride's home on Ramsey Street. It was to have been the beginning of an exciting time for them, for Lettie was with child and due to deliver in August.
Stephen moved in with Lettie's family. Awaiting their child's arrival was one thing, but Stephen kept working and playing his baseball games, intently honing his pitching skills to match his hero. He always was sure he left his chewing tobacco pouch stuffed in a hole in the garden wall behind the house. Mr. Bush would not allow vices such as alcohol or tobacco in his place.
Then there were those Sunday afternoons when the professionals were in town to play. Stephen expanded his love for baseball by heading to Sulphur Dell, mostly when Nashville's biggest rivals, Memphis and Chattanooga, were in town. The walk from work to the ballpark was nearly a mile, but he would make the distance in 15 minutes as he crossed curb to curb, always listening for the 15-cents jingling away in his pocket as he danced down the sidewalk to make the 3:30 game.
Not every time, but often when he went to the ballpark over the past few years, his idol Charlie Case was the starting pitcher. Case could sure make pitching look effortless for the rag-tag bunch known as the "Volunteers," with a pitching style learned from teammates during his 10-year career as a pro. He lost as many games as he won, but Stephen still loved him.
Once while warming up before a game, Case noticed Stephen staring at him intently from the Negro bleachers, focusing on Case's motions. Stephen loved his movements during the game: toeing the rubber, leaning forward with his gloved hand on his knee, raising straight up and showing the batter the massive wad of tobacco in his cheek, then rearing back with a high kick of his left foot, bringing the ball over his shoulder with a whirlwind pitch that sped towards the hitter — and gripping the ball with two fingers, across the seam.
Stephen saw him and leaned forward over the railing and turned his head so the Vols pitcher could see his own wad of tobacco. When Case held up two fingers, the ones he used to grip his fastball across the seams, touched them to his lips and kissed them to leave a little tobacco juice, the young colored boy knew he was signaling him to throw fastballs but put everything he could on them. Including tobacco spit.
That sealed it: Case was Stephen's hero, and from then on, he patterned his throwing style on the old pro.
One day a man came into the barbershop, stepped up into the shoeshine chair, and waited for a shine. Stephen was looking down at his newspaper, reading the news about Preston Taylor, who owned Greenwood Park and how he would build a grandstand there to further the sparked interest in baseball. If he did, the Negro community would have a new place to play ball.
"Yes sir, you've got it," he told the man as Stephen folded his newspaper neatly and laid it aside. "How are you today?"
"Fine, just fine," the man said. "It's a hot 'un, ain't it?"
"You can say that again," he answered, before looking up to see the face of Charlie Case, his hero. Stephen hesitated for an instant, just long enough for Case to notice.
"Something wrong, son?"
"Why, you're Mr. Charlie Case. You pitch for the Vols."
"I'm not sure Mr. Schwartz would call it "pitch," more like "lob it up there and see how far they can hit it. That would be more like it the way I've been throwing these days."
Stephen knew manager Bill Schwartz rode his players hard because his booming voice carried from the Vols dugout down the third baseline, over the left-field fence next to the Negro bleachers, and across Jefferson Street two blocks away.
"I sure do like to watch you pitch, no matter what Mr. Schwartz says," Stephen told him. "I pitch, too, and play second base, sometimes shortstop, for our team."
"I tell you what, son. Come to the game early today, knock on the clubhouse door, and tell Rubber to let me know you are there. I'll show you a few more pitching grips."
Stephen knew who Rubber was, a cousin who given his name because he gave the best after-game rubdowns, especially to pitchers expected to pitch a full nine innings per game.
The gangly McCall jaunted his way to the ballpark as quickly as he had ever done before. Knocking on the clubhouse door, Rubber met him and pointed to Case's locker.
"Hey, Mac, grab my other glove and let's head out to the field," said the pitcher. They moved through a low door where Stephen could see how vast the playing surface looked.
"Over here," said Case, walking to the pitcher's mound on the third-base side in foul territory. "Hey, Frank, put your gear on and catch a few, would ya'?"
Frank Gibson was the team's catcher for the time being but could play first base and the outfield, too. He had already appeared in four games for the Detroit Tigers that year and was as grumpy as a groundhog on Day One of the hunting season.
"Chuck," Gibson said. "He's black. I ain't getting' my gear on for him. For you, yes, but not as long as he's around down here on the field.
"Hold this," Case told Steven, handing him a baseball. Case ran right over to Gibson, let loose a wad of tobacco juice on his fist, then planted a whirling haymaker squarely on Gibson's nose. Big Frank, all 170 pounds of him, lay sprawled next to the dugout with a spit-stain on his beak. Some of the players whistled, and some of them let out a guffaw or two. Not one said anything to Case.
"C'mon, man, let me show you a few grips," said Case.
Stunned with the one-sided fiasco, Stephen spent the next hour listening, hearing, and studying the old pro's pitching prowess. He would never forget it.
After shaking hands to leave, Stephen said he had one question.
"Shoot," Case said.
"This may be a little unusual, but I don't have anything to give you in return for showing me the things you did. Can I give you this? Stephen asked.
He placed the ball they had been throwing in Case's big hand. As the pro turned it over and looked at it, he saw that his protégé had signed it with a grease pencil.
"I need to get home before sunset, here, keep this until we meet again to talk more baseball," said Stephen. "But be careful, don't smear it!"
As Stephen walked back to the side fence entrance near the Negro bleachers, he turned to his silent mentor and yelled, "Playing ball is like being in Paradise, ain't it, Mr. Case?"
With a nod, Case turned toward the dugout, stepping over Frank Gibson, still sprawled out in a coma.
There were rumors that a new colored league was soon to be formed, and if it came about, that was where Stephen wanted his team to play. The competition would be rigid, but he knew he could produce a winner by recruiting the city's best players. He hoped he could draw the best ones to the Swifts.
In the Swifts' first game of the season in a vacant lot on Bienville Street where he once lived, against the Trimble Bottom ball team from across the river, Stephen developed a blister on the index finger on his throwing hand. It became infected in the days ahead, meaning he would not pitch for the next few months, relegated to the infield. Even holding a bat was hard, but the disappointment of not pitching was enough for him, and he decided he'd fight through the pain instead of giving up playing.
He also decided he would no longer manage the team. Lettie insisted he come straight home from practices and games, so there was no time left to evaluate the players preparing for the next contest. He turned the responsibility to his friend, Marshall Garrett. Now Stephen could concentrate solely on his batting and fielding.
The May 2 edition of the Nashville Globe finally confirmed the formation of a new league.
"Wednesday night at the Nashville Globe office, the Capital City Baseball League was organized, consisting of amateur teams in the city. The following teams were represented: A. M. E. Sunday-School Union, Ira T. Bryant president, W. H. Shackelford manager; Southern Stars, R. W. Abernathy president, E. W. Littlefield manager; N. & C. Stars, W. M. Gordon president, Sam Ellison manager; Nashville Globe, J. B. Boy president, L. K. Thomas manager. Black Sox, W. M. Miller president, S. M. Moorman manager; Athletics, J. E. Johnson president, E. L. Whittaker manager; Baptist Hill Swifts, Stephen McCall president; Marshall Garrett manager. The Y. M. C. A. team is being organized to make the eight clubs."
In the meantime, Charlie Case was having a tough year. Dealing with injuries, by May 6, he had made five starts and failed to win any of them. In New Orleans on May 10, he suffered a complete-game loss, 4-1. He scattered 12 Pelican hits, but his teammates only had three, and it was sure he would not be with the Nashville club much longer.
On May 13, manager Schwartz sent a telegraph to Nashville president Clyde Shropshire that when the team left Montgomery in a few days, it was leaving Case with the Rebels. On May 17, Case faced his old team and was knocked out of the box after the first inning by giving up two runs on two hits, a sacrifice, and a single. It was a tough start to finish out a long season.
Opening day for the new Capital City League was May 17, and the schedule would consist of seven games, each team playing the other once. Stephen had put his team together just in Case the league came about, and they were ready for a championship run. His roster included Garrett, Sam Coleman, Hayes Kidd, Tom Baker, Joe Johnson, T. H. Allison, G. Brannon, Ed McCrow, Ferris Boyd, and Joe Washington 15-year-old brother Walter, himself, and a young man known as "Sweeny."
The Swifts opened their season on Monday, May 21, against the Southern Stars and lost, 8-7. Stephen had a double and single to drive in five runs and stole two bases. Playing second base, he made one throwing error to third but otherwise fielded flawlessly.
The game scheduled for May 28 against the N. & C. Stars was rained out, so the clubs played on June 2 when the Swifts lost to the Y. M. C. A. team, 11-6. Once again, Stephen led the way with a double and a triple to drive in three runs and added two more stolen bases.
On June 9, it appeared the Swifts were going to turn the corner but lost when Nashville Globe score two runs in the top of the eighth, 5-4. Stephen hit two doubles, stole two more bases, and scored two runs.
Despite three losses to begin the season, the Swifts proved their offensive potential by being second in the league with a .288 team batting average. Steve was quickly becoming one of the stars, batting .488 with seven of the team's 22 hits and all five extra-base hits.
Announcement from the league's directors that doubleheaders would take place at Sulphur Dell when the professionals were out of town got everyone excited. The first was to take place on Monday, June 16, with Y. M. C. A. taking on the Black Sox in the first game at 2:30 P.M. and the second game at 4:00 between the Globe and A. M. E. clubs.
On Sunday, before the games were to occur, there was a knock on Stephen and Lettie's side door entrance. They had been home only 10 minutes after arriving home from church, and they expected one of the neighbors wanted to borrow a cup of sugar. It was Will Miller, president of the Black Sox.
"Howdy-do, Mr. Miller," said Stephen. "Won't you come inside?
It is sweltering outside."
"Steve, my boy, I'll get right to it," said the portly gentlemen, with a drip of sweat positioned at the end of his nose. "I'm not happy with Moorman, and I want you to manage my team."
Stephen was stunned. "Moose" Moorman was one of the more popular players and was even allowed to practice with the pros at Sulphur Dell when they were in town, all by the favor of Rubber, his cousin. To think he could replace Moorman was unexpected.
"Can I think about it, Mr. Miller?" Stephen replied. "You know, I've been with the Swifts for nigh-on 11 years."
"I'll give you three dollars a game, plus two for every one you win," was the reply.
The thought of making money playing and managing baseball had never crossed the newlywed's mind before. He knew the sport's best players played for pay. The enticement did not outweigh his love of the game, but he feared his ending just as happened to "Moose."
Besides, he knew that the Black Sox had cheated on their previous game's score against the Globe team, and somebody lodged a protest.
He wanted no part of a team that did not play fair.
With a new child on the way, he did not need to go fishing in baited waters.
"I'm sorry, Mr. Miller," he said to the Black Sox president. "Once a Swift, always a Swift, I guess."
"If that's your decision, I'll see you at the ballpark," answered Miller. "But you'll be sorry."
Closing the door as Miller turned away,
Stephen decided he would not tell Lettie about the offer to manage the Black Sox team. "She doesn't even need to know," he thought to himself.
Rain prevented the Swifts practicing for five days, but they were soon back in form for their first game scheduled for Sulphur Dell on June 23 in the second game against the Athletics. But when the Southern Stars failed to return from a Saturday game in Memphis, league president, H. A. Cameron, showed up on Stephen's doorstep early on Sunday morning and asked if his club could play the second game. That would mean the Swifts could catch up in the standings by another game.
Stephen said, "yes." Besides, he relished the chance to play the Black Sox, too.
The Baptist Hill players did something they had never done before: the skipped church. Arriving at Sulphur Dell, Stephen gathered them all together in the middle of the outfield and led prayer with the team, closing with, "Lord, help us prepare for today. Amen."
"Men," he said, "here is your chance of a lifetime. We've been in those stands over there, but it sure looks a lot different from here. Take it all in, do your best, and enjoy it. If we win, that's great. If we lose, we'll get another chance again today."
"Let's play hard and hope no one gets hurt."
By the time both teams had taken warmups and batting practice, over 500 fans had arrived. Not all were colored, either. A reporter from the Nashville Tennessean and American, Jack Nye, attended the game. With the Vols in Montgomery, he wanted to see what Capital City baseball was all about. He had also heard of a great ballplayer name Stephen McCall.
Nye's report of the two games included detail about the play of the two teams that Baptist Hill took the first game over the Athletics, 8-7, and the second contest ended with a win for the Black Sox, 4-3.
"…many spectators expressed their disapproval of such loose playing by becoming exceedingly noisy," he wrote. What he left out was the one moment in the game that turned tragic.
The June 27, 1913 edition of the Nashville Globe described what happened.
"Mr. Steve McCall, second baseman and captain of the Baptist Hill Swifts team, died Wednesday night from injuries received Monday afternoon while playing the Athletics. Both teams are members of the Capital City League, an organization of local ballplayers.
"Mr. McCall was the second batter up in the first inning. He was hit by a pitched ball, and after taking first base, he easily stole second. It was in the attempt to take third on an infield hit, Mr. McCall made a fadeaway slide, that caused internal injuries, from which he died on the 25th. This is the first accident that has happened since the beginning of the season.
"Mr. McCall was a No. 1 good ballplayer, and best of all, he was a gentleman on and off the field."
The Baptist Hill players were stricken with grief. Lettie and her family were heartbroken, not to speak of the uncertainty of financial survival and a new child to raise. A service was held, and Stephen was buried in Greenwood Cemetery on June 27. There was no obituary printed in the Globe, only a mention among the many who recently passed away.
"Stephen McCall, Jr., 608 Ramsey street [sic], 24 years."
The directors of the Capital City League wrote a memorial, published in the July 4 issue of the Nashville Globe.
"Whereas, The Supreme Ruler has seen fit to take from our midst Steven [sic] McCall, who was seriously injured in a game of ball under the auspices of the Capital City League, and
"Whereas, His death was a shock to the officials and to the members of the other teams associated with this League, as well as to his teammates, be it
"Resolved. That we the officials of the Capital City League and members of the various teams under our said League, do hereby extend our sincerer sympathy to the bereaved family of the deceased, knowing that it was His will that Steve should be taken from us. Be it further
"(R)esolved, That a copy of these resolutions be sent to the bereaved widow, also a copy be sent to the Globe for publication.
Respectfully submitted,
L. K. THOMAS,
F. J. EWING,
ORLANDO VOORHIES,
Committee.
A few days later, his beloved boyhood friends sent a letter to the Nashville Globe, explaining the formation of the B. H. Swifts, and imparting a final thought to the team.
"We bid the team go with all the speed it can, for we know that battle is not won yet."
As the baseball season was ending, the Swifts continued to play with the success that Stephen had hoped for them. By August 6, they had won 5, losing 6, moving to fifth in the standings. The league offered one more memorial for Stephen McCall, reported by the Globe:
"It was decided Monday night to play a benefit game for the widow of Steve McCall, who died after an injury in one fo[sic] the games played in the league. All of the teams agreed to join in the work to make this game one of the largest from point of attendance during the season. All advertising will be donated by the newspaper and printing offices and all the proceeds will go to the fund."
Lettie delivered a healthy baby boy and named him Stephen.
Holding her infant closely to her chest one day to answer a knock at the door of her Ramsey St. home, there stood a white man she did not know.
"Yes?" she asked. "May I help you?"
"I am Charlie Case, ma'am. I knew your husband from when I played for Nashville at Sulphur Dell. He was a fine man. We talked about baseball and pitching," he explained.
With a lump in his throat, he went on. "I found out that the day he was hurt playing ball, his last baseball game, I was supposed to pitch in Montgomery for the team down there."
"While warming up, I was hit in the stomach by a pitch thrown by a Nashville player, a former teammate, and it hit me hard. He tried to hurt me, and I'd be lying if I told you it didn't hurt me bad."
"I almost died that night but held on for another couple of days until on Wednesday, and as I recovered, the first thing I thought of was something Mac had said to me."
"What was it? Lettie asked anxiously.
Your husband once told me, "Playing ball is like being in Paradise, ain't it, Mr. Case?" he said. "I heard those words again in a hospital bed in south Alabama, and I decided then and there I didn't think I qualified to play on the Lord's team in heaven."
"But I'm damn sure Stephen McCall is. And I have no doubt he's pitching, too."
Before turning away to leave, he reached for Lettie's hand and placed a baseball in it.
"Tell your son about his daddy. And tell him to play baseball, and pitch like him, too.
Thanking him, Lettie closed the door and sat down at the kitchen table. Thumbing the ball while balancing her child, she noticed the shiny gleam on the horsehide orb, as someone had shellacked it. She saw Case's autograph, and below it, that of her late husband.
Turning the ball in her hand, she saw the epitaph.
"Baseball is Paradise."
The writer wishes to thank author Ralph Bland and historian Debie Oeser Cox for their valuable assistance in suggestions, edits, and background information.
© 2020 by Skip Nipper. All Rights Reserved.
---
April 8, 2020
Where's that Letter to Mama?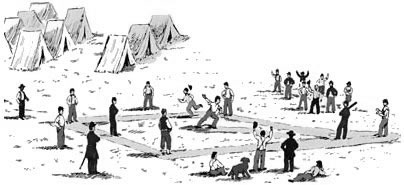 In 1862 Nashville was occupied by the largest southern contingent of the Union army, second only to Atlanta. Generals Buell, Rosseau, Negley, Rosencrans, and Grant, as commander-in-chief of the Army of the Cumberlands, had each set headquarters in Nashville.
It is hard to imagine that Yankee soldiers did not teach the locals how to play the Northern version of baseball. In northern and southern prison camps alike, games allowed players and spectators to divest themselves of the perils and weariness of war – even if only for a few hours.
I wonder when that particular document will show up that gives a first-hand description of a game between Yankee or Rebel soldiers in the Nashville theatre.
What I have written below is fiction, but somewhere (somewhere!), there are letters from home that describe something like this, that will give us a direct connection to the emergence of the great game in communities like Nashville, Smyrna, Murfreesboro, and a myriad of other towns.
Perhaps that letter will be one to a family member, father or mother, or in a manuscript, journal, or diary. Maybe it will never come, but I hope in the not-too-distant future to be able to read for myself something very much like this:
I swear there were Yankees at every turn. Each hill, each valley, we crouched, slid, and hopped tree to tree without so much as a whisper, so as not to call attention to where we were. To hide, we followed creeks when we could, hoping the sound from the water pushing over the stones would mask any snaps from the sticks we stepped on.
We helped branches back to their position to keep the swishing from signaling our where-abouts. Sometimes we'd see a plume of smoke from a campfire or sometimes hear the whinny of horses. We always hoped those were ours, but could not take the chance that they were. As discreet as we could, we moved on. We had to make it to Chattanooga.
The only break we took was one day when we came up on a clearing once where there was nearly a frightful noise. Wondering what the racket was about, we slowly moved up behind a locust tree and could hardly believe our eyes and ears.
Men were yelling and whooping and hollering as bare-chested soldiers ran like bears between other soldiers chasing a ball. The soldier coming up from the rear of the circle or square or some other laid out dimension in the field was pumping his arms as the others were chasing after something with shouts of "throw it, throw it!".
I recollected that this was the game called "base ball" being played in some of the prisoner camps that I had heard about. At least I reckoned that's what this was, without the prison. Seems that some of the officers allowed for prisoners to play active soldiers as a way to give healthful exercise for all.
Crazy as it must sound, when the sweaty soldiers in the clearing stopped for water and rest, we showed ourselves. It was not purposeful, believe me. But when one of them looked our way and knew that we were the enemy, well, we were really scared and did not know what to do.
But what they did was even crazier. Seems they needed a couple of more players and invited us to play.
We were more scared to say, "no", so we said, "yep" and they gathered around and put us way out in the field and for what must've been an hour we played. We hit with a birch bat they had, we threw the ball, and we caught it when we could get to it.
All of us took a turn or two and when it was all over and whichever team won, they didn't tell us, them Yankees told us we played good.
Then they told us, "so long", mama, and I'll never forget it.
Note: This is an excerpt of a keynote presentation delivered on April 14, 2014, to the Baseball in Literature & Culture Conference, Middle Tennessee State University, Murfreesboro, Tennessee)
© 2014 Skip Nipper. All Rights Reserved.
---

October 29, 2019
Rain Delay
Huge raindrops that only minutes earlier had been misty sprinkles peppered the players and began to muddy the infield dirt. "Strike three," the man behind the plate shouted, then waved his arms toward the heavens and hustled to the dressing room beneath the grandstands with his fellow umpires.
"We are now in a rain delay," the voice rattled through the speakers as some fans began to filter out of the stadium while others stayed to wait out the action and reached for their rain gear.
Over the public address system, B. J. Thomas explained raindrops had begun falling on his head, too.
A large woman with a ruddy complexion and long, stringy hair falling from under a ball cap was seated in the first row behind the third-base dugout. She wore flip flops and covered her yellow cotton dress with a team jacket much too small for her body. "Good grief," she shouted, at no one in particular. "It's not raining where I am!"
Some of the fans who remained in their seats began to struggle to pull their cheap plastic hooded coverings over their head as the wind fought playfully against them.
The announcer interrupted the music. "According to league rules, when it has been determined lightning is spotted within 10 miles of the stadium, the game cannot continue for at least 45 minutes. Please leave your seat immediately and move to the safety of the stadium concourse."
The woman tugged hard at her jacket, stubbornly refusing to follow the directions. Snapping the front buttons closed one by one, she was determined to wait out the interruption.
She shouted at the umpires before they made it through the door marked "UMPIRES ONLY. "You guys are a bunch of sissies! There's barely a cloud in the sky, you idiots!"
Ka-boom! She didn't see the lightning that streaked overhead, but felt the clap of thunder, causing her to change her mind about waiting out the uncertainty of the weather. As she reached the end of her aisle and rounded the end of her row, she grasped for the railing, but her hand slipped, and she fell. She hadn't noticed the puddle that had accumulated on the step.
The usher had barely glanced in her direction when he did a double-take, realizing she was not quick to recover from her spill. He pushed the "speak" button on his transceiver to call medics.
"I need medical assistance in 106, row 1, directly behind our dugout. A lady has fallen."
The rain changed from a vertical pattern to nearly horizontal. The wind, which had begun as gusts, blew much harder. The stadium flags were flung straight out as if someone held the outer corners and pulled tightly. "Old Glory", neglected until now, made her descent with futile attempts to stay unfurled.
Three medics joined the ushers and their supervisor in making their way to the woman. When they arrived, she did not move, but the low whimpers let them know she was injured.
Another song came over the loudspeaker; Johnny Cash, something about being hurt.
The woman appeared to be about forty. She was lying on her back, and as they began to question her, they realized she was unconscious. They were careful to remove the bloody, soaking wet ball cap that remained on her head against the velocity of the wind. A large gash on her forehead was bleeding badly, and the medics took charge under cover of an umbrella that appeared. They used gauze and hydrogen peroxide to clean the wound so they could get a better view of her injury.
Prodding her to wake up, they carefully took her pulse and blood pressure aware that she could have neck or back damage. The medics hovered over her as a gurney appeared just above them. Two EMS personnel had been called and stood ready for the medics' direction to transport the lady to the hospital if needed.
No one noticed Billy Joel's voice had been floating throughout the stadium, singing about being young and not dying.
"It's Edna!" A voice shrieked from the top steps that led to the concourse. "Oh. My. God!"
A young man of about twenty ran down the steps, dangerously skipping every third one as he rushed toward the woman and the commotion surrounding her. The rain pelted down, and the wind was howling. Surprisingly he did not fall, although in his perilous journey he managed to lose a shoe.
"What happened?" he asked the usher, the only person who seemed to have any interest in answering his question.
"She took a fall as she was leaving her seat, and the medics are working with her."
"Is she hurt badly?" the young man asked.
"She has a gash on her head, and they are trying to see if there are other injuries," the usher responded.
"I had gone to get us a beer and got caught in the rush from everyone leaving their seats, the concourse was a madhouse," he explained. "I should never have left."
The wind and rain abated, the rain now failing directly down in smaller drops. The wind was still blowing but not at what had been gale-force ten minutes earlier.
Peter, Paul, and Mary rationalized it was still the answer to so many things.
One of the medics cut in on the conversation. "What's her name? We need to know."
"Edna, Edna Barfield." Her cousin's eyes began to tear. "I'm her cousin, Ralph Malmsey. Is she going to be okay?"
The medic ignored the question. "Edna, Edna, can you hear me?" He spoke to the woman in a loud voice and gently touched her chin and moved her face toward his. The bleeding had stopped, but her eyes were tightly shut.
"I think we need to get her to the hospital, stat," one of the other medics said.
Her eyes fluttered as Dolly Parton eerily sang about life being like butterflies.
"Hold on, she might be waking up," said the medic who was holding the back of her head with one hand and putting pressure on the cut with the other.
Edna blinked her eyes a few times. She turned her head to see who had come to her rescue, curious to know what had happened.
"Who are you, and what happened? Where's Ralph?" she asked.
"I'm here, Edna," Ralph said, not knowing if she could hear him. "You are going to be fine."
The rain was slowing as Curtis Mayfield assured everyone that it's all right.
The medic sat her up on the step to be sure she was okay. Gently lifting her, they helped her move to the nearest stadium seat as another medic put glue on the gash and put a bandage over it to keep it secure.
The wind died, and the rain stopped completely. The sun was barely peeking out from a nearly black cloud.
"Attention. Attention. The game will resume in 30 minutes. You are free to enter the stadium."
At once Bob Marley could see clearly now.
Two players appeared out of the dugout and moved toward the outfield to throw some warmup tosses. As they stepped around the tarpaulin that had been unrolled over the infield, they noticed disorder in the stands nearby and moved to take a look. As more players came out onto the field, a few of them wanted to get a glimpse.
Edna finally came to her senses and realized where she was and what had happened. She refused to be taken to the hospital but assured everyone a visit to the doctor was the first thing she'd do on Monday morning. An attendant brought her a towel and a team jersey from the clubhouse store. She took them both, thanking no one.
As those who had come to Edna's rescue went up the steps to the concourse, Tom Etter, her favorite player, ducked into the dugout and grabbed a new baseball, crossed over the wall separating the grandstand from the playing field, and stopped to sign the ball. He smiled down at her and placed the ball firmly in her palm. She looked up at him with dreamy eyes, then at the ball she was rolling around in her hand.
In the air, Creedence Clearwater Revival proclaimed the rise of a bad moon.
Etter told her he hoped she was better, and that he would try to hit a home run for her.
"Take care of yourself," he told her, and mover toward the field.
"Hey!" she shouted at him before his feet hit the ground after jumping over the wall. "I can't tell who signed this, was it you?
"Yes!" he replied. "Why, did you think I had someone else do it?
"Hell, how was I supposed to know? She said. "I can't read this chicken scratch. Aren't you proud of your name? And you USED to be my favorite player!"
"Edna, now calm down," said Ralph. "That was a pretty nice thing he did, checking on you and giving you a signed ball and all."
With that, she hurled the ball at Etter, not coming close but causing a bewildered look on his face from her reaction to what he thought was a nice gesture to a faithful fan.
The clouds dissipated, the sky cleared, and the sun shone brightly, just as George Harrison predicted out loud.
Soon the tarp was rolled up, the umpires appeared, and Edna returned to form.
"Do you think we could get some runs?" she hollered as the team returned to the field. "C'mon, let's go, I don't have all day!"
None of the players looked her way.
Just as Bruce Springsteen was about to sing what he was born to do, the home plate umpire yelled, "Play Ball!"
The game, with Edna in slightly damaged stride, was underway again.
Note: Writer and friend Tom Wood was gracious enough to edit "Rain Delay" for me. His comments and suggestions led to a revision of this work on November 13, 2019. Thank you, Tom!
©2019 by Skip Nipper. All Rights Reserved.
---
June 20, 2019
Finding Ruth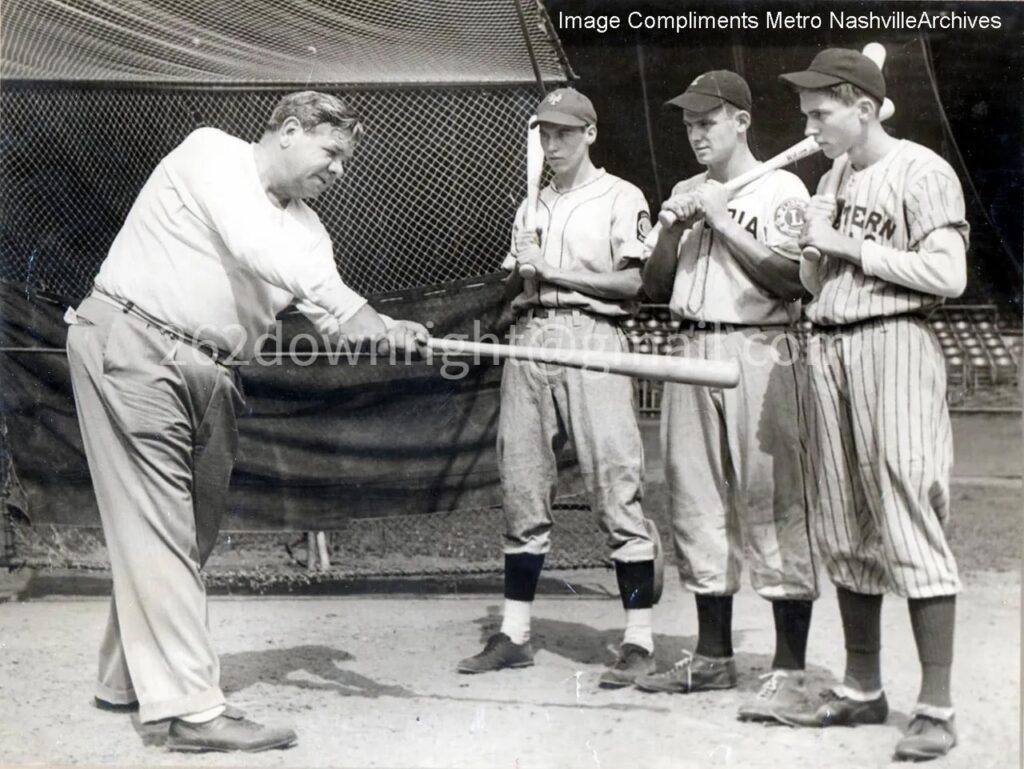 "Sit down".
And so, I did, without noticing whether there was a place for me to land as I bent my knees. Thankfully there was a Queen Anne chair just under me, and I slid into it as gracefully as I could.
"What do you want to know?" he said curtly. He was neither looking at me nor his cigar but at its trail of smoke encircling his head. "I'll give you 20 minutes. I've got another game today."
I held my pencil point tight against my notepad, the same place it had been since I tapped on the door to his hotel room, number 53, and where it remained as he cracked the door open and poked one dark eye out into the hallway.
The maxim said to me over and over the past year in the newspaper office had been floating in my head the entire five-floor ascent on the hotel elevator:
Look at your subject, let your questions invite, don't look down, watch their eyes as you write.
He heard the deep breath I took as I contemplated my first question, the one I rehearsed a hundred times since Mr. Walsh told me I was granted an interview. It had been a sleepless night in anticipation of meeting "The Sultan of Swat", "The Great Bambino", the man who had nearly 700 home runs to his name.
"Well?" he asked. "You're losing time."
"Mr. Ruth," I said as I exhaled. "Is…"
"Call me George, please," he said, and with that, he let out a belly laugh I was not expecting, followed by a cough.
"Ha-ha-ha-ha, hack! Relax sonny, I was just teasing. Call me Babe, I insist. And don't be nervous, I'm an easy interview compared to that son-of-a-bitch Ty Cobb."
He giggled, a sound a kid would make after playing a trick on his little brother. He moved from the edge of his chair to the corner of the bed and tapped cigar ashes into the air. A few landed on the shoulder of his red satin bathrobe.
I asked the obvious question: "Is this your first visit to Nashville?"
He hesitated for a second or two, cleared his throat, and said, "Naw, keed, I came through here…" He waited again, this time looking at the ceiling, rubbing his chin, apparently rolling through his memory the many ballparks he had visited in his career.
"…it must've been years ago, maybe in 1924? I know there was a huge crowd. Of course, we were used to that. The park was so full, fans lined up along those damn outfield hills. Yeah, that's when it was, I remember all the kids in right field grabbing at my shoelaces. They must've been 50 deep all the way up to the fence."
Quaint and quirky Sulphur Dell was famous for its short right field fence atop a steep outfield hill that rose at a 45-degree angle just past the infield dirt. Players would stand on a five-foot ledge at the base of the fence or about halfway up the hill on a shelf carved out by players' cleats. Either place offered treacherous footing, manhandling outfielders who attempted to go up or down the incline to haul in a liner.
My grandad had taken me to the game that day, so I remembered it. We were disappointed when Babe did not slug one out of the park.
"What did you think about playing that steep hill in right field?" I inquired. He interrupted before I could ask him if it was hard to navigate.
"You know, if I remember correctly, after a few innings I told our manager, Miller Huggins, I'd had enough, and me and Wally Pipp switched positions," he said. "I finished the game playing first base. I informed Huggins I didn't like playing on something a cow wouldn't graze on. Only a mountain goat could move around up there."
He added, "For Pete's sake, those fans attacked me with seat cushions in the last inning! Because I didn't hit 'em a homer, I guess. Maybe I won't disappoint 'em today."
He had disappointed them the day before, 3,000 fans who watched the Vols win over the Yankees by a score of 5-4. He hit a ball that bounced off the outfield screen but fell for one of his two singles. He played right field, on the patch of ground known as "The Dump", and on a fly ball by Vols second baseman Bill Rodda he slipped and stumbled but climbed on and came up with it.
"It could have been the two errors you had," I replied, immediately wanting to take back the words. Babe's eyes stared right through me.
"Humph," he snorted.
His eyes wandered for a moment while I waited for his chastisement. He went to something else.
"Ha!" he blurted all of a sudden. "I just remembered. One game, I took my place in the outfield and a rabbit ran off from its hiding place along the fence. I chased that rascal and the crowd roared. The kids especially loved it. Finally, the hare found a hole in the fence, and that was that. I tipped my cap, and the game went on."
"That was funny." His face looked down for a moment as he moved his right house shoe over more ashes, causing them to disappear into the carpet.
I watched his manner as he recalled the hilarity of the rabbit chase. His face showed a crooked grin, but there was still a sadness to him. He had a depression about him, the sort that made me realize this bigger-than-life idol was a man with dispositions just like anyone else.
"Here's something else," he said. "Hell, one time I dropped my glove in left field after the third out, and a kid ran out of the stands and took off with it. Can you imagine that? My favorite glove, too."
"Did you get it back?" I asked.
"Yeah, but I had to give him one of my bats in exchange," he replied. "It's a tough bunch of kiddos here in Nashville, ain't it?"
He was not sincere, and there was evidence to prove it. On April 7, 1927, two hours after hitting a home run in a game at Sulphur Dell against the Cardinals, he stepped out of a car in front of Nashville's Junior League home for crippled children and hoisted one of the boys on his shoulder. The newspapers reported the great delight that created among the youngsters.
He seemed to have a fondness for children. When I reminded him of the encounter he had that day, his eyes went from ambiguous to lucid.
"Oh, yeah!" he exclaimed. "I can remember that, too. When you grow up in an orphanage as I did in Baltimore, you don't forget kindnesses paid by others."
"I think that was the day I was invited to speak to the State Legislature. Had to turn 'em down, and when I did they adjourned so the politicians could come down to the game. It was better visiting those kids than showing up at the Capitol to glad-hand a bunch of hillbillies."
Brushing aside his brutish honesty, I realized my time with America's baseball hero was ending, and I thanked him for it.
"Sir, you are gracious to have seen me. I am grateful."
"No problem, keed," he responded. "Let me tell you one last thing. I hate your ballpark. But you know what? I grew up knowing how to play ball and if more boys will play, even in a ballpark like Sulphur Dell, well then, our national pastime is going to be all right."
He stood up, reached for my hand, and clasped his around mine. His grip was enormous, and I could only imagine the command he had over a bat during his many home runs. He offered a faint smile as I turned away and started down the hallway. Before his door clicked shut, he muttered a final goodbye.
"Your ballpark can go to hell."
© 2019 Skip Nipper. All Rights Reserved.
---