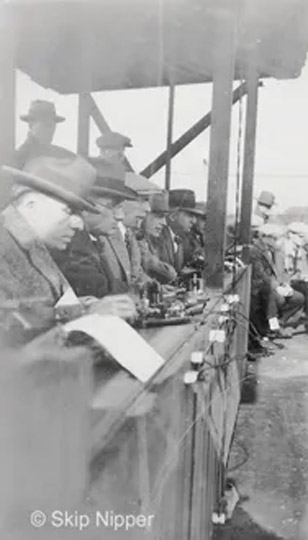 My name is Skip Nipper, and I am the author of Baseball in Nashville, published by Arcadia Publishing in 2007. For 20 years, I have been researching Nashville's baseball history, posted on my website, baseballinnashville.com.
My passion for baseball in Nashville began early on. My dad, Virgil Nipper, played from high school through the City League amateur league and even went to spring training for a few weeks with the Boston Braves. When my brother Jim and I grew to an age when we could play Little League, dad was our teacher and best fan.
As much as that, I've heard baseball stories from him all my life. Around the breakfast table, at the ballpark, and Sunday afternoon conversations, baseball has been a big part of my life.
Nashville's historic ballpark, Sulphur Dell, was demolished in 1969, but memories from fans endure. Devotees followed players and loved their teams. Some recollections are about games played away from the old downtown ballpark, or Negro League teams, amateur games at Shelby and Centennial, or pick-up games on Nashville sandlots. All contribute to the narrative.
We cannot let those memories fade away.
Here is why: just as Veterans and African-American histories are essential subjects, so is Sports History; all are a part of Americana. In his book of the early days of baseball, The Glory of Their Times, Lawrence S. Ritter quotes the notable French-born Columbia University philosopher Jacques Barzun, "Whoever wants to know the heart and mind of America had better learn baseball…"
Those who follow baseball, who played the game, who watch the game, and share a passion for the game, understand baseball's influence on family, friendships, and Nashville's community. Baseball's sway on the shaping of our city, our state, and our nation, particularly throughout the twentieth century, has not been lost.
But it could be.
It can be a delightful story. Baseball offers opportunities to understand our very nature uniquely. More importantly, people are willing to tell their stories, and they tell them with an openness and honesty that is hard to find in today's world.
At the very core of stories is the pride of those who played it. Those who have watched it from infancy to its current influence can count themselves in the company of those who love everything 'baseball'.
The reason that I have a passion for this worthy subject: I have a sense of pride in baseball's historical value because I know Nashville. My knowledge has helped me earn trust from people about whom I wish to write, and relationships are the foundations necessary in making any writing attempts a success.
Along the way, relationships develop that one never knew were out there; they have become relationships to count on for help in the future. Relationships are a by-product, too. People find a common bond by studying baseball, and they create new bonds and friendships that help to keep the stories alive.
I love to read and have envied those who have written about the subject I love. Baseball writers are unique in a particular way: they understand human nature and how it relates to the national pastime, and that is what I am after.
I encourage everyone to read, study, learn, and write. Search for important subjects (they are countless), find one of particular interest, learn as much about it as possible, and then put thoughts into the written word.
If the subject is "'Baseball, " then more power to you will never run out of material. As a bonus, there is no more pleasure than seeing one's work published, whether in a newsletter, a blog, or a book.
We must share what we learn, and when the subject is Nashville baseball, that means beyond Sulphur Dell. Otherwise, we may lose our baseball, family, and community stories, our very foundations of "everything good"!
Reference: Ritter, Lawrence S. (1966) The Glory of Their Times. New York: Macmillan & Company.
© 2019 by Skip Nipper. All Rights Reserved.