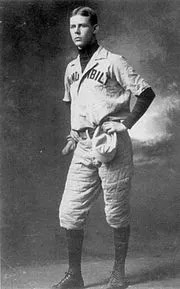 Grantland Rice was born in Murfreesboro, Tennessee, and his family moved to Nashville when he was a young boy. Rice attended Montgomery Bell Academy and earned his bachelor of arts degree from Vanderbilt University in 1901 where he played football and baseball.
After graduation, he had an opportunity to join Nashville's professional baseball team, but his father disapproved and Rice soon began his career as a sports journalist. He worked for the Nashville Daily News before moving to the Nashville Tennessean.
In January of 1908 Rice was the first to refer to a name change of Nashville's ball park in one of his columns. Originally known as Athletic Park, it was located in the Sulphur Springs Bottom area, just north of city hall. He suggested "Sulphur Springs Dell", soon shortened to "Sulphur Dell", and the name stuck. It was a good fit for newspaper headlines, and it had an acceptable flamboyance.
Fred Russell, a protoge' of Rice, was sports editor of the Nashville Banner from 1930 until the newspaper became defunct in 1998. He once wrote that he believed Rice wanted to change the name to Sulphur Dell as Rice probably had a hard time finding anything to rhyme with "Bottom".
Rice was a learned scholar of the romantic languages, and often wrote in stylish prose. He is famous for giving the backfield of the 1924 Notre Dame Fighting Irish football team the name the "Four Horsemen", describing the Notre Dame vs. Army game played at the Polo Grounds:
"Outlined against a blue-gray October sky the Four Horsemen rode again. In dramatic lore they are known as famine, pestilence, destruction and death. These are only aliases. Their real names are: Stuhldreher, Miller, Crowley and Layden. They formed the crest of the South Bend cyclone before which another fighting Army team was swept over the precipice at the Polo Grounds this afternoon as 55,000 spectators peered down upon the bewildering panorama spread out upon the green plain below." – New York Herald Tribune, October 18, 1924.
Known by his peers as the "Dean of American Sportswriters", Rice passed away on July 13, 1954 in New York City.
While he was with the Nashville Tennessean, he wrote a poem that was published in the September 26, 1908 issue of Sporting Lifeentitled "The Daily Spiel of the Time". It included his fond name for Nashville's historic ballpark within the text:

© 2020 by Skip Nipper. All Rights Reserved.