Two special baseball celebrations took place in 1939, and Nashville Vols manager Larry Gilbert was to have participated in one but not the other. His loyalties switched his responsibilities around.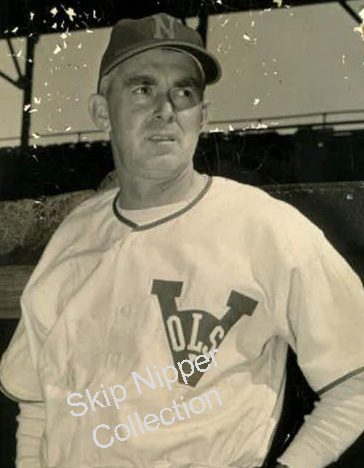 Selected to Manage in Cooperstown
He was chosen as manager of the "Cartwrights" in an exhibition game against the "Doubledays" scheduled for July 9 in Cooperstown, New York, in celebration of the 100th anniversary of the invention of baseball. Each minor league was to represented, all 41 of them, by a player, coach, or umpire.
Larry was chosen to manage the Cartwrights, but first he had to attend Southern Association meetings held during the July 6 All-Star game in Memphis.
1939 All-Star Game in Memphis
Held at Russwood Park in Memphis by virtue of the Chicks being in first place on July 1, so many fans showed up, estimated at 11,000, the overflow was seated on the bank in left field.
Memphis won over the All Stars, 3-0.
Thirty-four players took part in the contest, including every All-Star and every player on the Memphis roster. Andy Reese, Audrey Epps, and Russell Maxcy each drove in the only runs in the game for the Chicks, and righty Ed Heusser was the winning pitcher. The All-Stars outhit the Chicks, 7-6, with Rusty Peters, Atlanta shortstop, and Woody Abernathy, Knoxville outfielder, rapping two hits each in vain.
Earlier in the day Larry visited with  directors and other managers instead of taking a few days off. Lured away from his hometown of New Orleans as Pelicans manager by Vols owner Fay Murray six months before, Gilbert's Vols were in seventh place in the standings for the All-Star break with a 32-38 record, 15 games behind the front-runners.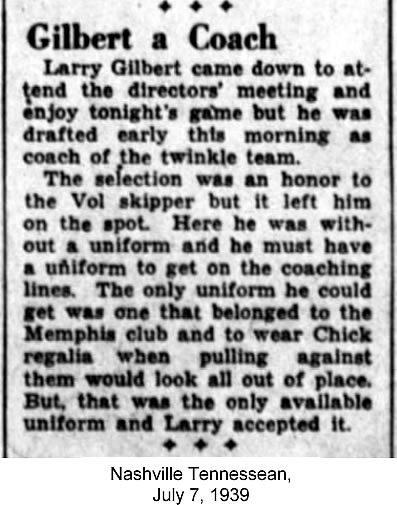 With his team that deep in the standings, Larry did not consider he would be involved in the game, but merely as a spectator. When he arrived in the Bluff City, he was surprisingly asked to be a coach, and he graciously declined. The main reason was he did not bring his Nashville uniform on the trip, and only uniformed players and coaches were allowed on the field during games.
"No problem," he was told.
An extra Memphis Chicks uniform was located that was Larry's size, and when told that it was the only one available, Larry donned the duds in time for the game.
The end result was that Nashville's Larry Gilbert, by way of New Orleans, wore a Memphis Chicks uniform in a game against the Chicks. True colors or not, Larry's appearance must have been a classic, out of uniform occurance.
But instead of flying to Cooperstown the next day with Atlanta Crackers owner Earl Mann and Chattanooga Lookouts owner Joe Engel, he decided to return to Nashville. The Vols were to play four games in the next five games, and Larry wanted to remain with his club. Mike Kelley of Minneapolis was his replacement.
Gilbert Returns to Nashville
Nashville won four of those next five games with Larry in the dugout, and would win 49 more to finish the season in fourth place with an 85-68 record. From there the club finished as Southern Association playoff champions, but lost the Dixie Series to Ft. Worth, four games to three.
It was a tribute of Larry Gilbert's loyalty to his club for Nashville to have experienced such success. No matter that in one game he wore an opposing club's uniform; his success with Nashville was just beginning.
Sources
Atlanta Constitution
Brooklyn Daily Eagle
Nashville Tennessean
Newspapers.com
Sabr.org
© 2019 by Skip Nipper. All Rights Reserved.