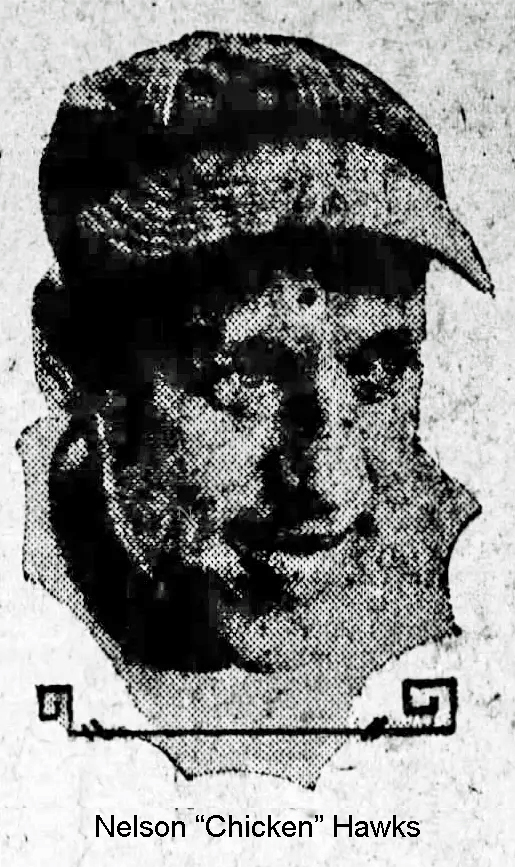 Nelson "Chicken" Hawks, also known as "the Little Chinese Boy", was an outfielder-first baseman for the Vols during the 1923 and 1924 seasons. He was born in San Francisco on February 3, 1896.
A product of the local sandlot Ambrose Tailors team[1], as a 21-year-old Hawks' first professional season was in 1918 as a member of the Oakland Oaks (Pacific Coast League – AA). Playing in 64 games before going into the Army that year, he was back with Oakland for one game in 1919 but refused to sign in a salary dispute.[2]
He managed a semi-pro El Dorado squad[3] and later became a member of the Richmond Elks, a semi-pro team which claimed the "championship of Northern California". Once the season ended, Hawks continued playing during the winter in the St. Dominic and Tribune leagues.[4] It was an off-season regimen to return to semi-pro leagues for many players from the west coast.[5]
Turning down an offer to play for the New York Giants, he signed to play for Calgary (Western Canada League – B) in 1920. By mid-season he was leading the league at .355[6]. After a league-leading .359 average[7] Hawks was signed to play for the New York Yankees.
Considered one of the fastest players but with one of the weakest arms in the American League[8], Hawks was a reserve outfielder for Miller Huggins' Yankees and hit .288 in 41 games.[9] His major league debut came on April 14, 1921 at the Polo Grounds against the Giants, pinch hitting for future Hall of Fame pitcher Waite Hoyt in the top of the eighth and getting a hit, driving in one run.
New York won their first American League championship season in 1921 but Hawks did not appear in the World Series which the New York Giants won 5 games to 3.
At his own request[10] he was released to the Vernon Tigers (PCL – AA) in January of 1922.[11] He hit a modest .279 while riding the bench due to the abundance of outfielders on manager Bill Essick's team.[12]
But the Yankees-Vernon transactions were considered troublesome as rumors of some sort of cover up had taken place[13] and in June of 1923, while a member of St. Paul (American Association – AA), Commissioner Judge Landis made him a free agent.[14] Hawks had been purchased by the Saints in February and had been hitting a weak .273 while suffering from a variety of injuries.
Rumored to have been sought by Baltimore (International League – AA)[15], he signed with Nashville (Southern Association – A) because it was the best offer he received[16]. Hawks only played in 47 games for the Vols but had 84 hits in 248 appearances and produced a .339 average. Although he had played first base for the Saints, Vols manager Jimmy Hamilton needed help in the outfield and Hawks made the transition even though Hawks was known to have a weak throwing arm.
Hawks moved to first base for the 1924 season with the Vols, batting .336 with 27 doubles, often coaching at third base.[17] He earned a spot on the 1925 Phillies roster and by June he was leading the National League with a .409 average and holding down the first base spot for Philadelphia[18], replacing Walter Holke.
Falling to a .322 average on the season, he was sent to Newark (International League – AA) where his average continued to dip. As captain of the Bears, he only hit .287 for 1926[19] and became expendable as Newark shipped him to Denver. Hawks refused to report and remained with the Bears.[20]
At mid-season of 1927 and hitting only .272 he was traded in an even swap for Jim "Rube" Parham to league rival Reading[21] a Chicago Cubs affiliate. He joined the club on July 24.
When he returned his contract to the Reading club on Monday, February 6, 1928, he enclosed a letter to Keystones secretary Walter Ludwig.
"I am all set for spring training and know I'm going to have a big year," he said in his letter. "Last season I didn't have a bit of spring conditioning and I believe I was hurt on that account. I'll be all right this year."[22]
He played for two more seasons there, hitting .339 in 1928 and .316 with 44 doubles in 1929, but at the end of 1929 it was reported that he asked for his release to become player-manager of the Allentown team in the Eastern League (A).[23] In December manager Harry Hinchman sold Hawks to Buffalo (International League – AA).
In 1930 he hit .301 for the year and had a 21-game hitting streak to begin the season at which time he was hitting at a .375 clip.[24] Returning to Reading in an early season series, Hawks was 9-for-21[25], but in April of 1931 he was given his release.[26]
Given a workout with San Francisco (PCL – AA) in April, Hawks was signed by the Seals on June 12, 1931[27] His tenure did not last long, as he replaced George Burns as manager of the Mission Reds a month later[28], but at season's end he was released by the Missions.[29]
In 1933 Hawks was signed to play semi-pro ball again for the Alameda Elks team for a Tribune tournament to be held in August and September.[30] 1934, named an umpire in a major/minor league exhibition game at Oakland's ballpark.[31]
Hawks died on May 26, 1973, in San Rafael, California and is buried at Cypress Lawn Memorial Park in Colma, California.
© 2016 by Skip Nipper. All Rights Reserved.
[1] Oakland Tribune, June 13, 1931, p. 10
[2] Ibid. April 12, 1925, p. 72
[3] Ibid. April 18, 1919, p. 19
[4] Ibid. October 22, 1919, p. 11
[5] Ibid. December 7, 1924, p. 33
[6] Ibid. July 29, 1920, p. 21
[7] "1920 Western Canada League Batting Leaders". Baseball-Reference. Sports Reference.
[8] Pittsburgh Daily Post, September 26, 1921, p. 8
[9] Oakland Tribune, January 31, 1923, p. 13
[10] Ibid. January 17, 1922, p. 25
[11] Washington Herald, January 7, 1922, p. 8
[12] Oakland Tribune, May 21, 1922, p. 34
[13] The Sporting News, December 16, 1926, p. 2
[14] Ibid. June 14, 1923, p. 5
[15] Ibid.
[16] Oakland Tribune, April 12, 1925, p. 72
[17] The Sporting News, February 26, 1925, p. 4
[18] Hutchinson News, June 6, 1925, p. 3
[19] Reading Times, July 25, 1927, p. 11
[20] Ibid, May 6, 1929, p. 14
[21] Ibid.
[22] Reading Times, February 9, 1928, p. 19
[23] Brooklyn Daily Eagle, November 3, 1929, p. 48
[24] Reading Times, May 15, 1930, p. 20
[25] Ibid. May 6, 1930, p. 16
[26] Ibid.
[27] Oakland Tribune, June 13, 1931, p. 10
[28] El Paso Herald-Post, July 9, 1931, p. 15
[29] Sporting News, November 12, 1931, p. 6
[30] Oakland Tribune, August 8, 1933, p. 28
[31] Ibid. October 14, 1934, p. 14
© 2019 by Skip Nipper. All Rights Reserved.