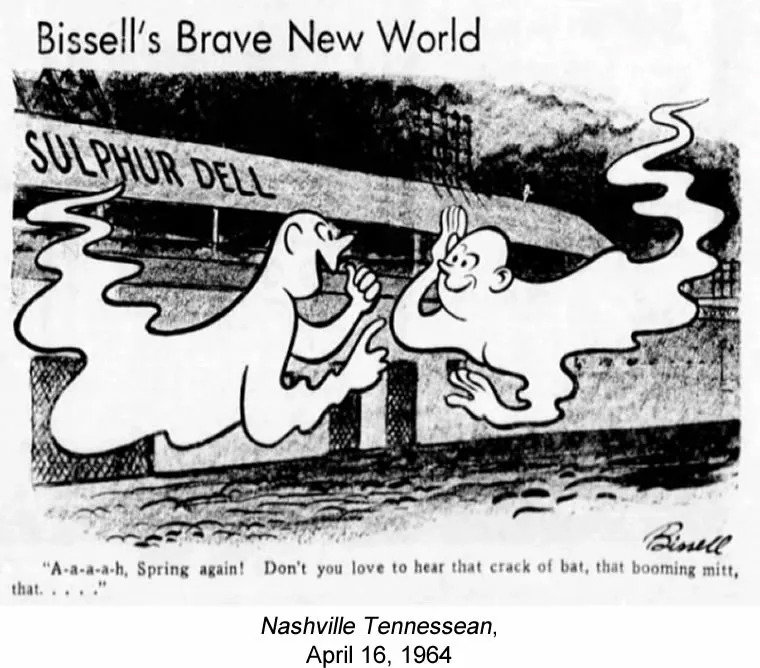 The last week of the 1963 season was hardly going to be an excellent send-off for Nashville's fabled ballpark. A 15-word sentence at the end of a Nashville Tennessean article about a player sent to Tulsa pronounced the beginning of the end.
"The season ends for Nashville next Sunday when the Vols meet Lynchburg at Sulphur Dell."
But the oldest ballpark in existence was given special attention on September 8, 1963, when Associated Press sports writer Barney Ballard published his epitaph of Nashville's Sulphur Dell. That day the final professional game was scheduled for the quaint, quirky ballpark.
"Chances are that historic Sulphur Dell, oldest park in professional baseball, never will see another game after Nashville and Lynchburg close season here today.
"Chances are, too, that no more than a handful of fans will see the end of an era now more than a hundred years old. And this in a park which used to draw more than a quarter-million cash customers for 77 home games.
"Several million baseball players and fans have seen or heard about Sulphur Dell since its base paths were first laid out in 1861. Its short right field barrier, high screen and terraced "dump" have been cursed by many a right-hand pitcher and hundreds of outfielders who staggered along parallel paths in search of a short fly ball."
Ballard's prediction on fan attendance was right: 971 faithful fans passed through the turnstiles. It was the lowest season attendance in the history of the ball club, as only 54,485 bothered to journey down to Sulphur Dell for the entire year.
The Vols won both games that special Sunday, 6-3 and 2-1 over Lynchburg. But the spirit of the old ballpark seemed to want to hang on, to keep the saga alive, to give up one more home run 262 feet from home plate. And it happened.
Nashville outfielder Charlie Teuscher slapped three home runs in the two games. His last one was the last in baseball's most beloved, cherished, and endearing ballparks of all time. It was an appropriate feat when he lifted a fly ball over the right-field wall to end the second game.
"(It) was as high as it was long and it barely cleared the short right-field screen," he told Tennessean sportswriter F. M. Williams. "I'll take it."
Relinquishing its hold on professional baseball in Nashville, the city took over management of the facility. Relegated to a final flurry of amateur softball and baseball games, wrestling matches, concerts, and the rodeo in 1964, the park was eventually shuttered after becoming a race track in 1965 and demolished in 1969.
It was soon after the final professional baseball season that happy thoughts stirred once again, resurrecting flashbacks of a better day, a better time when things were different. Tennessean cartoonist Charles Bissell gave one final inscription to memories of Sulphur Dell. Reckon the ghosts are still there, after all?
© 2019 by Skip Nipper. All Rights Reserved