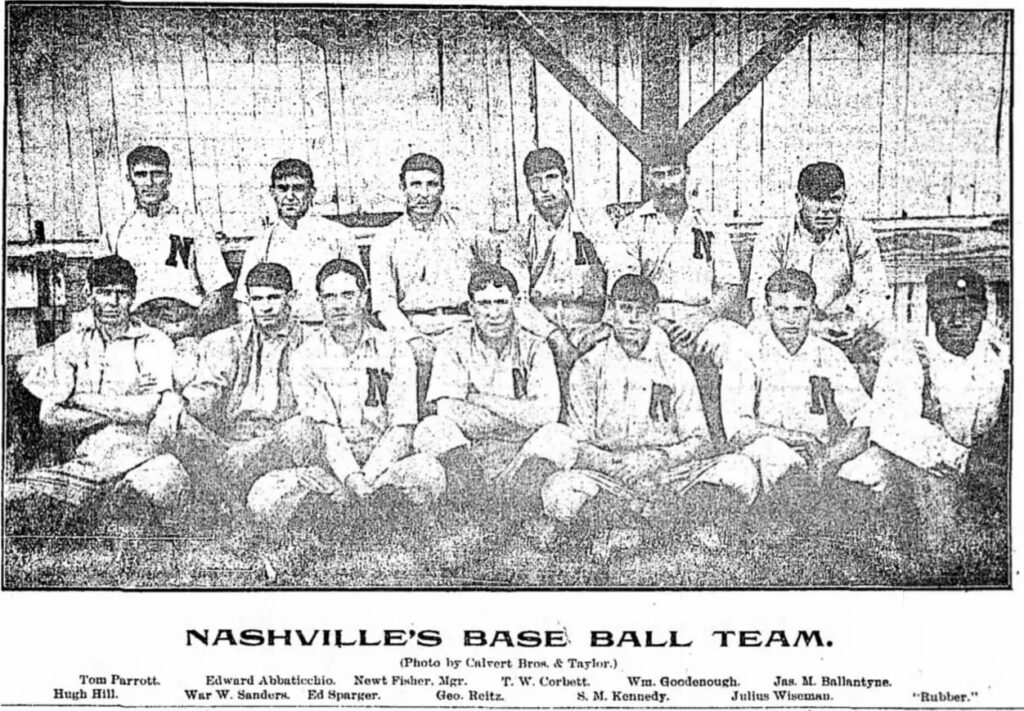 The Southern Association of Baseball Clubs was organized at the Morris Hotel in Birmingham, Alabama on October 20, 1900, by Abner Powell, Charley Frank and Newt Fisher. Nashville was one of six cities selected as original franchises: Nashville, Chattanooga, Memphis, Shreveport, New Orleans, and Birmingham. Powell would become an owner in New Orleans along with Isidore Newman, Fisher would have a stake in the Nashville club, and Frank would own Memphis, further setting in motion the importance of the principal founders.
Atlanta, Montgomery, Little Rock, and Mobile submitted applications, and Little Rock and Atlanta become the two remaining clubs for the inaugural season. At a league meeting in Memphis on February 28, 1901, the Southern Association franchise initially awarded to Atlanta transfers to Selma, and the league's schedule is adopted.
Nashville's team was off and running in the new league, winning the first two regular-season pennants in 1901 and 1902, but all was not well.
Disgruntled owners attempted to form a new league, but the measure fails. On September 8, 1902, an agreement passed in Memphis that the 1903 Southern League cities will include New Orleans, Mobile, Birmingham, Montgomery, Savannah, Memphis, Atlanta, and Nashville with Little Rock, Shreveport, and Chattanooga eliminated from consideration.
In 1908 the Volunteers won their third Southern Association crown, followed by another in 1916. On July 11 of the Vols fourth championship season, Tom Rogers pitched a perfect game against Chattanooga, striking out 4. The game time was one hour and 25 minutes.
In 1918 many of the Southern Association teams were struggling as World War I impacted commerce and fan attendance, a shortened season is necessary, and the directors of the league considered shutting down. Nashville's attendance that season was 24,119, down from 79,018 the previous year.
Sunday games had not been allowed in Tennessee well into the second decade of the Southern Association, creating an obstacle to scheduling. On March 28, 1919, John D. Martin, president of the Southern Association, arrived in Nashville to urge the State Supreme Court to render an early decision in allowing Sunday baseball games.
The Tennessee Supreme Court announced its decision on April 12, 1919, to permit baseball games on Sunday. The Court held that blue laws of 1893 did not apply to baseball, the game not being played when the legislation passed.
In 1920 league attendance passed one million for the first time since teams began keeping accurate records in 1915. The league drew a total of 1,215,367 fans; Nashville's home attendance was 102,529.
In 1931 Fay L. Murray, part-owner of the American Association Minneapolis Millers purchased the Nashville Volunteers. In November of 1938, Murray would lure New Orleans manager Larry Gilbert to Nashville to become the manager and general manager. Gilbert would also become a part-owner of the Vols.
In 1940 Gilbert's Nashville club won the Southern Association pennant, followed up with the top spot again in 1943and 1948, Gilbert's final season as a manager.
Larry Gilbert had an upstanding reputation. He was often called upon to meet with Major League representatives during National Association meetings. He was named one of the coaches for a game in Cooperstown, New York to commemorate the 100th anniversary of baseball. He also made out the Southern Association schedule.
On August 25, 1941, Southern Association president Trammell Scott postponed Nashville's home contest against Little Rock out of respect to the family of Larry Gilbert, Jr., son of the Vols manager. The younger Gilbert had passed away the previous day from heart failure.
Led by manager Rollie Hemsley, the Vols captured another regular-season league crown in 1949.
Into the 1950s, Nashville was just one of many minor league clubs experiencing poor attendance. From a club record 269,893 in 1948 down to 92,199 in 1958, without fan support, the league would not survive.
The New Orleans Pelicans owners announced on March 15, 1960, that the team was folding and would not field a team in the Southern Association. A charter member of the league, New Orleans would become the largest city in the US without a professional baseball team.
On August 29, 1960, Cincinnati Reds vice-president and general manager Gabe Paul announced that the Reds six-year working agreement would not be renewed with Nashville, effective December 15. The reason given by Paul was because the Southern Association "does not allow the use of Negro players".
The Southern Association suspended operations on January 24, 1962, due to "a lack of enough major league working agreements"; however, during the 1961 season, average attendance for all games is less than 1,000 fans.
Nashville had drawn just over 500 fans per game during the 1961 and had been unable to secure affiliation with a big-league club. With the announcement, organized minor league baseball is reduced to only 19 leagues for the 1962 season, from a high of 59 leagues in 1949.
Nashville was without baseball in 1962. Although the Vols resurrected in the South Atlantic League for the 1963 season, poor attendance and a deficit of almost $22,000 forced the ownership group to surrender their South Atlantic League franchise without a dissenting vote from its board of directors.
© 2019 by Skip Nipper. All Rights Reserved.