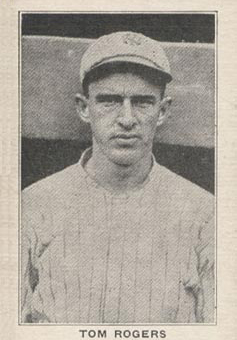 Tom Rogers pitched a perfect game for Nashville on July 11, 1916, as the Vols won over Chattanooga at Sulphur Dell 2-0. The hard-throwing right-hander from Sparta, Tennessee, who resided in nearby Gallatin and was known as the "Gallatin Gunner," "Sumner County Scythe," and "Shotgun," struck out four in the game that took only one hour and 25 minutes to complete.
The feat had been accomplished only two times before in baseball's modern era, by Cy Young on May 5, 1904, when the Boston Americans defeated the visiting Philadelphia Athletics, and by Addie Joss of the Cleveland Naps over the Chicago White Sox 1-0 on October 2, 1908.
Outfielders Billy Lee and Gus Williams aided in securing Rogers' feat. Lee ran down a smash by the Lookouts Joe Harris in right-center in the second inning, even though he stumbled as he made the play. Lee held on to the ball, and the crowd applauded their approval.
Williams performed a similar play by running down a seventh-inning Jake Pitler drive that was heading down the left-field line. The left fielder caught the ball just before crashing into the fence near the negro bleachers.
Both pitchers held his opponent hitless for six innings. In the seventh inning, Vols second baseman Tom Sheehan managed his clubs lone hit against Chattanooga's Jim "Lefty' Allen. It began a rally of two runs as Howard Baker sacrificed Sheehan to second, and Sheehan taking third on an outfield error that was hit by Gus Williams.
Sheehan scored on a Dick Kauffman bunt that was not fielded cleanly by Allen, and Williams followed him home on a squeeze play that was performed flawlessly by Art Kores.
Nashville was not able to generate additional hits, and Allen finished with a one-hitter while Rogers completed his perfect game.
The previous season on August 15, 1915, Rogers had thrown a complete game, fifteen-inning shutout in allowing only three hits as Nashville won over visiting Little Rock 1-0. He ended the season with a 14-19 record in 293 innings pitched.
He continued his spirited performance in 1916. Rogers had shut out the Atlanta Crackers in his previous start before his unspoiled performance, giving him 18 straight innings without allowing a run. It was not until July 23 when Little Rock scores in the seventh inning that the first run was given up by him after 43 scoreless innings.
Rogers would finish the season with a 24-12 pitching record in 317 innings as Nashville would secure its fourth Southern Association pennant.
A tragedy had occurred one month before Rogers joined the history books. On June 18, 1916, Rogers hit Mobile third baseman, Johnny Dodge, with a pitch in the seventh inning the game, striking him in the face when he lunged into the pitch to hit the ball before it curved. At first not considered to have incurred a severe injury, the next day, Dodge dies in the hospital from the blow. Teammates on the 1915 Nashville team, Rogers was distraught over his friend's death, and he continued to carry the tragedy with him until his passing in Nashville in 1936 after 14 seasons of professional baseball.
His perfect game entrenched himself into the annals of Sulphur Dell's history, as it is the only accomplishment in the history of the ballpark.
In three seasons with Nashville, Rogers had a 41-32 pitching record and was instrumental in the Vols capturing its fourth Southern Association championship in 1916. He would play for the St. Louis Browns, Philadelphia Athletics, and New York Yankees before returning to the minors for nine more years. Born on February 12, 1892, Rogers passed away on March 7, 1936, at the age of 44. Some reports said he never got over Dodge's death and was sensitive about the incident until the day he died.
Sources
baseball-reference.com
Nashville Tennessean and Daily American
newspapers.com
© 2020 by Skip Nipper. All Rights Reserved.