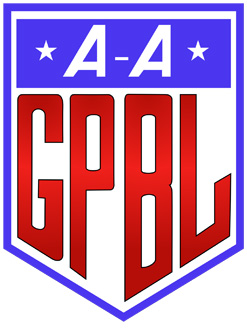 Penny Marshall's delightful movie A League of Their Own, one of the all-time classic baseball films, tells the story of the All-American Girls Professional Baseball League. As World War II is raging, and attendance at major league games declining, Chicago Cubs owner Phil Wrigley organizes the concept in 1943 to counter the loss of revenue of his club and bring attention to a new brand of the sport[1].
The league began in four cities: Kenosha Comets, Racine Belles, Rockford Peaches, and South Bend Blue Sox. Spring training was at Wrigley Field, and after a 108-game season, Kenosha and Racine participated in a five-game championship series. Racine took the league crown. Attendance stood at 176,612 for the inaugural season.
The unexpected success of the ladies' loop gave rise to more teams, as the Milwaukee Chicks club became a member in 1944. After spring training in Peru, Illinois, the league was up and running for a second season. Milwaukee won the regular season and playoff championships in 1944, as attendance grew to 249,000. Another new team came on board, the Fort Wayne Daisies, in 1945. Rockford was the top team that season, and year-long attendance stood at 450,000.
In 1946, Pascagoula, Mississippi, was chosen as spring training home, and two cities more joined the league: the Muskegon Lassies and Peoria Red Wings. Racine captured the championship at the end of the season, as attendance climbed to over 750,000.
But as the teams had broken camp from Pascagoula in May to head north to begin the season, exhibition games were scheduled in various cities, just as the major-league clubs. One of those cities was Nashville, and Sulphur Dell was the venue. The Davidson County Parent-Teacher Association sponsored the contest.
On May 8, the Racine Belles and Muskegon Lassies played before a crowd estimated at between 1,500 – 1,800 spectators. Arriving from Memphis by team bus at 4 p.m., the Belles quickly checked into the Noel Hotel before making their way to Sulphur Dell to play against the Lassies. The game began at 8:15 p.m.[2]
Muskegon infielder Dorothy "Monty" Montgomery was from Chattanooga, Tennessee. In 1946, she was a teammate of catcher Dorothy "Mickey" Chapman, who had lost her first husband in overseas combat in 1944 while she was playing for Milwaukee. Gladys "Terrie" Davis was the league's first batting champion in 1943 as a member of the Rockford Peaches, hitting for a .332 average.
Doris "Sammye" Sams was from Knoxville, Tennessee, and was one of the league's stars. In 1941, she played in the American Softball Association (ASA) Nationals in Detroit with her Tennessee team. A pitcher and outfielder, she would become league Player of the Year in 1947 and 1949, and an All-Star for six of her eight years in the league.
Racine's Joan "Joanie" Winter was one of the original players chosen to participate in the league in 1943. At the end of her eight-year career, all with the Belles, she would be one of seven pitchers to have won 100 or more games, with 133. She would go on to become a member of the LPGA, and in 2005 would be inducted into the National Women's Baseball Hall of Fame.
1946 Racine Belles: AAGPBL.org image
One of the rare female boxers of her day (then known as "Tuffy"), Irene Hickson, was from Chattanooga. A catcher, Hickson played eight of her nine years in the AAGPBL with Racine. Edyth "Edie" Keating would play her entire eight-year career with the Belles during which she would steal 481 bases.
The Belles won the game 8-7; a Nashville Tennessean error reported the game as between "softball" teams[3]. In 1943, league president Max Carey gave his take on where the "Girls" began, and "Softball" ended: "Femininity is the keynote of our league; no pants-wearing, tough-talking female softballer will play on any of our four teams…" [4]
Muskegon manager, Ralph "Buzz" Boyle, would become a scout for the Cincinnati Reds and participate in spring training with the 1955 Nashville Vols.[5]
By 1948, attendance had reached nearly 1 million, and two Illinois teams were added: the Chicago Colleens and Springfield Sallies. But ultimately, clubs shut down, and attendance waned until the league closed shop in 1954.[6]
Although there is no review of the one recorded AAGPBL game played at Sulphur Dell, the fan-favorite movie always delivers the excitement and competitive spirit of the women of the "All American League."
Notes
[1] "All American Girls Professional Baseball League: League History," https://www.aagpbl.org/index.cfm/pages/league/12/league-history, retrieved January 7, 2020.
[2] "Girls Baseball Teams to Play in Dell Tonight," Nashville Tennessean, May 8, 1946: 21.
[3] "Racine Belles Edge Muskegon Lassies," Nashville Tennessean, May 9, 1946: 21.
[4] Bill Francis, "League of Women Ballplayers, http://baseballhall.org/discover/league-of-women-ballplayers, retrieved January 7, 2020.
[5] F. M. Williams, "Vols Skipper Praises Left Handed Hitters," Nashville Tennessean, March 13, 1955: 38.
[6] "The All American Girls Professional Baseball League," http://www.seanlahman.com/baseball-archive/womens-baseball/, retrieved January 8, 2020.
Sources
Aagpbl.org
Baseballhall.org
Newspapers.com
Seanlahman.com
© 2020 by Skip Nipper. All Rights Reserved.