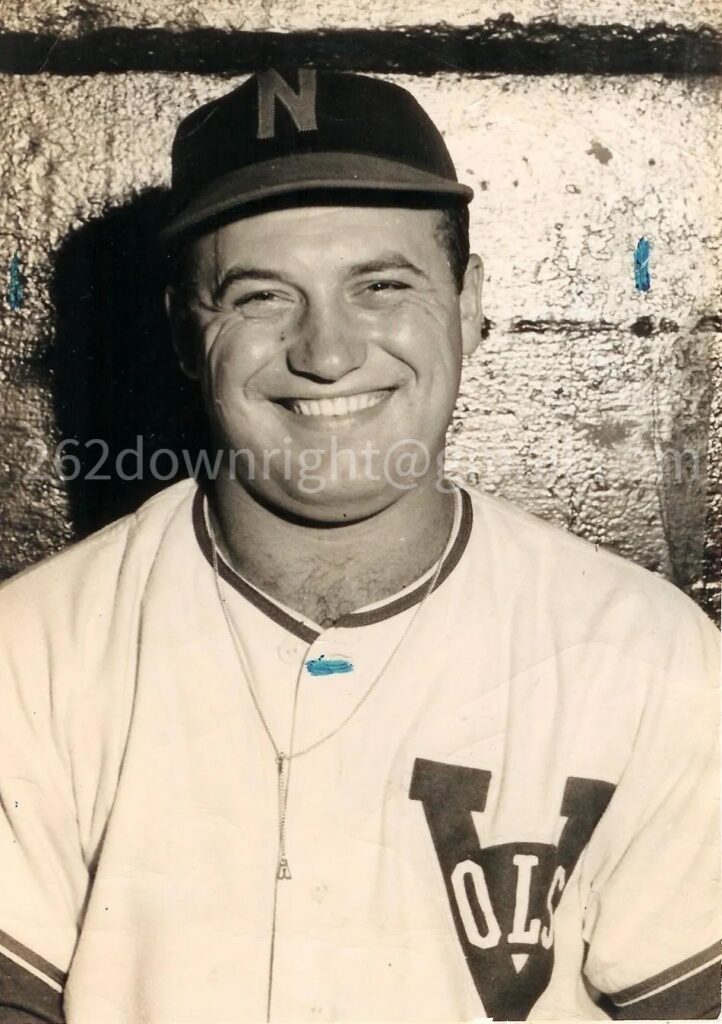 One of the most popular players to have donned a Nashville baseball uniform, Carl "Swish" Sawatski, was born in Shickshinny, Pennsylvania, on November 4, 1927. A catcher for the Vols for two seasons, Sawatski led the league with 45 home runs and set a league record with five grand slams, hitting .360 as Nashville captured the 1949 Southern Association pennant.
On Opening Day, April 15, 1949, in Chattanooga, Sawatski hit a home run that traveled at least 520 feet and bounced among the railroad tracks outside Engel Stadium and considered to be the longest homer ever hit by a Vols player in any park in the league.
His slugging feats continued that same season, as on June 13, he hit a home run over the ice house beyond the right-field fence at Sulphur Dell, one of several on or over the roof.
Also known as "Swats" and "Swisher", Sawatski's record-setting fifth grand slam took place on August 31. The slam came in a 24-4 win over Atlanta; it was his 24th homer of the season as Nashville swept the Crackers in all eleven games in Sulphur Dell between the two teams.
As feared as Sawatski was at the plate, he garnered a bit of respect on September 11 in the final game of the 1949 season. He received only blooper pitches every time he faced Chattanooga's Bobo Newsom in the last game of the Southern Association season at Engel Stadium. Reaching across the plate on his final at-bat, Sawataski caught one of Newsom's bloopers, and fungoed the ball into right field as Sawatski is called out for interference by chuckling umpire Bill Malesky.
Returning to Nashville for 1950 to a revamped squad, only six members of the previous year's team were still on hand to hoist the 1949 pennant during the pre-game ceremony on June 1: Carl Sawatski, Buster Boguskie, Joe Damato, Paul Mauldin, Tony Jacobs, and Charles "Bama" Ray.
However, Sawatski was in the middle of picking up where he left off in 1949. On June 5, Sawatski socked his seventh home run in seventeen games by tagging Mobile's Chuck Eisenmann.
Homers seemed to come fast and furious, as on July 24 as the Vols were beating New Orleans 9-6 in Nashville, Sawatski slammed a grand slam for his 19th home run of the season. He would finish his season with 24 homers in 80 games with a .304 average.
He went to the Chicago Cubs and played in 38 games but only hit one home run. Sawatski was in the military during 1951 and 1952, came back to finish the 1953 season with the Cubs before signing with the Chicago White Sox. Although never playing more than 86 games during any portion of the 11 seasons he was on the roster of the Cubs, White Sox, Milwaukee Braves, Philadelphia Phillies, or St. Louis Cardinals.
Sawatski was a member of the 1957 World Series champions Milwaukee Braves. He served as president of the Texas League from 1976 until his death in Little Rock, Arkansas, on November 24, 1991.
Sources
baseball-reference.com
Nashville Banner
Nashville Tennessean
newspapers.com
The Sporting News
Notes
The author also referred to Carl Sawatski's biography by Gregory H. Wolf, published by SABR.org: https://sabr.org/bioproj/person/f9afd8a1
© 2020 by Skip Nipper. All Rights Reserved.