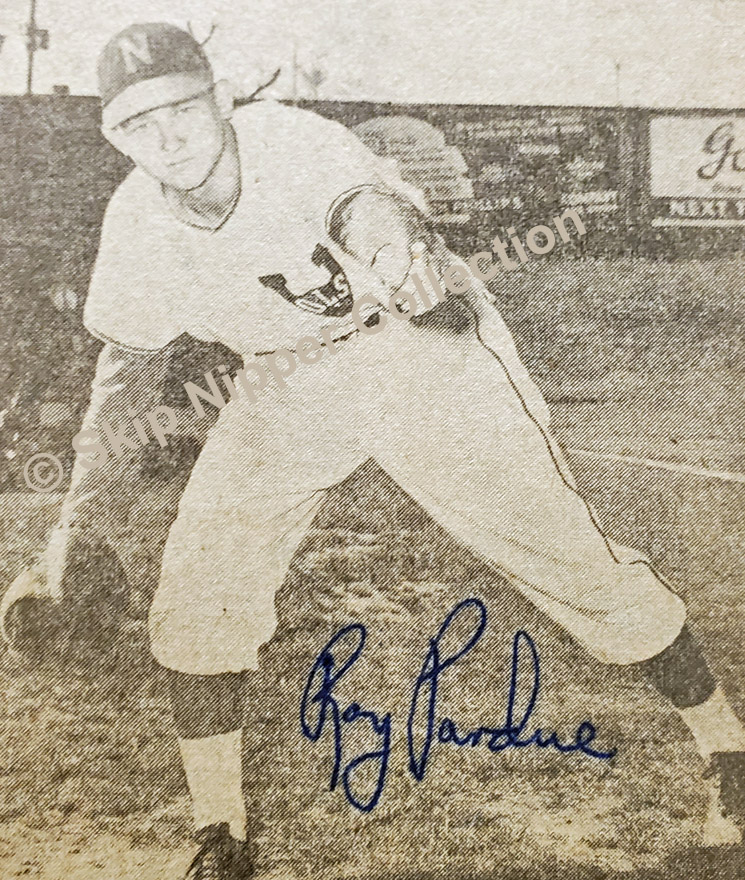 It was July 29, 1948, and baseball was back in its heyday. Nashville Vols attendance had increased dramatically since the end of World War II from a war-time low of 76,570 in 1943. At the end of the 1948 season, the hometown ball club would finish with an all-time attendance record of 269,893.
On this particular evening, the temperature hovered in the mid-70s. The sky was clear, and anticipation was high to get a view of the dignitaries who were expected to attend the event.
Nashville Mayor Thomas L. Cummings tossed out the first pitch with 19-year-old movie star Roddy McDowall at his side. Looking on were Charles Hurth, president of the Southern Association, and Shelby Peace, president of the Kitty League, and baseball scouts George Digby (Boston Red Sox) and Shaky Kain (New York Yankees). Former pros Paul Blackard, Hand Deberry, Tom Oliver, and Johnny Beazley were on hand. Major League Commissioner A. B. (Happy) Chandler and George Trautman, head of the Southern Association, were unable to attend as expected but sent their regrets.[1]
But this evening, nary a single professional player would be on the field. Only Southern Association umpire Harry (Steamboat) Johnson, who donated his time to call the first three innings of the game, would be involved.
He added a little levity, too. Introduced to begin the game, the fans booed loudly. Known for his loud voice which resembled a tugboat's horn, "Steamboat" booed right back at them.
All were there for a well-publicized All-Star game, the fourth in a row co-sponsored by the Andrew Jackson VFW Post 1291 and the Nashville Tennessean. Proceeds were to assist kids who otherwise could not attend summer camping at Montgomery Bell State Park. The Nashville Federation of Settlements used funds for summer camps, and several of the organization's contingent offered their time to volunteer.
Members of 120 churches in Nashville and Davidson County were in charge of ticket sales for the event, and Nashville Vols owners Ted Murray and Larry Gilbert turned over the use of the park at no charge.
The game included a select team of fifteen 16- to 18-year-old boys from the city and county, chosen as All-Stars to face Woodbine Chamber of Commerce of the VFW Junior League.
With over 7,000 tickets sold, fans viewed a thrilling game won by Woodbine, 5-4, as the winning run scored in the bottom of the ninth on an infield error.
At the game's conclusion, 16-year-old lefty All-Star pitcher Roy Pardue, ace of the Centenary Methodist Institute team, was chosen "Player of the Night." In allowing only one hit in three innings pitched, while striking out five, he was thrilled to learn of his honor.
"It's a wonderful feeling. I just couldn't feel any better," Pardue told Nashville Tennessean sportswriter Russ Melvin.[2]
In being named MVP, his reward included a trip to Chicago to witness the college All-Star football game and visits to major league baseball games.
At the All-Star break, Pardue led the league with a 7-0 pitching tab and 78 strikeouts. Four years later, he would pitch for the Nashville Vols, and after a stint in the Army, would return as Vols mound ace in 1955 and 1956. His professional career ended in 1957.
But on that special night in Sulphur Dell in 1948, Nashville fans proved their love for baseball "at all levels."
Sources
Nashville Banner
Nashville Tennessean
newspapers.com
Notes
[1] Raymond Johnson, "One Man's Opinion" column, Nashville Tennessean, July 30, 1948, 33.
[2] Russ Melvin, "All-Star Hurler 'Player of Night'," Nashville Tennessean, July 30, 1948, 1.
© 2020 by Skip Nipper. All Rights Reserved.