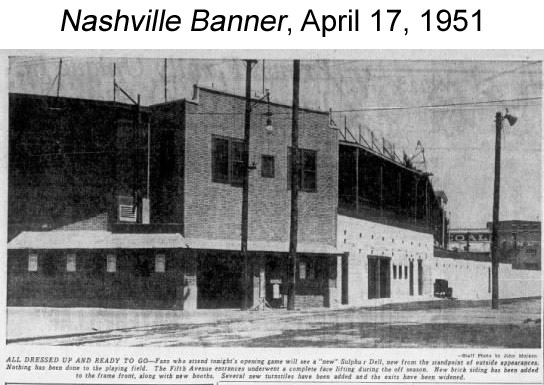 Sulphur Dell celebrated 24 years of service to the local club on opening day, Tuesday, April 17, 1951, as Nashville hosted the Atlanta Crackers. The Vols were returning from a season-opening series at Little Rock where they won one and lost three.
Opening ceremonies included local announcer, singer, and songwriter "Uncle Joe" Allison, who served as master of ceremonies, and June Carter, who sang "Temptation". Tennessee governor Gordon Browning led the singing of "Take Me Out To The Ball Game," "Dixie", and "Tennessee Waltz", all accompanied by Red McEwan and his orchestra. Browning threw out the first ball.
The front entranced featured a new look that included a remodeled façade, new turnstiles, brick walls, wider exits, and other improvements. An emerald-green infield was a welcome sight to the fans and players alike.
"I've been coming down here for over 30 years," remarked box seat manager John Boguskie, "and that's the greenest the infield grass has been at this time a year since the park was turned around."[1]
Unchanged are the dumps in the outfield and the short right-field fence that was part of the reconstruction of the ballpark in 1927.
Six thousand thirty-seven fans turned out to see 36-year-old Red Barrett, the oldest player on the team, shutout Atlanta 5-0 on four hits (one a bunt and one a misjudged fly). Barrett was not tagged to start the game until Al Porto came down with the flu.
Jack Harshman slugged a home run in the seventh, and Buster Boguskie added three hits, and Daryl Spencer had two.
One of Spencer's hits bounded off the right-field screen, and he was thrown out at second trying to stretch it to a double. Boguskie would have had a fourth single, but a bunt clipped him on his heel as he was running to first, and he was declared out.
In the first five games of the young season, the 25-year-old Boguskie now has six hits in seven appearances before left-handed throwers. His teammates think the Bordeaux native and Cumberland High scar Buster Boguskie is ready for a great season.
"That little guy doesn't care whether the pitchers are southpaws or right-handers," commented one of the Vols after Bo opened the locals' batting with a drive against the screen. "He hit 'em all," someone added."[2]
Ralph "Country" Brown had two hits against the fiery right-hander, a fluke double and bunt single. Hank Ertman hit a long fly ball that looked like it was going out of the park, but it hit the light tower in right field and dropped for a double. Chuck Tanner had the fourth hit, a single to center in the sixth inning.
"I just kept feeding 'em that low inside slider," was Barrett's explanation of his mastery over the Atlanta batters. "That slider was working perfect. I must have thrown it every other pitch at least."[3]
Daniel B. Cannon, a resident of 3807 Clara Avenue, was the oldest continuous opening day attendee. The 83-year-old Cannon viewed Nashville's 47th consecutive opening day game since watching Newt Fisher's ball club in 1903.
He was the first person admitted to the colored stands before the game.[4]
The game-time temperature was 50 degrees, but it was estimated to be around 43 inside the ballpark during the game. When players returned to the locker room when it was all over, trainer Willie White had already stoked the pot-bellied stove.
Barrett offered a final comment that told a lot about his night.
"Most people around here are about to freeze, but not me. I'm burning up."[5]
Sources
Nashville Banner
Nashville Tennessean
Newspapers.com
Paperofrecord.com
Sabr.org
The Sporting News
Notes
[1] Edgar Allen, "Boguskie Slams Lefthanders for Six Straight Hits," Nashville Banner, April 18, 1951, 23.
[2] Neal Ellis, "Dellers Happy – At Home Again With Short Fence," Nashville Tennessean, April 18, 1951, 24.
[3] Bob Witt, "Red Claims Top Pitch Was Low Inside Slider," Nashville Banner, April 18, 1951, 22.
[4] Raymond Johnson, "One Man's Opinion" column, Nashville Tennessean, April 18, 1951, 24.
[5] Witt.
© 2020 by Skip Nipper. All Rights Reserved.