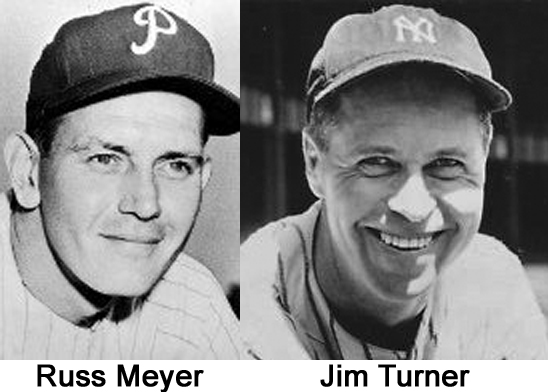 On July 20, 1957, Nashville Vols pitcher Russ Meyer had command of his screwball for eight innings against Chattanooga, allowing only two runners to reach second. He allowed five hits and faced only 27 batters before giving up a single and Texas Leaguer to the first two hitters in the ninth. He intentionally walked the next batter and gave up two sacrifice fly balls which allowed Chattanooga to score three runs in a 3-2 win over Nashville.
Until the ninth, Nashville Tennessean sportswriter Raymond Johnson considered it one of the best performances he had seen Meyer perform, and after the game asked for his opinion on pitching.
Meyer had spent the 1942, 1943, and 1945 seasons in Nashville, and appeared in three World Series in 1950 with the Phillies, and 1953 and 1955 with Brooklyn. Johnson was curious if pitching was different today.
The right handed thrower was short on words.
"I don't mean to put any umpire on the spot. I don't know who is responsible, but the strike zone is much smaller. Now a pitcher must be exceptionally careful all the time."
Yankees pitching coach Jim Turner was in town for a few days and Johnson was interested in Turner's opinion on whether pitching had changed much in his time in the big leagues.
"Jim Turner, the New York Yankee pitching coach who visited his home here after the major league All-Star game in St. Louis, is another who thinks pitching has changed in the last decade.
"Today's pitcher works on the hitter more," Turner commented. "More pitchers mix the corners more. They don't lean back and throw like they did when I first broke into baseball. A pitcher today usually has a fast ball, a curve, a slider and a change-up.
"The slider is not particularly new, but an old one that has been refined. The pitch was around when I started. We called it a small curve then. It has been refined now to where there is more of a sliding motion instead of a curve.
"Delivery depends on the pitcher. Most pitchers nowadays use a pumping motion. But I can remember when they used a windmill windup. There's nothing mysterious about pitching. It's just hard work."
"Since on the subject of pitching, Turner passed along some tips for the youngsters to Herman Eskew of this paper's magazine staff that are worth repeating. "The first two years in baseball are the most important of a player's life." Turner said. "This is the time you should learn all you can. A lot of young players are not satisfied to play in the class they belong. This is important, however, because it's better to play and pitch regularly than to sit on the bench. This is the time to cure yourself of your bad habits.
"The main job of the pitcher is to get the batter out. A pitcher should concentrate on follow through, learn fielding, keep the other team from stealing your signs, and improve your curve, fast ball and change up. Master the curve first. Work on your control…"
Some words of wisdom are timeless, aren't they?
Note: Taken from Raymond Johnson's "One Man's Opinion" column, Nashville Tennessean, July 21, 1957, 25. via newspapers.com
© 2020 by Skip Nipper. All Rights Reserved.