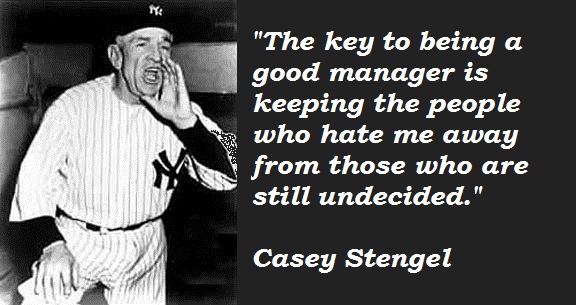 Nashville Vols field general Larry Gilbert (1939-1948) was one of the most admired managers of his time. Not only did he have the respect of his players, but he was also called on to give advice, scout players, and make out league schedules all across the baseball world. Nashville Banner sports editor Fred Russell seems to have had a deep respect for Gilbert, too. In his book, I'll Go Quietly (The McQuiddy Press, January 1, 1944), Russell gives Gilbert credit for this gem:
"Make winning so pleasant and losing so unpleasant that hustle is automatic." — Larry Gilbert
Other "baseball people" have been given credit for a special quote or two. Here are some of my favorites:
"I knew I was in for a long year when we lined up for the national anthem on opening day and one of my players said, "Every time I hear that song I have a bad game." – Jim Leyland
"Managing is getting paid for home runs someone else hits." – Casey Stengel
"As long as I've got a chance to beat you I'm going to take it." – Leo Durocher
"I'm not buddy-buddy with the players. If they need a buddy, let them buy a dog." – Whitey Herzog
"After all my years, there are two things I've never got used to: haggling with a player over his contract and telling a boy he's got to go back." – Connie Mack
"The trouble with baseball is that it is not played the year round." – Gaylord Perry
The key to winning baseball games is pitching, fundamentals, and three-run homers." – Earl Weaver
"The only thing Earl (Weaver) knows about big-league pitching is that he couldn't hit it." – Jim Palmer"
"My feeling is that when you're managing a baseball team, you have to pick the right people to play and then pray a lot." – Robin Roberts
"Well, there's nobody on base. I think I'm doing okay!" – Paul Foytack to manager Bill Rigney after surrendering four straight homers in a start in 1962
"I make my living off the hungriness of the hitter." – Lew Burdette
"You would be amazed how many important outs you can get by working the count down to where the hitter is sure you're going to throw to his weakness, and then throw to his power instead." – Whitey Ford
"You can't hit what you can't see." – Walter Johnson
"You should enter a ballpark the way you enter a church." – Bill 'Spaceman' Lee
I never threw an illegal pitch. The trouble is, once in a while I toss one that ain't never been seen by this generation." – Satchel Paige
"Those of us lucky enough to be part of the game have a tremendous responsibility — we're charged with giving back to the game all the good things the game has given us." – Sparky Anderson
"If you don't think baseball is a big deal, don't do it. But if you do, do it right." – Tom Seaver
Truer words were never spoken. Agreed?
© 2020 by Skip Nipper. All Rights Reserved.