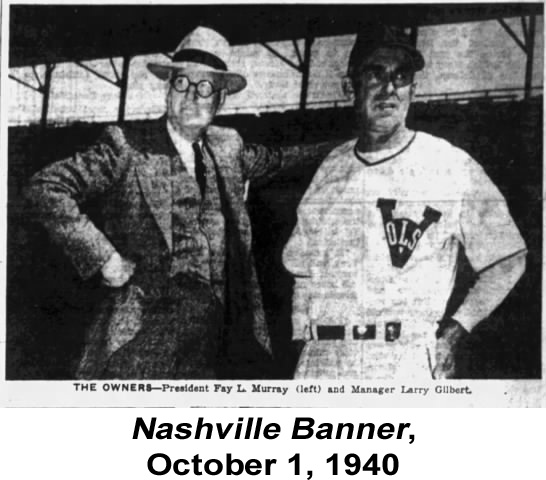 On November 8, 1938, Nashville club owner Fay Murray shocked baseball fans, Southern Association moguls, and everyone in between by announcing he had convinced Larry Gilbert, veteran manager of the New Orleans Pelicans, to become the Nashville Vols manager replacing Chuck Dressen.
Nashville Tennessean sportswriter Raymond Johnson did not hold back on his fortune-telling ability.
"It should create more excitement among the local baseball bugs than Orson Welles' "Men of Mars" playlet did."
"As one ardent fan put it last night, it's too good to be true."[1]
What would come to light in days ahead was Murray had made overtures for Gilbert to manage the Vols a year prior. It was to no avail, as Larry was reluctant to entertain any idea of leaving his hometown.[2]
That did not keep Murray from trying again.
Johnson explained why. "In order to obtain Gilbert," President Fay Murray said late yesterday shortly after the deal was completed, "it was necessary for him to own a very substantial interest in the club; but as it has always been my desire to furnish the loyal fans and supporters of the Nashville club the best in baseball, I was willing to make any concession to secure Gilbert's services."[3]
To accomplish that, it took one more slice out of Murray's bank account; he purchased Jimmy Hamilton's interest in the Nashville club and offered it to Gilbert. One would think Hamilton would not be elated with losing one-half interest in the ball club, but undoubtedly Murray made him an attractive offer as, after all, Hamilton had been with the Vols for 15 years, the past eight with Murray as owner. Before becoming an executive with the club, he was the team's manager, 1923 – 1928.
It appears he was not unhappy with the transaction at all.
"I believe he did a great thing in getting Larry Gilbert. To my way of thinking Gilbert is the only man who could fill Dressen's shoes. He's popular here and throughout the league, knows the league, and is a great man to handle players."
Nashville Banner sportswriter Fred Russell called it a masterstroke.
"Fay Murray has made a master move. No other person in the world would be as acceptable to the paying public as Larry Gilbert. He is personally popular, a shrewd baseball man, knows the league better than anyone in it and gets the very best out of his players."[4]
Russell fended off rumors of friction between Gilbert and New Orleans president Seymour Weiss by asking the head of the Pelicans himself. Weiss explained it in no uncertain terms.
"Larry came to me and he laid on a table before me the proposition he had from Nashville."
"He asked me to look it over and then told me that if I felt he should not take it – if I felt he owed it to my associates and me to stick here – that he would turn it down."
"What kind of a man would I have been to ask him to turn down such an attractive proposition as he had? Why if it had meant the destruction of the Pelicans – the loss of our franchise or things worse – I would have told him just what I did tell him. And it was this: 'Larry, you must take this offer.'"[5]
And take it he did.
Larry explained.
"You may be sure I thought it over a long time. New Orleans is my home – the home of my entire family and 98 per cent of my friends. My association with the new owners of the Pelicans have been perfect – ideal. I could not have hoped for a more congenial association."
"But the offer from Nashville was one I could not turn down. I owed it to my family to take it. Mr. Weiss and his associates would be foolish to even try to come close to the offer."
"I had to do it. I have a chance to make three times the money I can make here – an assurance I will make twice as much. Nashville is a fine baseball town and I have known Fay Murray many years. I have no doubt I will get all the help I need to make good though, of course, it probably would be expecting too much to have the good luck I have here with winners. Anyhow, I'll do my best."[6]
The Pelicans boss expressed how his relationship would continue with the new Nashville field boss.
"And as unwilling as I will be to put Larry on a spot or use him – without pay – I'm frank to say that the next manager of the Pelicans will be the man Larry Gilbert approves of from among the half a dozen or so names I will submit to him."[7]
Was it a good investment for the Nashville owner?
Gilbert took his 1939 team to the league playoff championship before losing to San Antonio from the Texas League in the Dixie Playoffs. The 1940 club stood atop Southern Association standings from opening day until the last day of the season, won the league playoffs, then took the Dixie Series championship against the Houston Buffaloes.
Murray had to have been elated and expecting more championships to come. Sadly, he died from a heart attack on March 4, 1941. His son Ted took over and allowed Gilbert to continue in his capacity of vice-president and general manager.
Larry continued his winning ways with six consecutive titles (1939–44) with the Vols and a record of 821-660. He retired from the coaching box after the 1948 season but remained in his executive position.
Russell gave a glowing testament to both Gilbert and Murray after the 1940 championship season ended.
"The Vols know it's humanly impossible to have a finer pair of bosses than Fay Murray and Larry Gilbert. Their feeling is a natural reaction to fair treatment, to honest dealing, to kindness."[8]
On September 8, 1948, in his final game as manager, Gilbert was honored for 25 years as a manager in the Southern Association. He remained in Nashville into the 1955 season before selling his share of the team, then returned to his hometown.
In saying goodbye, he sent a letter to Russell expressing affection for Nashville.
"Our sincere thanks for the many happy days and happy hours we have spent together…I have many good friends here and we will be back to visit them."[9]
Sources
Atlanta Constitution
baseball-reference.com
Nashville Banner
Nashville Tennessean
newspapers.com
Notes
[1] Raymond Johnson, "One Man's Opinion" column, Nashville Tennessean, November 9, 1938, 10.
[2] Jack Troy, "All in the Game" column, Atlanta Constitution, November 10, 1938, 19.
[3] Johnson, "Larry Gilbert Becomes New Pilot, Part-Owner of Vols, Nashville Tennessean, November 9, 1938, 10.
[4] Fred Russell, Sideline Sidelights" column, Nashville Banner, November 9, 1938, 6.
[5] Russell, "Sideline Sidelights" column, Nashville Banner, November 17, 1938, 14.
[6] Russell, Sideline Sidelights" column, Nashville Banner, November 9, 1938, 6.
[7] Russell, November 18, 1938. 14.
[8] Russell, Sideline Sidelights" column, Nashville Banner, October 2, 1940, 20.
[9] "A Letter From Larry Gilbert," Nashville Banner, May 23, 1955, 22.
© 2020 by Skip Nipper. All Rights Reserved.