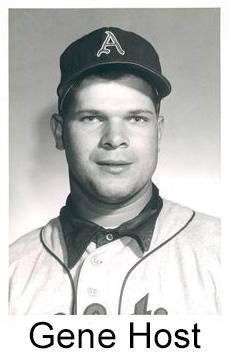 Eugene Earl Host was once one of the highest-rated mound prospects in the Detroit organization. Born on January 1, 1933, in Leeper, Pennsylvania, the 5′ 11″, the 190-pound hard-throwing left-hander was signed as a 19-year-old free agent in 1952 by the Detroit Tigers.
Sent to Kingston of the Coastal Plains League in his first professional season, he was 26-7 with a 1.81 ERA and named to the All-Star team.
He spent the 1953 season with Montgomery in the South Atlantic League (A) where he was 10-13 with a 3.51 ERA and in 1954 bounced between three teams:
Little Rock (Southern Association – AA)
Wilkes-Barre (Eastern League – A)
Durham (Carolina League – B)
His combined record was 7-7.
In 1955 he spent the entire season with Little Rock, where he was 10-13 once again. In May, he hit Chattanooga's Lyle Luttrell with a pitch, breaking his jaw.
In 1956 he finished 13-15 with Charleston (American Association – AAA) before being called up to the Tigers, where his contract with the major league club called for a salary of $4,200.
He pitched in one game for Detroit at Briggs Stadium on September 16, 1956, against Boston. Wearing number 19, he started the game and allowed four runs on nine hits in 4 2/3 innings. Two of those hits were home runs by Billy Klaus (in the 5th inning with one on and one out) and Jackie Jensen (also in the 5th inning, a solo shot with two out).
After a single by Jimmy Piersall and a walk to Norm Zauchin, manager Bucky Harris called on future Hall of Famer Jim Bunning to replace Host on the mound. Bunning won in relief, allowing one hit the rest of the way as the Tigers won 8-4.
In December, Host was traded by the Tigers with Wayne Belardi, Ned Garver, Virgil Trucks, and $20,000 to the Kansas City Athletics for Jack Crimian, Jim Finigan, Bill Harrington, and Eddie Robinson.
Host signed with Kansas City for a $5,100 salary and appeared in 11 games for the Athletics in 1957, mostly in relief. His uniform number was 28. He started two games, the first at Comiskey Park on April 20 against the Chicago White Sox (his first game for Kansas City, no decision) and at Cleveland Stadium on May 10 against the Indians (his first loss of the season).
His second loss came on June 9 at home at Municipal Stadium. Host retired the side with no outs in relief of Tom Morgan with no one out and two on in the fifth inning. In the eighth, he gave up a solo home run to Ted Lepcio. Jimmy Piersall and Ted Williams hit home runs in the ninth inning, and Lepcio singled home Jackie Jensen. Boston won 8-4 as Kansas City's offense gave no support to Host.
On June 14 at Kansas City versus the New York Yankees, Host came on to relieve Mickey McDermott. Facing Mickey Mantle with two out and Bobby Richardson on second, Mantle promptly homered. Finishing the game, Host allowed seven hits, three runs (all earned), and struck out one: Mantle in the ninth.
Host's final game in the majors was on June 23 at Fenway Park in Boston, where he allowed three runs on four hits in 1 1/3 innings.
Traded to Buffalo for Glenn Cox a few weeks later, Host pitched in three games for the Bisons before being obtained by the Denver Bears of the American Association in late July. Under the tutelage of manager Ralph Houk, Denver won their league title. Playing versus Buffalo in the Junior Series championships Host was removed from the 20-player limit, but he shared in the players' share of the winnings.
In September, he was sent to Little Rock to end the season. He was 1-4 in five appearances for the Travelers before being assigned back to Buffalo for 1958.
Host never appeared for the Bisons, however, as he was purchased by Indianapolis (American Association – AAA) in April before the season began. Having made his home in Little Rock, he left the club for a week to return to Arkansas without explanation, then rejoined the team on April 24. In May, the Indians sent him to San Antonio (Texas League – AA), who returned him to Buffalo in June.
Buffalo assigned him to Winona (Illinois-Indiana-Iowa League – Class B), but he refused to report and placed on baseball's suspended list.
Out of baseball in 1959, he returned the next season as a member of the Monterrey Sultans (Mexican League – AA) pitching staff. In the opening game, he was the loser in a slugfest in Mexico City in front of 25,000 fans who saw the Reds win 13-8. His record with the Sultans was 2-5 as his ERA ballooned to 5.86.
Host was a member of the Nashville Vols in 1961, signed by the club in March. He appeared in 11 games, winning two and losing five. His first win came against Chattanooga on Monday, April 10, in the second game of the season as Nashville trounced the Lookouts 8-6. By May 3, Birmingham handed him his fourth consecutive defeat, but on May 7, he pitched brilliantly in a four-hit, 2-0 shutout as Nashville's Gene Davis popped a two-run homer in the bottom of the ninth.
It was Host's final win of his career. The May 31, 1961 edition of The Sporting News announced his release by Nashville.
Once his baseball career was over, he became a bus driver for Continental Trailways, and in 1964 began working as a machinist at the Ford Motor Co. glass plant in Nashville. Host passed away on August 20, 1998, at the age of 65 and cremated.
Sources
Baseball-reference.com
Nashville Tennessean
Newspapers.com
Sabr.org
© 2020 by Skip Nipper. All Rights Reserved.