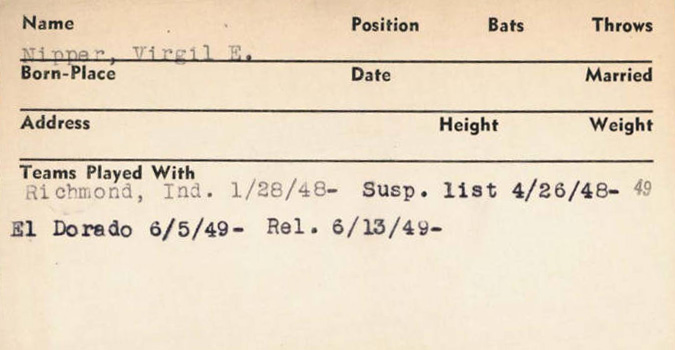 When we would ask dad, Virgil Nipper, about his baseball career, he would tell us about signing with the Boston Braves after graduating from high school. He attended spring training in North Carolina in 1948, where he particularly mentioned playing alongside catcher Del Crandall. Assigned to play for the Richmond (Indiana) Roses, a Braves Class D club in the Ohio-Indiana League, he never made it that far as he became homesick and returned to Nashville.
In 1949, the Braves gave him another chance, but he was not happy away from home.
In June, dad signed to play for El Dorado (Arkansas), a Class C team in the Cotton States League. Oilers manager Jim McClure was looking for someone to catch in the bullpen and back up catcher Buck Pardue. Pardue recommended dad; although dad was two years younger, they had been sandlot teammates and attended Nashville's North High School together.
Dad's minor league career lasted one game, sent in as a pinch-hitter. He walked in his only time at-bat. There is no record in newspaper accounts, nor does he appear in the Oilers roster here. He left the team after a week and returned home.
Today I located dad's contract card in The Sporting News Baseball Players Contract Cards Collection; it is incorrectly labeled "Virgil Ninner."
We never doubted his baseball career; if he told it, it was true. And when he would say how he might have made the major leagues except for being homesick, not once but twice, it rang hollow with his family.
We were glad Virgil was our dad and was home.
© 2020 by Skip Nipper. All Rights Reserved.