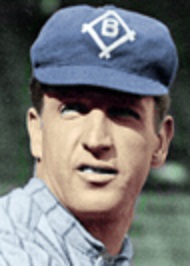 Born in Nashville in 1886
Robert Taylor (Bob) Fisher was born in Nashville on November 3, 1886, to Isaac Newton, a butcher, and Texanna (West) Fisher, and began his baseball career like so many others, in local sandlots and city leagues. In 1901, the first season of the Southern Association, he sold cushions during games in Athletic Park.[1]
His brother, Newt, was manager and owner of the Nashville Baseball Club and helped organize the Southern Association. Newt, also known as Ike who had a nine-game tour with the Philadelphia Phillies in 1898, passed away in 1945. Another brother, Bate, was catcher for Chattanooga in 1905 when Bob got his first taste of professional baseball. Bob remained in organized ball before retiring in Jacksonville after the 1937 season.
After his first pro season, he played in Columbus, Georgia in 1906, then in Wilson, North Carolina in 1907, and was with Danville, Virginia in 1908 and 1909. In 1910, he played for another Danville team, this time in Illinois, until being sent to Newark of the Eastern League in 1911 where his average fell below .300 for the first time.
Called up to Brooklyn
He remained with Newark until being called up to the Brooklyn Dodgers in 1912, and playing in 82 games. He became a full-timer in 1913 by holding down the shortstop position. He moved to Toronto for 128 games the next year before the Chicago Cubs took him at the end of the 1915 campaign. He had 163 hits in 1916 as the shortstop for Frank Chance's Cubs until they sent him to their Pacific Coast League team in Los Angeles where he was picked up by the Reds and manager Christy Mathewson.
After an accident while with Cincinnati, he was moved to second base to shorten his throws to first.[2]
Fisher moved to Rochester in 1917, and for the fourth time was called up to the majors in 1918, this time by Branch Rickey's St. Louis Cardinals. He played in 63 games before being sent to Little Rock. When the Cardinals left spring training to begin the 1919 season, he remained with the club until being sent to Vernon, California where he batted .310 in 190 games of the long 1920 Pacific Coast League season.
Best Success in Minneapolis
He was traded to Minneapolis for infielder Carl Sawyer. Fisher remained with the Millers for three seasons, batting .351 in 1921, .306 in 1922, and .280 in 1923. He appeared in only 87 games his last season, but in 1921 he had set an American Association record by hitting in 36 consecutive games, a mark that stood until 1933 when Indianapolis infielder Frank Sigafoos hit safely in 38 straight games.[3]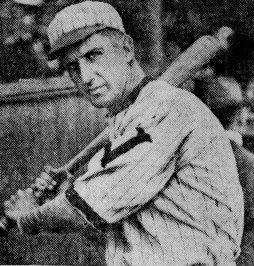 Fisher signed to play in Little Rock again in 1924, rejoining manager Kid Eberfield who had been Travelers manager since Fisher's first stint with the club.
Home at Last
Nashville manager Jimmy Hamilton was looking to bolster his infield corps, and he obtained Fisher's service on May 16 by sending second baseman Harvey Christensen to Little Rock. Hamilton made Fisher his second baseman and moved Bobby Murray to shortstop, his natural position.
In his first game as a Vol, Fisher was fifth in the batting lineup and hit a single and a double, scoring a run in Mobile's 8-3 win over Nashville.[4]
He left his hometown team and played in Spartanburg in 1925, then went to Jacksonville in 1926 to become playing manager of the Tars. Later named general manager, he soon became an owner of the club, serving as a director of the South Atlantic League.
All in all, Fisher played in 17 leagues with 31 clubs under 39 managers. He claimed to have lost a major league job four times by the same man – Joe Tinker of the Tinker to Evers to Chance double-play combo. [5]
"Baseball Was His Life"
Upon learning of Fisher's death on August 4, 1963, Nashville Tennessean sportswriter Raymond Johnson dedicated a final epitaph to him in his weekly column.
"Before Alaska and Hawaii were admitted into the union, Bob remarked that he had played in all 48 states and five foreign countries. He served as player, manager, and owner. Baseball was his life."[6]
He had three older brothers besides Newt: William Henry, George Alex, and Walter Bates, and a younger sister, Annette Fisher Phillips. Bob Fisher is buried in Evergreen Cemetery in Jacksonville.
Sources
Ancestry.com
Baseball-reference.com
Findagrave.com
Johnson City Chronicle
Newspapers.com
Nashville Banner
Nashville Tennessean
SABR.org
Todayinbaseballhistory.com
Notes
[1] R. E. McGill, "The Sport Aerial" column, Nashville Banner, May 16, 1924, 17.
[2] "As a Vol Bob Fisher is Wearing His 17th Uniform," Nashville Tennessean, May 18, 1924, 14.
[3] "Set No Leagues on Fire, But He Sure Got Around," Johnson City Press, March 28, 1935, 12.
[4] "Bears Hammer Pair of Vol Hurlers and Make It Two Straight, Score 8-3," Nashville Tennessean, May 17, 1924, 11.
[5] Ibid. Johnson City Press.
[6] Raymond Johnson, "One Man's Opinion" column, Nashville Tennessean, August 6, 1963, 14.
© 2021 by Skip Nipper. All Rights Reserved.