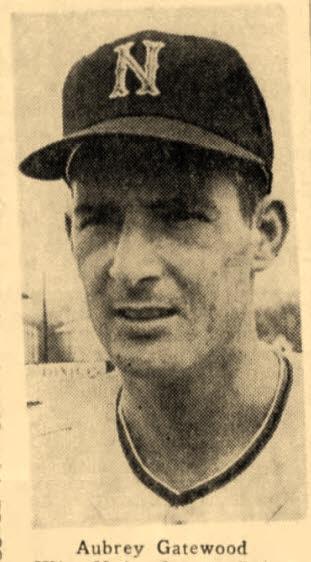 Aubrey Lee Gatewood was born November 17, 1938 in Little Rock, Arkansas. His father, Lee, was a truck driver in building construction, his mother Gladys was a homemaker, and when he was born there were three older sisters: Betty, Dolpha, and Delores.
Signed with Detroit Tigers in 1959
He attended North Little Rock High School, tossed a perfect game in an American Legion game in 1956[1], and played for legendary coach J. A. "Ike" Tomlinson at Arkansas State University for three years[2]. On June 12, 1959, he signed a contract with cthe Detroit Tigers as a free agent and was to become a member of the Birmingham Barons club of the Southern Association but did not play that season.[3]
He was assigned to Durham (Carolina League – Class B) in 1960 and was 2-3 with a 6.50 ERA before being shipped to the Duluth-Superior Dukes (Northern League – Class C) where he finished the year 9-5 with a 2.35 ERA and 102 strikeouts in 95 innings. At one point, Gatewood accomplished six consecutive victories.[4] In a playoff game against Minot in September, he was removed from a game after being hit by a line drive.[5]
Chosen in Expansion Draft by Los Angeles Angels
On December 14, he was selected by the expansion Los Angeles Angels from Detroit as the 11th pick for $75,000.
Gatewood began the 1961 season with hopes of earning a roster spot with the Angels. Catcher Del Rice, who had 16 years of experience handling pitchers, assessed the 6′ 1″, 170-pound Gatewood's talent in spring training at Palm Springs, California.
"He's got a good fastball and curve, but will also need a lot of work."[6]
When the St. Louis Cardinals sold pitcher Ron Kline to the Angels, Gatewood was sent to Dallas-Ft. Worth (American Association – Class AA).[7] After losing two games in six appearances for the Rangers, he was demoted to Portsmouth-Norfolk (South Atlantic League – Class A) and his poor showing continued. In seven games, he had no wins and three loses.
Optioned to Des Moines (Illinois-Indiana-Iowa League – Class B), he filled in quickly as a starter in 11 games in 13 appearances. He picked up his strikeout pace with 89 strikeouts in 75 innings with a 3-5 record and 5.04 ERA.
In October when Angels general manager Fred Haney called up six players from Dallas-Ft. Worth, he returned Gatewood to the Rangers from Des Moines.[8]
Only Player Chosen in Two Expansion Drafts
On November 27 in the 1961 Rule 5 draft, Gatewood was chosen by the New York Mets for $25,000 (he I s the only player selected in both expansion drafts). [9]He had recently moved his residence from Little Rock to Los Angeles in anticipation of remaining with the Angels.
Mets manager Casey Stengel was unhappy with Aubrey's control and was returned to the Angels on April 6, 1962.[10] In his best Stengelese rationale, "The Old Perfessor" told Gatewood, "Son, we'd like to keep you around this season, but we're going to try to win a pennant."[11]
Assigned to Hawaii (Pacific Coast League – Class AAA), in 20 games he was 6-8 with a 4.54 ERA but was leading the league with 72 walks when he was sent to Tri-City (Northwest League – Class B) to end the season. He won one game and lost three and his ERA ballooned to 10.29.
Assigned to Nashville
Nashville, without professional baseball during the 1962 season after 61 years in the now-defunct Southern Association, reorganized in the Class A SALLY League and the Angels signed the Vols on as an affiliate. On April 3 Gatewood was assigned there under manager John Fitzpatrick who had managed Angels affiliate in Quad Cities (Midwest League – Class D) the previous year.
He was being counted on to anchor the starting rotation.
"(Gatewood) will probably be our starting pitcher in the opening game at Knoxville", touted Vols general manager Ed Doherty. "He can fire. I saw him work four innings the other day and he struck out seven and walked but one. He's got a good, live arm."[12]
On April 19, in Nashville's opening game in Knoxville, Gatewood was the starter. He pitched five innings with no decision as the Vols won 8-4. He was removed from the game after giving up five hits and two runs, but Fitzpatrick pulled him not for being ineffective but for sitting through three rain delays.[13]
In the second game of a double header with Macon on April 29, Fitzpatrick was ejected from arguing a close play at third, and Gatewood was called on to guide the club for the remainder of the game.[14]
Arm Trouble
Chronic arm trouble haunted him during the season, and twice he was flown to Los Angeles for a medical examination. Bone chips in his throwing elbow were the issue, and both diagnosis resulted in him being sent back to Nashville without surgery. Doctors felt he could be treated with occasional cortisone shots. [15]
However, he was chosen to play in the South Atlantic League All Star game played in Augusta on July 22, where he tossed two innings of hitless relief, striking out three in the All Stars' whitewashing of the first-half champion Yankees 7-0.
After his second return in August, Gatewood did not win another game.[16]
""He had a huge curveball," says 1963 Nashville Vols historian Tony Roberts watched him from behind the plate, "but his arm issues kept him from dominating hitters."
"Without rehabilitation like the players receive today, Gatewood just never recovered."[17]
Called Up to Angels
Gatewood had a 6-10 record with a 3.34 ERA for the Vols before being called up by the Angels on September 5, and on September 11 pitched a four-hitter in a 4-1 complete game win over the Red Sox in his major-league debut. He finished 1-1 with a 1.50 ERA in four games.
At the beginning of 1964 spring training in Phoenix, he hopes of becoming a starter for the Angels. Los Angeles Times sports writer John Hall explained how Gatewood had come to the club nearly unnoticed.
"Gatewood's career has been detoured in the past by arm miseries, but he indicated last September that he's got the hex licked and he's been taking it slow and sensible this spring, just now ready to make his move to become a starter in the Angel rotation that will include Ken McBride, Dean Chance, Bo Belinsky and Barry Latman."[18]
But he was sent to Hawaii to begin the season; and was the Islanders starting pitcher in a spring exhibition against the parent club. After 17 starts, a 5-7 record, and 5.12 ERA for Hawaii, he was recalled by the Angels in July. He made seven starts and eight relief appearances, ending with a 3-3 record and a respectable 2.24 ERA.
His third loss came on September 16 against the New York Yankees when he walked Bobby Richardson in the sixth inning, and Roger Maris slugged a home run for his 1,000th career hit.
Developed a Knuckleball
The Angels kept Aubrey on the major-league roster for the entire 1965 season, although when they sent him to their Seattle farm club during spring training, he threatened to quit[19]. To alleviate pressure on his arm, he became a knuckleball pitcher. Los Angeles Times writer Hall reported the change in delivery.
"Aubrey Gatewood's knuckler has become the talk of the clubhouse, and the angry man from Arkansas is smiling for the first time all season.
"I can throw strikes with it and that's the name of the game," said Gatewood."[20] His year ended at 4-5 and a 3.42 ERA in 92 innings.
Purchased by Buffalo in 1966
1966 was not so kind to him. He began with El Paso (Texas League – Class AA) and was 2-6 with a 4.97 ERA as a spot starter and middle reliever before being purchased by Buffalo (International League – Class AAA), a Cincinnati farm club where he had a 6-7 record and a 5.67 ERA.
He continued his stay in Buffalo throughout 1967. He appeared in 37 games, winning four and losing five. His ERA was 3.80.
Rochester, Tacoma, Shreveport
Before the 1968 season began, he was sent to Baltimore, a team which had envied his services in 1965[21]. He pitched for the Oriole's Rochester (International League – Class AAA) club, but with a 4-10 record and ERA of 4.20, he was removed from the Red Wings roster in July and awaited reassignment.[22]
His reassignment was to Tacoma (Pacific Coast League – Class AAA), on loan to the Chicago Cubs affiliate. He was 1-1, pitched 39 innings in 11 games, and started in four.
Back with Rochester again in 1969, he pitched four innings in two games before being released in May. On June 20, 1969, he signed as a Free Agent with the Atlanta Braves and sent to Shreveport (Texas League – Class AA), where he was 7-6.
Pitched Three Games for Atlanta Braves in 1970
After getting a call to the Braves from Shreveport in June of 1970, Gatewood pitched two innings in three games for Atlanta. His last major-league appearance came on July 8 against the San Francisco Giants, before being sent to Richmond (International League – Class AA) a few days later. He played in five games for Richmond, and ended his season back in Shreveport.
He never overcame his loss of arm strength or his ability to overpower hitters. Gatewood's major league career lasted for four seasons, and he finished 8-9 with a 2.78 ERA for Los Angeles and the Atlanta Braves.
After one final season, split between Savannah and Arkansas in the Dixie Association, he retired in 1971. His career included a minor-league career record of 61-90 and 4.36 ERA.
Gatewood passed away on June 5, 2019, in North Little Rock.
Sources
Ancestry.com
Baseball-reference.com
Newspapers.com
Retrosheet.org
Sabr.org
Writer's note: Special thanks to Tony Roberts for providing newspaper clippings and other information about Gatewood's season in Nashville.
Notes
[1] "Angel Rookies Could be Sent from Heaven," Pittsburgh Courier, January 11, 1964, 15.
[2] Steve Fox, "Tomlinson Becomes 'Hall of Famer'," Decatur (Illinois) Herald, January 11, 1971, 17.
[3]"Detroit Tigers Sign Three More Rookies," Battle Creek Inquirer, June 30, 1959, 14.
[4] "Dukes Edge Minot, 4-2," Eau Claire Daily Telegram, August 1, 1960, 11.
[5] "Pegs, D-S in Polar League Playoff Final," St. Cloud Times, September 7, 1960, 26.
[6] Ross Newhan, "Extra Innings," column, Long Beach Independent, March 27, 1961, 19.
[7] "Angels Get Kline," Long Beach Independent, April 11, 1961, 18.
[8] "Angels Call Up 6 Rookies for Spring Traininng," Los Angeles Times, October 17, 1961, 79.
[9] Ross Newhan, "Extra Innings," column, Long Beach Independent, July 31, 1964, 37.
[10] Sec Taylor, "Sittin' In With the Athletes," column, Des Moines Register, April 15, 1962, 45.
[11] Stewart, Wayne. The Little Red Book of Baseball Wisdom (Little Red Books). New York, New York: Skyhorse Publishing, 2012.
[12] Bud Burns, "Gatewood Sent to Nashville," Nashville Tennessean, April 4, 1963, 31.
[13] F. M. Williams, "Vols Bat Choke Smokies, 8-4", Nashville Tennessean, April 20, 1963, 13.
[14] "Vols, Peaches", Nashville Tennessean, April 30, 1963, 15.
[15] Raymond Johnson, "Miller", Nashville Tennessean, August 14, 1963, 20.
[16] "Gatewood", Nashville Tennessean, September 12, 1963, 23.
[17] Telephone conversation with Tony Roberts November 17, 2016.
[18] Hall, John. "Gatewood to Success". Los Angeles Times, March 24, 1964.
[19] Hall, "Joe Koppe Sent to Angel Farm; Game Halted," Los Angeles Times, April 1, 1965, 46.
[20] John Hall, "Accent on Youth in Angel Victory," Los Angeles Times, September 12, 1965, 50.
[21] Ross Newhan, "'We've Bluffed Our Way So Far', Rigney Admits," Long Beach Independent, June 7, 1965, p. 25.
[22] Bill Vanderschmidt, "O's Send Pitcher to Red Wings," Rochester Democrat and Chronicle, July 27, 1968, p. 33.
© 2022 by Skip Nipper. All Rights Reserved.