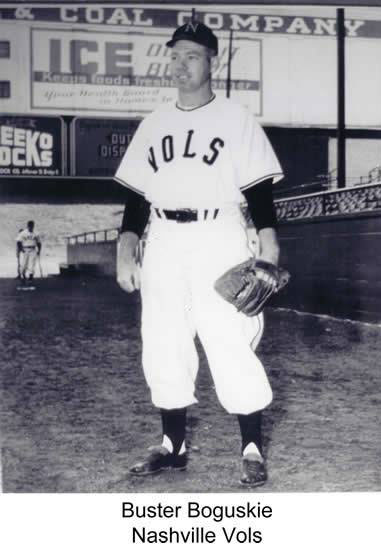 On April 16, 1948, Harold (Buster) Boguskie collected six hits on opening day, just missing his seventh on a close play at first base. Chattanooga manager George Myatt had called for his pitcher to intentionally walk pinch hitter Joe Damato to get Boguskie to the plate for his seventh appearance.
Boguskie had three doubles in the game. One of his singles came when he had gone five-for-five, and manager Larry Gilbert had him lay down a sacrifice bunt in the eighth inning. It went through the infield for a hit, Boguskie's sixth.
Nashville Banner sportswriter offered a question about others who have accomplished the feat.
"In the history of professional baseball, wonder how many players have opened a new season with six hits in the first six times at bat?
"Such first-day stardom couldn't happen to a finer boy."[1]
The morning newspaper's sportswriter was less enthusiastic about the feat than Russell.
"Boguskie, the lightest hitter on the Nashville club last summer, was the most effective batsman yesterday with his six straight safeties. Hall Quick banged out four and Earl York, the new first sacker, slapped out three, including a couple of liners off the right field barrier."[2]
Nashville had 14 hits but loset to the Lookouts, 15-14 in front of 9,222 Sulphur Dell fans – the largest crowd since the 1932 home opener drew 14,502. Seven doubles, three by Boguskie, and two home runs marked the game's offensive achievements. According to Johnson, it was a game that had everything.
"All told, 38 hits which totaled 51 bases, rattled from the bats of the two clubs. Added to this were eight Lookout errors and three by the Dellers, 12 bases on balls equally divided, a wild pitch, and a passed ball. Thirty-one players, including 17 Vols, took part."[3]
A graduate of Nashville's Cumberland High School Boguskie began his professional career with Hopkinsville of the Kitty League (Class – D), a Chicago Cubs affiliate, where he hit .354 on 190 hits and had 80 RBI. He spent a total of eight seasons with his hometown club with his best season in 1951 with a .354 batting average.
Born on October 27, 1923, he was a charter member of the Metro Nashville Council, serving from 1963 to 1995. Boguskie passed away on June 16, 2001, of a heart attack and is buried in Woodlawn Memorial Park in Nashville.
Years have gone by since his special accomplishment on opening day in 1948, and adoring fans will never forget it.
Sources
Baseball-reference.com
Nashville Banner
Nashville Tennessean
Newspapers.com
The Sporting News
Notes
[1] Fred Russell, "And Only the Beginning," Sidelines Column, Nashville Banner, April 17, 1948, 6.
[2] Raymond Johnson, "Gilbert, Grantham Pop HRs; Boguskie Stars, Nashville Tennessean, April 17, 1946, 7.
[3] Johnson.