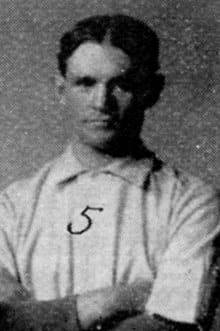 Born in Maynardville, Tennessee
Warren William Sanders was born on August 2, 1877, in Maynardville, Tennessee. His father, Albert, was a farmer, and his mother was named Martha. "War" was the third of seven sons.
He attended the University of Tennessee, playing in 1896 and again in 1897 when his one of his teammates was Charlie Moran, who was from Nashville; later in their careers both would become professional umpires.
Began Pro Carewr in 1898
Sanders began his professional baseball career by signing to play for the Grand Rapids (Michigan) Cabinet Makers of the Interstate League (Class-B). The next year he was to have played for Indianapolis but suffered a sore elbow, but returned to the club for 1900 but was released during the season to the Decatur (Illinois) Commodores of the Central League (Unclassified).
Nashville Won Southern Association First Two Seasons
Invited to a Nashville tryout, he made the team and remained with the club for two seasons, and he was instrumental in Nashville's first two Southern Association championships in 1901 and 1902 when the left-hander was 21-9 and 22-12. Sold to the St. Louis Cardinals, he remained with the team until June when he was sent to the Omaha Rangers (Western League, Class-A). With the Cardinals again in 1904, he was sent back to the Rangers to finish the season.
With Omaha for Six Seasons
Between 1905 through 1910, he remained on Omaha's roster where his best season was in 1906 when he he was 21-1. After parts of eight seasons with the club, he signed with the Charleston Sea Gulls in the South Atlantic League (Class-C) for 1911.
In 1912, he played for the Morristown Jobbers of the Class D Appalachian League, and signed to be player-manager of the Middlesboro (Kentucky) Colonels in 1913. Sanders became player-manager of the Newnan (Georgia) Cowetas in the Georgia-Alabama League (Class-D) in 1914 where he finished his professional playing and managing career to become an umpire.
Died in 1962
Sanders died on August 3, 1962 at the age of 85 in Chattanooga where he was buried in Forest Hills Cemetery.
Note: The author used biographical information from Sanders' SABR's (Society for American Baseball Research) Bio-Project: https://sabr.org/bioproj/person/war-sanders/
Sources
Baseball-reference.com
Nashville Banner
Nashville Tennessean
Newspapers.com
Sabr.org
© 2022 by Skip Nipper. All Rights Reserved.