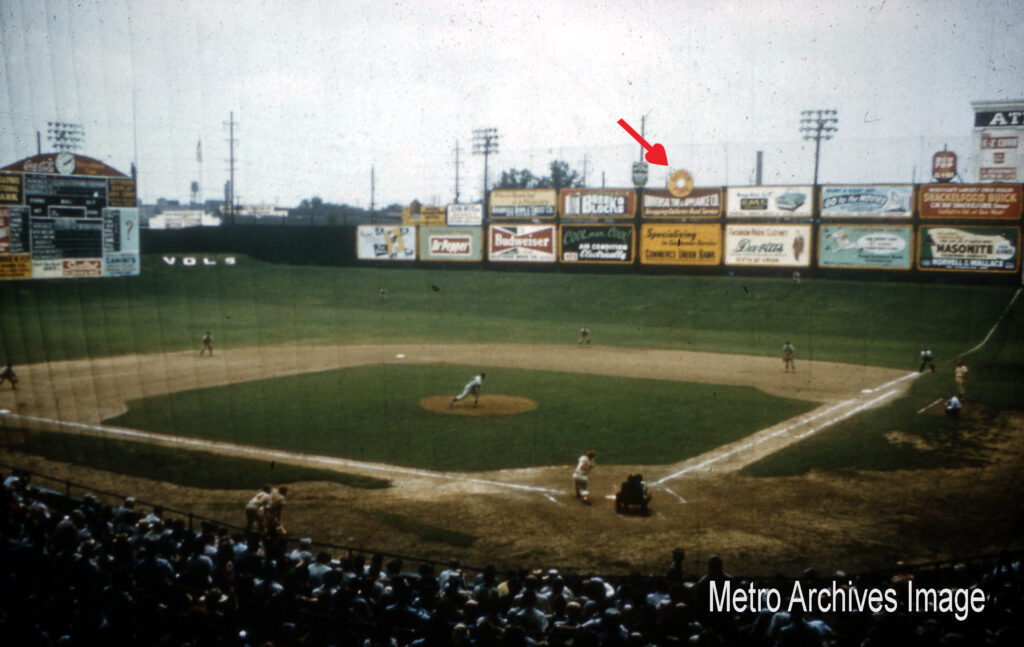 Shouts from Nashville fans to hitters of "hit it over the icehouse" need little explanation to those who remember the Atlantic Ice and Coal building on Third Avenue just beyond Sulphur Dell's right field fence. The imposing building was a target for right-handed hitters, and spectators clamored for Nashville sluggers to "put one on top of the icehouse!"
There was another "bull's eye" in the ballpark, too, but only a handful of fans were able to witness it.
High Outfield Hills
Nashville's ballpark evolved from a level field north of the city at the foot of the State Capitol to an iconic anomaly, often referred to as a cracker box, a telephone booth, and drained out bathtub. The peculiar shape of the outfield walls, high on rolling hills that seemed out of place for a baseball field, brought added attention when advertising signs lined the edges.
Over time, a second tier of signs added to the height, making it more difficult for sluggers to slam home runs over seemingly short distances for their round trippers. Management took advantage of commercial enterprise to give Sulphur Dell added color with bright messages on each sign panel.
Round Hole is Hitter's Target
One of those brilliant concepts was adding a circular sign that sat on top of the outfield signage, first in left field, and later, in right field. Added revenue meant added profits, and at some point the idea was to sell advertisements to a tire company or a donut shop, placing an ad on the sign with a hole in the middle.
Not only did it serve its business purpose, but it became a peculiar sight, especially for fans who rooted for their favorite ball player to hit one through the hole. To do so not only meant a home run, but a reward often came with the feat.
Barons' John Herman's Rare Feat
On June 3, 1954, Birmingham Barons first baseman John Herman, who was in his final year of professional baseball after three previous seasons in the minor leagues, hit a ball to right field that went through the hole in the tire sign high above the fence. Good enough for a two-run home run, but Herman did not receive cash for his accomplishment as was the usual case.
You see, the tire shop only paid Nashville players who did so. Had Herman been wearing the white uniform with black and orange trim of the Vols, he would have collected $25; visitors did not collect.
An added caveat to Herman's home run was it came with some controversy, and here is the reason: the ball did not go out of the park, but lodged behind the sign, but since Jack Kernan could not see the ball, it was ruled a round-tripper.
Nashville general manager told Nashville Tennessean sportswriter Raymond Johnson had the score not been so lopsided (the Vols lost the game, 15-6), he would have gotten a ladder to check himself.
"It wasn't a home run, but there was no use arguing about it the way the game was," Johnson quoted Gilbert in his sports column a few days later.[1]
If Gilbert was looking for witnesses, he would find few watching the game that night. Only 474 fans were in attendance.
Lookouts' Jack Sanford Was First
Johnson also reported that this was only the second time a player had managed to hit a baseball through the opening of a round sign in Sulphur Dell since it was turned around in 1927. Exactly seven years prior, on June 2, 1947, another first baseman, Jack Sanford of Chattanooga, accomplished the deed a few years earlier when the advertisement sat atop the left field wall.[2]
At that time, a donut shop was the sponsor who intended to pay only Nashville players, but when the fans put up an uproar the advertiser agreed to pay – in cash, not donuts[3]. With the backing of many of the estimated crowd of 3,300, Sanford was given $50 even though there was question whether the ball he hit even went through the hole.
With no concept of instant replay in those days, only the availability of a ladder, the hole high atop the outfield signage in Nashville famous ballpark resulted in a reward for at least one batter.
Sources
Newspapers.com
Nashville Banner
Nashville Tennessean
Newspapers.com
Sabr.org
© 2023 by Skip Nipper. All Rights Reserved.
---
[1] Raymond Johnson, "One Man's Opinion" column, Nashville Tennessean, June 3, 1954, 26.
[2] Johnson, "Twardy Notches 6th Victory as Vols Drub Lookouts 4-2," Nashville Tennessean, June 3, 1947, 16.
[3] "Vols Beat Lookouts, 4-1, Behind Matulis' 2-Hit Hurling, Chattanooga Daily Times, June 4, 1947, 11.