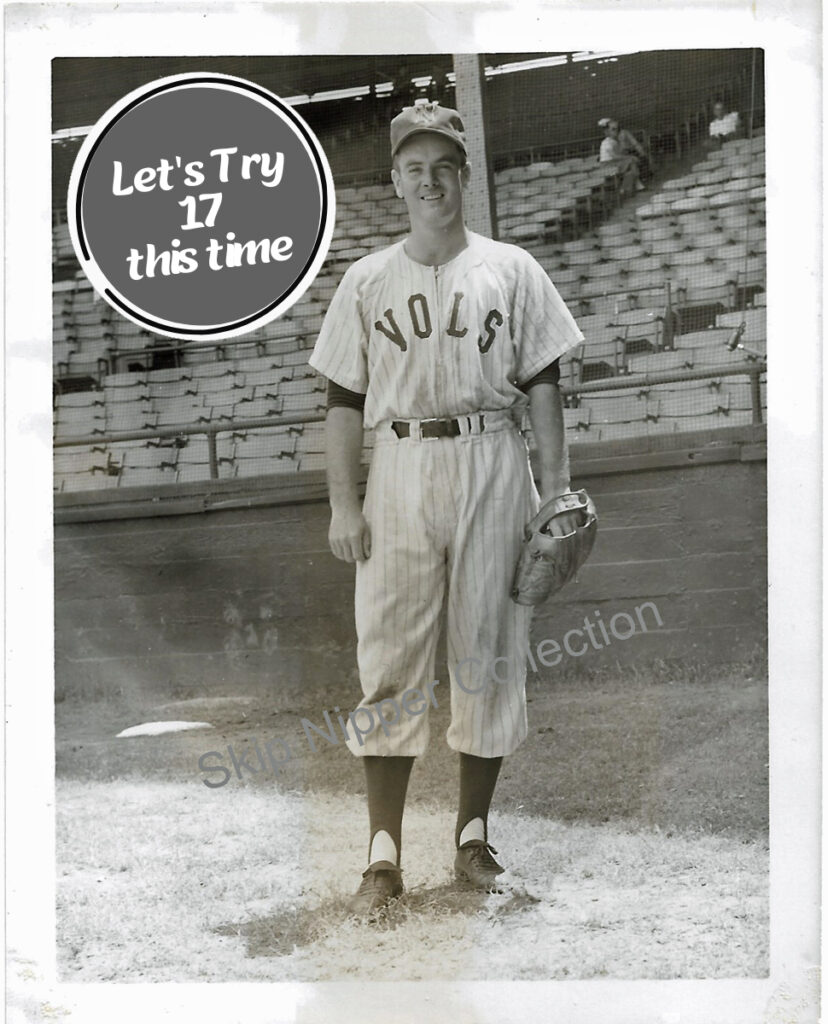 In 1976, Atlanta Braves owner Ted Turner encouraged some of his players to use a nickname on the back of their jerseys, above the number. One of them was pitcher Andy Messersmith, who wore number 17, and Turner had "Channel" added. The problem was that it was the cable television station owned by the media mastermind, and commissioner Bowie Kuhn put a stop to it (Messersmith chose "Bluto" instead).[1]
Yankees First To Wear Back Numbers
The first team to wear numbers on the back of their uniforms were the New York Yankees on June 30, 1929. Numbers were chosen based on the players' batting position, and that's why Babe Ruth wore number 3 and Lou Gehrig 4. Other teams followed suit; the Cleveland Indians were next a few weeks later. By 1931 all teams had begun the standard we know today, although numbers were chosen for a variety of reasons, not according to the batting order.[2]
Researching Nashville Vols player numbers according to game program lineups has been a fun project. My friend Tony Roberts has been doing in for several years, and we have each been creating a database to keep up. Any time we can get our hands on a scorecard, we go into "check the numbers" mode.
It is interesting to find that a player who started the season with one number may not have held on to that same number throughout the year. For example, if a player was out for a few games or went on the DL (disabled list), upon his return, he may have found that a teammate had absconded his shirt.
Bob Kelly Changed Number for Luck
One of the most peculiar changes in number was by Vols pitcher Bob Kelly for his game on July 20, 1957. After failing to gain his 17th win in three consecutive starts, he switched his jersey number from 16 to 17.
Kelly struggled through 11 innings, but the Vols took the win 7-6 over Chattanooga, breaking Nashville's losing streak at 5 games, the Lookouts winning streak at 6, and giving Kelly his desired win number 17.
Lost His (Under) Shirt
One change made in the game did not hinder his effort: he was forced to remove his undershirt in the third inning, as Lookouts manager Cal Ermer protested to umpires that it was too loose, and hampered his player's vision at the plate.
In his 𝑁𝑎𝑠ℎ𝑣𝑖𝑙𝑙𝑒 𝐵𝑎𝑛𝑛𝑒𝑟 "Baseball Closeup" column, sportswriter George Leonard quoted the reason Kelly wanted the new number:
"It was (Dick) Sisler's suggestion," Kelly said. "He thought it wouldn't hurt if Stan (Hollmig) and I switched numbers.
"Next time out, I'm going to try and talk to Dutch (Dotterer) out of his shirt. He wears No. 18, you know. And when I get my 18th, I'll be asking for (VIc) Comolli's No. 19."
Let's give Kelly his win based on a new jersey number and not for having to remove his baseball undershirt.
Kelly would lead the Southern Association with a 24-11 record in 1957. Having already pitched in the majors for the Chicago Cubs (1951-1953) and Cincinnati Reds (1953), He would return with Cincinnati and Cleveland in 1958 before retiring.
Note: Are players superstitious? Neither Tony nor I have found a Nashville player to have worn number 13.
[1] Paul Lukas. "Where the jerseys have no name," accessed March 14, 2020.
[2] David Hill. "Yankees History: Yankees First Team to Number Uniforms," http://www.foxsports.com/mlb/story/yankees-history-yankees-first-team-to-number-uniforms-012217, accessed March 14, 2020.
Sources
Baseball-reference.com
Nashville Banner
Nashville Tennessean
Newspapers.com
Wright, Marshall D. (2002). The Southern Association in Baseball, 1885-1961. Jefferson, North Carolina: McFarland & Co.
© 2023 by Skip Nipper. All Rights Reserved.