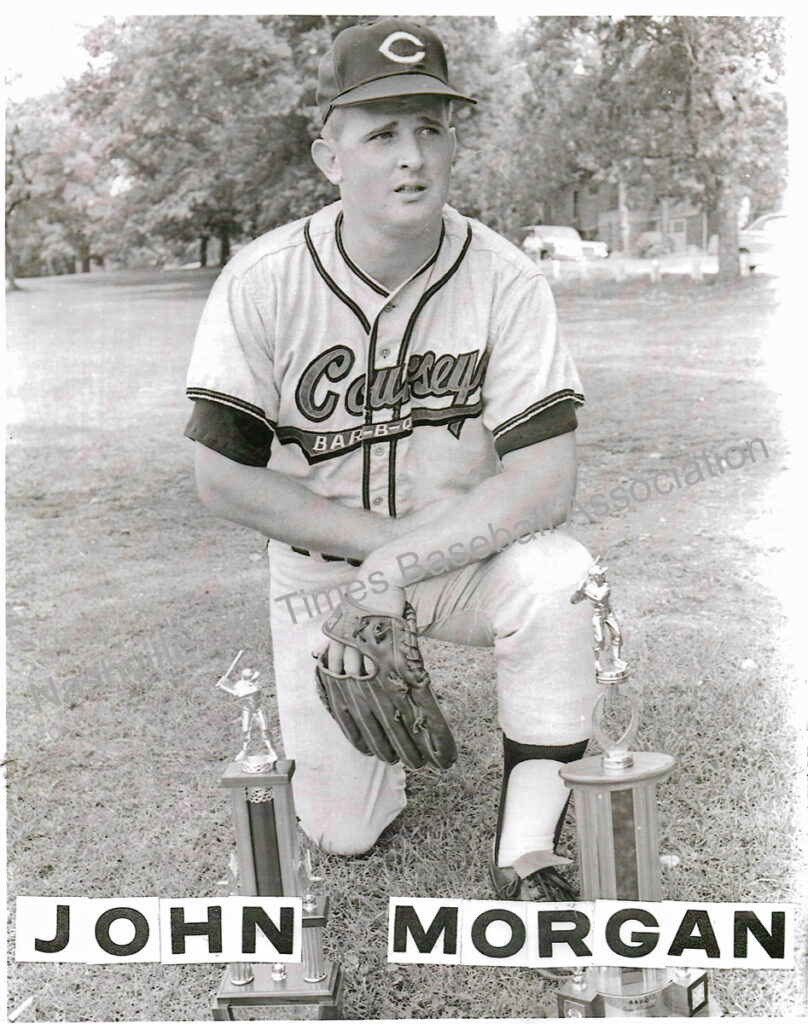 John Morgan's baseball credentials are many; in his career he was privileged to play in ballparks from Nashville to Japan and attributes his success to those with whom he played.
Credits Coaches and Teammates
"I had good coaches and teammates".
He played amateur ball for Youth, Inc., Coursey's BBQ, Nolensville Merchants, Green Hills Merchants, Haury & Smith, and Mayo's Sausage. Nashville's Centennial and Shelby Parks were his playing fields in Little League, Senior Knot Hole, Tri-State League, City League, and Larry Gilbert League games.
Sulphur Dell Memories
Later he would play in San Antonio at Lackland's Warhawk Field and in Okinawa at Kadena Air Field. As a youngster he remembers going to watch the Nashville Vols at old Sulphur Dell.
"When the team was exciting, the crowd and atmosphere was something", John recalls.
He also played there on two occasions. Once was with his high school team and the other time was in a Larry Gilbert League All Star game. And he got to play right field, too, on the dump.
"I got to meet a lot of Vols players and later played with some of them in the City League. Joe Stupak and Buckshot Brown were great players", he says.
Antioch High School Star
An all-around four-sport athlete at Antioch High School John was an All-Class A football player, All-19th District basketball player, ran in the Banner Relays in track, and was selected All-Eastern in baseball. As a 16-year-old during his senior year his team lost the 1960 state baseball championship by a score of 5-4 in nine innings in Memphis.
He joined the United States Air Force and was sent to Columbus, Mississippi where he completed University of Maryland courses during his term of service. He also borrowed a glove and cleats when he learned there would be tryouts for the base baseball team.
John remembers just how special that first day of tryouts was.
"Everyone had twenty swings, and my first was a foul ball. A Colonel by the name of Oriel Shuter who was the base commander was watching me. I noticed he was sitting up high in the stands and he moved closer behind home plate as I hit seven of the next 19 out of the park. As he turned to leave, Colonel Shuter told me to come by his office the next day."
John was assigned to Special Services and after a few months in Columbus was sent to Okinawa where Shuter had been transferred. Over the next two years, John mostly played baseball as a left- or center-fielder. Tokyo Field in Japan was one of his favorites.
"Had I wanted to stay overseas, I think could have signed to play with one of the Japanese professional teams."
Return to States from Overseas
He returned to the United States but continued to play during his last 15 months of service, once again back at Columbus Air Force Base in Mississippi. John played for two more seasons in 1964 and 1965 and twice was selected to the All-Air Force Baseball Team and was the first-ever base Athlete of the Year. He also made All-Air Force in basketball.
John played semi-pro baseball for Columbus in the Mississippi-Alabama League in 1963 where Probst Park was the home field for the club. Most of his teammates played at Mississippi State and some were ex-pros.
Amateur Career Continued
When he returned home, his amateur career continued. While playing with Coursey's Bar-be-cue he broke his leg. But his best memories are of being able to play alongside great players.
There are too many to mention", says John, "but there is one that stands out: Roger Davis. He played with an artificial leg below the knee. He was one of the best contact hitters I have ever been around even with his handicap, and I have played with a lot of good players all over the world."
Although he never coached, he assisted with several Little League teams. When his baseball days were over he played softball where he played on two City and two State championship teams.
Old Timers Member
Retired from Firestone/Universal Tire as VP of Retail Sales, and Metro Government where he was an enforcement officer in the Tax Enforcement Division, he is glad to be a member of the Old Timers where he has served as a member of the golf tournament and Hall of Fame selection committees.
"The organization has helped me keep in touch with past teammates, and has helped young players to grow through scholarships and recognize their achievements."
John was inducted into the Old Timers Amateur Baseball Hall of Fame in 1998. He was recently selected into the National Semi-Pro Baseball Hall of Fame in Evansville, Indiana.
John resides in Nashville and has two children, Susan "Dee Dee" Morgan and Mike Morgan.
Note: The information about John Morgan was first published on the Old Timers Baseball Association of Nashville website (https://www.otbaseball.com/board-members), retrieved August 24, 2023.
© 2023 by Skip Nipper. All Rights Reserved.