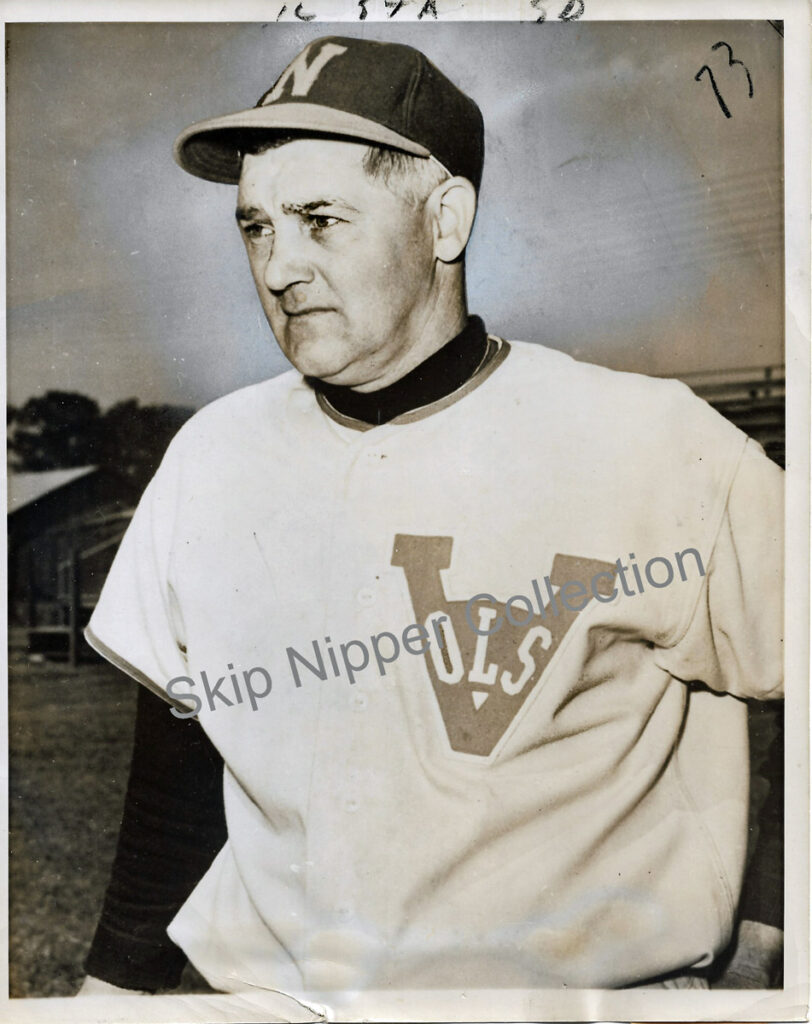 Rollie Hemsley was a five-time All-Star in his major league career, which included time with the Pirates, Cubs, Browns, Indians, Reds, Yankees, and Phillies. He served in the military in 1945. A recovering alcoholic, he had been kicked off four different clubs for it, but he used his baseball platform to reveal that he attended Alcoholics Anonymous meetings in 1940.
When Larry Gilbert decided to retire as field manager of the Nashville Vols after the 1948 season, his choice to succeed himself was Hemsley. Gilbert retained his position as vice president and general manager, giving his new manager complete control over how Hemsley handled the team.
Championship Season
It would be another dream season for Nashville, winning the regular season pennant for the second consecutive season, finishing with a 95-57 record.
Bob Borkowski won the batting title with a .376 average, Pete Mallory won twenty games while losing only four, and Carl Sawatski had forty-five home runs and 153 RBI to lead the league in both departments. Not only did Gilbert's son, Tookie, contribute 197 hits and 146 runs scored, but Hemsley played in fifty-six games and had forty hits and twenty-four RBI to help his team's cause.
Playoff Success
In eliminating New Orleans and Mobile in the playoffs, the Vols earned the right to face Tulsa in the Dixie Series and Nashville eventually won the playoff four games to three, the fourth title won by the Vols.
Before the sixth game of the Tulsa series, the players presented Hemsley with a plaque with team members' names engraved on it. It read:
"To Rollie – a pennant winner in his first year at this game of managing from a team who thinks he's tops – the Nashville Vols of 1949."
Off to Columbus
On October 12, 1949, five days after managing the title game against Tulsa, Hemsley was named the Columbus Red Birds manager in the American Association. He continued to coach and manage through 1969.
Hemsley died of a heart attack at age 65 on July 31, 1972, in Washington, D.C.
Sources
Baseball-reference.com
Nashville Banner
Nashville Tennessean
Sabr.org
The Sporting News
© 2023 by Skip Nipper. All Rights Reserved.