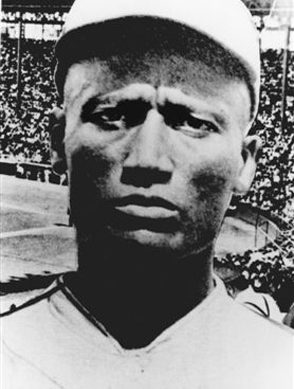 Norman Thomas "Turkey" Stearnes was one of the greatest players in Negro League history. He began his journey in Nashville, but little is known about his youth and none about the local team(s) he may have played for. Much has been published about his career beyond 1922, but in an attempt to complete his story, I have searched as much as possible with assistance from books, blogs, other online sources, and fellow researchers about his family. Although there is no real conclusion in this post, it is my hope that more will be uncovered to form a basis for his life in his hometown.
Born in Nashville
Stearnes completed a survey submitted by the Baseball Hall of Fame to retired players as a basis for his life. It provided information that would otherwise have been lost as one of many missing puzzle-pieces in assembling a great Negro League player's history.
In the survey, he writes that he was born on May 8, 1901, in Nashville, and his parents were Will and Mary (Everett) Stearnes (confirmed in Stearnes' family tree). In the survey, he also confirms having attended Belleview Elementary School and Pearl High School, and his family lived at 129 Fairfield Ave., just south of I-24/40 in the Napier area of Nashville.
He had a sister, Louella, and a brother, Benny. His uncle Sam Epps also lived in the household.
Learned Baseball on Local Sandlots
Author John Holway interviewed Stearnes for his book, Blackball Stars: Negro League Pioneers (Westport, Connecticut: Meckler Books, 1988), and we learn Stearnes did not complete high school after his father died, and with a large family, Stearnes helped the family income by delivering groceries and working as a janitor at the Baptist Publishing Board.
"I learned to play baseball in high school," he told Holway. "We had lots of sandlots. At that time I was a pitcher. They were getting me to play every Friday."
His daughter, Joyce Stearnes Thompson, confirmed her father went back and graduated from Pearl High School when he was 21 years of age.
In his Hall of Fame player file, Stearnes checked both boxes for how he batted, left or right. During his career, he hit and threw left-handed, but though he was a natural right-handed hitter, he burned his arm when he was young, and he turned around to hit from the left side.
Accolades Galore
It is worthy to note that Robert Peterson, an early researcher and author of Negro League history, fails to mention Nashville as a team Stearnes played for in his book, Only the Ball Was White (Englewood Cliffs, New Jersey; Prentice-Hall, 1970). Peterson begins with Montgomery in 1921, which is correct, and goes on to list teams Stearnes played for: Detroit Stars, Lincoln Giants, Cole's American Giants, Chicago American Giants, Philadelphia Stars, Kansas City Monarchs, and Detroit Black Sox.
Likewise, author Richard Bak, in Turkey Stearnes and the Detroit Stars, The Negro Leagues in Detroit, 1919-19331 (Detroit, Michigan; Wayne State University Press, 1994) has no mention of Nashville's 1920 Negro Southern League team.
But in The Negro Southern League, A Baseball History 1920-1951 (Jefferson, North Carolina; McFarland & Company, 2015), author Bill Plott not only lists Nashville White Sox players, but also their positions, and includes "Norman 'Turkey' Stearnes, lf-cf-p".
Author Leslie A. Heaphy adds the 1945 Toledo Cubs to one of the teams Stearnes played for in The Negro Leagues 1869-1960 (Jefferson, North Carolina; McFarland & Company, 2003), a team in the newly-formed United States Negro Baseball League.
Author James A. Riley contributes to the mystery of the Nashville team's name in his book, Biographical Encylopedia of the Negro Baseball Leagues (New York; Carroll & Graf Publishers, 1994), listing Stearnes as a member of the Nashville "Elite Giants" in 1920, not the "White Sox". It is believed Tom Wilson purchased the semi-pro Nashville Standard Giants in 1918 or 1919, entered them in the NSL as White Sox, and changed the name to Elite (pronounced "Ee-lite") Giants in 1922. Riley adds the Memphis Red Sox in 1922 to Stearnes' list of teams, which Peterson omits.
Negro Southern League in 1920
A report of the Nashville White Sox roster and the first game of the 1920 season omits Stearnes: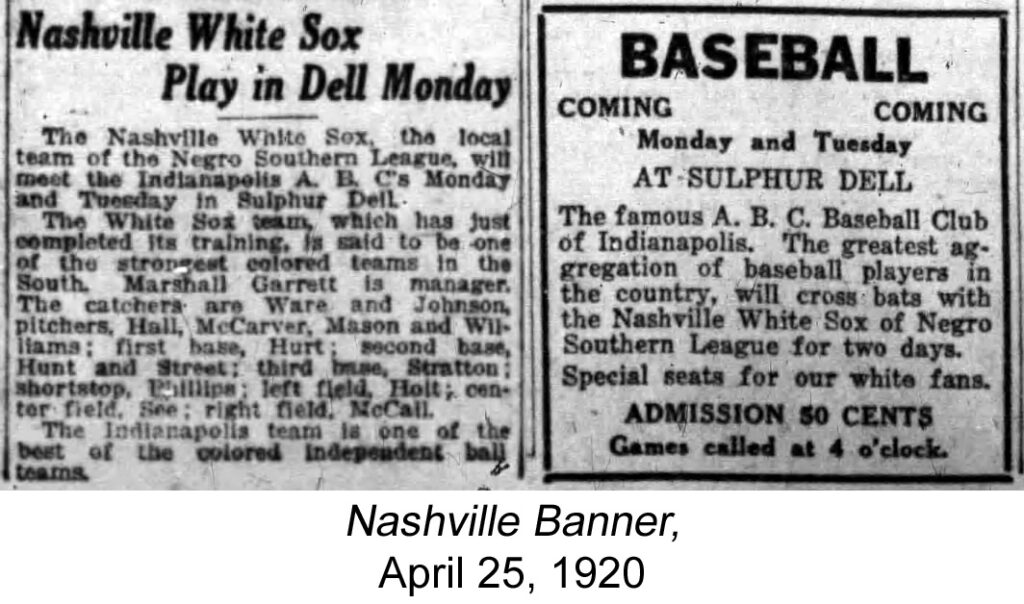 One newspaper source mentions Stearnes as an outfielder and pitcher for the Nashville White Sox, reporting that on September 4, 1920, he signed with the Knoxville Giants to play in a 13-game championship series with the Montgomery Gray Sox. Presumably, Nashville's season had ended. His name is misspelled as "Starns" (thank you, Mark Aubrey):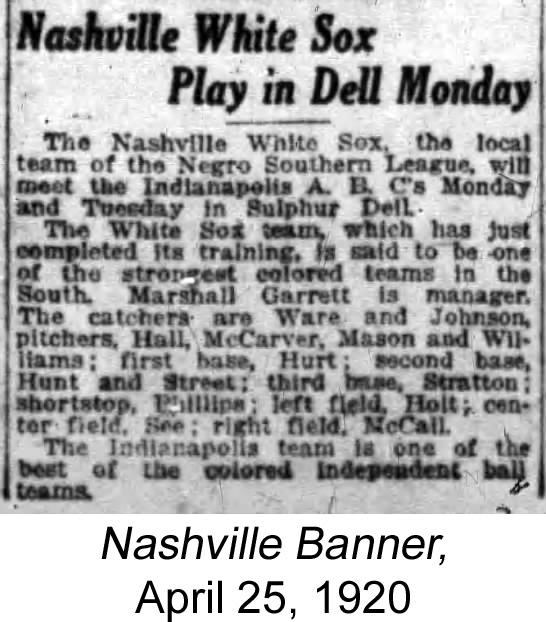 A few weeks later, Stearnes (this time as "Starns") appears in box scores for two games for the Knoxville Giants in Negro World Series games against the Chicago American Giants, on September 21 and 22, 1920 (Source: Birmingham Reporter, September 25, 1920; again, thanks to Mark Aubrey).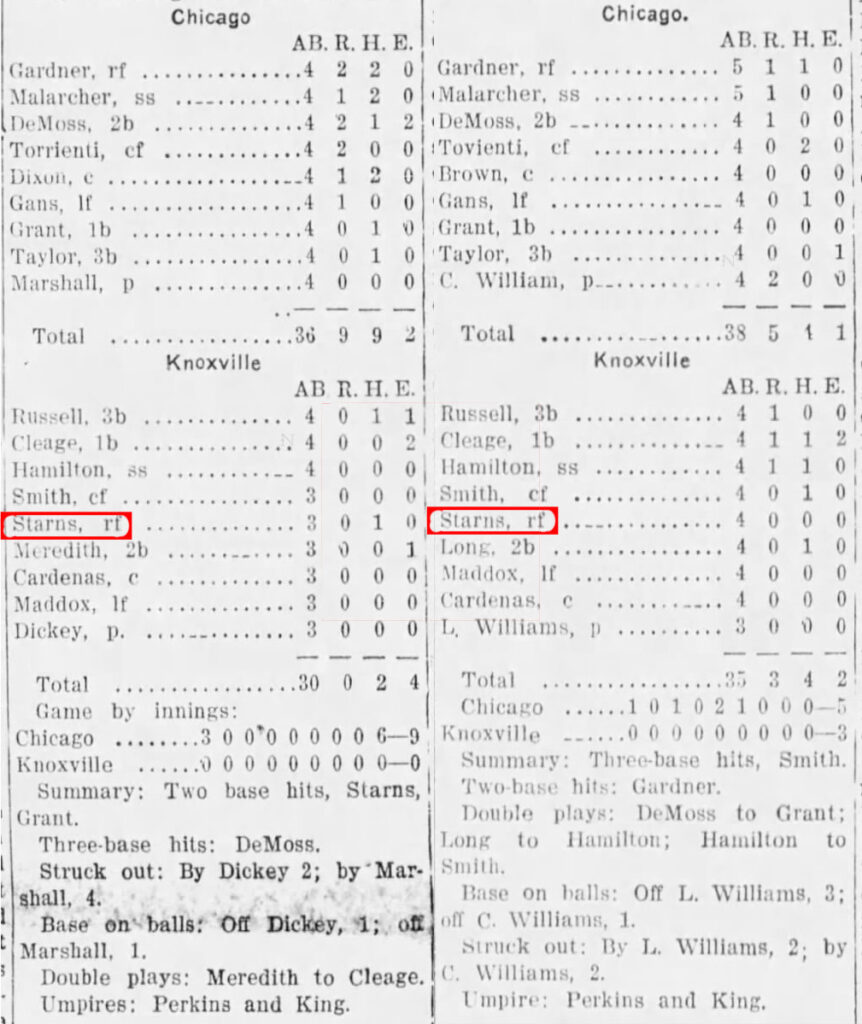 Hall of Fame Career
During his Negro League career, he was known as a power hitter, even with his 6', 170 lb. frame. In The Bona Fide Legend of Cool Papa Bell (New York: Abrams Press, 2021), author Lonnie Wheeler quotes Bell's description of Stearnes: "Ooh, that Turkey Stearnes was something!
Wheeler relates that Stearnes had it all.
"A left-hander from Nashville, Stearnes was a player without discernible fault. He lived cleanly, fielded smartly, hit for both power and average – out of an unusual stance that had his right foot pointing upward – and ran nearly as well as Bell."
Stearnes married Nettie Mae McArthur, who was born in Shepherdsville, Alabama, on his 45th birthday, May 8, 1946, in Napoleon, Ohio, about 100 miles south of Detroit. They had two daughters, Rosilyn and Joyce.
Stearnes passed away on September 4, 1979. He has been posthumously inducted into five Halls of Fame:
Afro American Sports Hall of Fame, Detroit, MI-1987
National Baseball Hall of Fame, Cooperstown, NY-2000
Michigan Sports Hall of Fame, Detroit, MI-2007
Tennessee Sports Hall of Fame, Nashville, TN-2010
Royals Hall of Fame, Kauffman Stadium, Kansas City, MO (Larry Lester, Historian) Date Unknown
On July 20, 2007, the Detroit Tigers unveiled a permanent plaque of Turkey Stearnes outside at Gate C of Comerica Park on the corner of Brush and Adams.
In 1932, Turkey Stearnes led the Negro Southern League in doubles, triples, home runs and stolen bases, winning the "Quadruple Crown." This feat has never been duplicated in the Major Leagues.
Notes
In an attempt to gain insight into Turkey Stearnes' life in Nashville, the author spoke with Joyce Stearnes Thompson of Detroit, Michigan by telephone on February 16, 2022. She stated she knew little of Nashville except it was her father's birthplace. Revisions in the original draft of this post were made after email confirmation of facts. I am grateful for her insight.
Negro League researcher Dr. Layton Revel, Dallas, Texas, was contacted by telephone, and summary information was provided.
The online source Negro Leagues Baseball Museum, eMuseum (nlbemuseum.com) details each of Stearnes' teams, and his biography there is taken from Riley's book.
Special thanks to research master Mark Aubrey, who is always eager to assist me when I am searching, especially for Knoxville and Negro Southern League information.
Turkey Stearnes' SABR-Project biography is available here: https://tinyurl.com/54hmuk4r
Seamheads is an excellent source for Negro Leagues history, and Stearnes statistical information can be found here: https://tinyurl.com/2hx883x4
Sources
1910 U. S. Census
1920 U. S. Census
Ancestry.com
Baseball-reference.com
Birmingham Reporter
Nashville Banner
Nashville Tennessean
National Baseball Hall of Fame
Newspapers.com
Sabr.org
Seamheads.com
Tennessee Sports Hall of Fame (tshf.net)
Tennessee, U.S., Delayed Birth Records, 1869-1909
The U.S. Social Security Death Index, 1935-2014
© 2022 by Skip Nipper. All Rights Reserved.