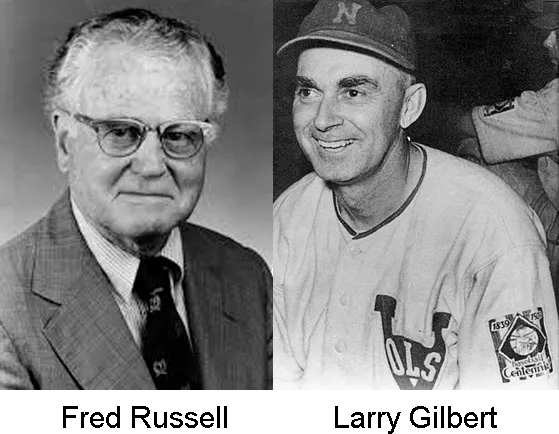 Two of the most beloved sports figures in Nashville history were Larry Gilbert and Fred Russell, and their relationship was more than one might expect between a baseball manager and executive and a sports writer and editor.
The Nashville Vols manager from 1939 through 1948, Larry's influence on local baseball during his tenure included scouting area talent; the Larry Gilbert League for amateur high school-age players was begun and named in his honor in 1945.
His influence spread beyond middle Tennessee, too. He was appointed by the commissioner of the Southern Association each year to make out the season's schedule, and in 1939 was named coach of the Cartwright team in a National Association game vs. the Doubleday team played in Cooperstown, New York commemorating the one hundredth year of baseball.
In 1940 Larry was named Minor League Manager of the Year by The Sporting News.
Gilbert's success with players, especially those who had previously had problems in the major leagues, was well-known. He sensed what each one had experienced, what his issues were, and the famous manager did not hesitate to take in those players who had been given up on by other managers. Gilbert knew how to handle each case to allow for talented players to play to the best of each one's ability.
Local sportswriter Fred Russell sang the praises of Larry Gilbert in "I'll Go Quietly", a book of Russell's selected columns from his previous fifteen years of writing. Published in 1944, it included a column labeled "Alibi Chart", in which Russell lists a chart of excuses that Gilbert adhered to in dealing with the foibles of players.
Gilbert knew how to interpret each excuse:
1. "I was looking for a fast ball." (After striking out.)
2. "The sun got in my eyes." (A dropped fly ball.)
3. "It took a bad hop." (Booted grounder.)
4. "I didn't think he was going to run." (Holding ball while runner scored from third.)
5. "My spike hung." (Thrown out stretching.)
6. "I thought there were two out." (Doubled on fly ball.)
7. "The ball slipped out of my hand." (Wild throw.)
8. "The catcher tipped my bat." (Has taken third strike.)
9. "Them balls this year is deader than ever." (Has flied out four times.)
10. "Two of the globes are out in that light out there." (Line drive has gone by him for a triple.)
11. "These bats ain't got no wood in 'em." (Two pop-ups in a row.)
12. "That mound needs building up in front." (Just made a wild pitch.)
13. "He's pitching right out of that sign in center field." (Has struck out again.)
14. "The pitcher balked." (Caught off first.)
15. "I got the uniforms mixed." (Has thrown to wrong base.)
"There are more," Russell writes, "but Larry thinks the prize was pulled after a muffed fly ball on a cloudy afternoon": "A drop of rain got in my eye."
Russell underscored Gilbert's strategy of being successful was to emphasize seriousness when it was time for players to be serious, and relaxing when it was time to relax: "Make winning so pleasant, and losing so unpleasant, that hustle is automatic.
Larry's success is easily measured by his managerial won-lost record. Including 15 seasons with New Orleans before leading the Nashville Vols for 10 years, he won 2,128 and lost 1,627 for a .567 average. He is the sixth winningest minor league manager of all-time.
Sources
In addition to excerpts from Fred Russell's I'll Go Quietly (Nashville; McQuiddy Press, 1944) the author also consulted Baseball-Almanac.com, Baseball-Reference.com, Newspapers.com, and Sabr.org.
© 2019 by Skip Nipper. All Rights Reserved.