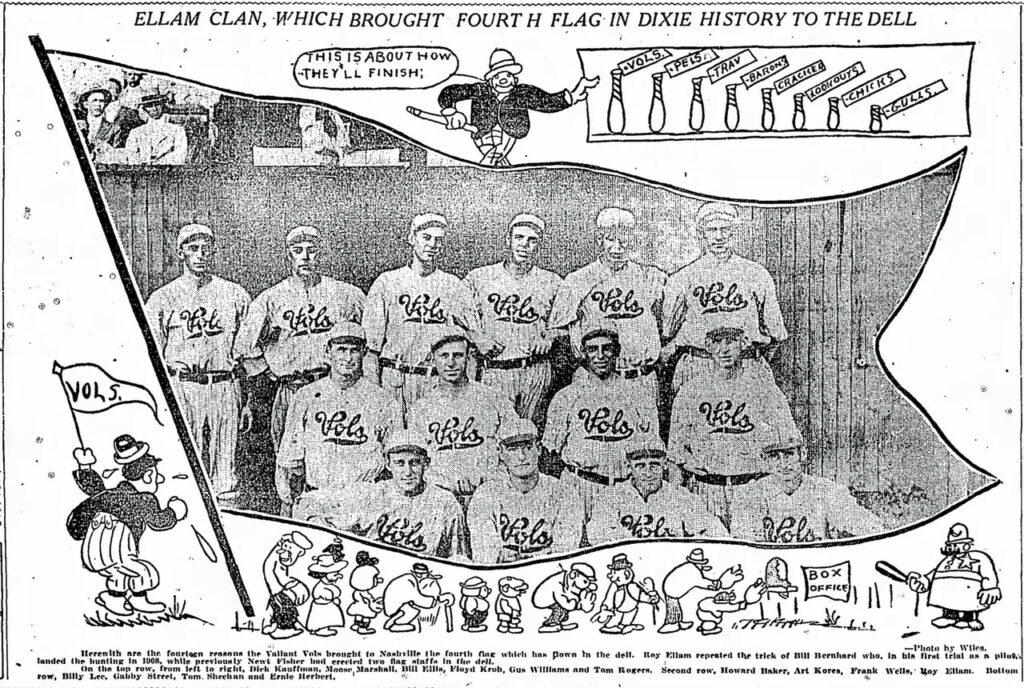 "Cities may boom and fall, business may wax and wane, but as long as arms are strong and batting eyes are bright, baseball will be with us. The public-spirited citizens of Nashville do well to laud its commercial advantages, its low cost of living, its manufactures, its school and its colleges, its supremacy in all the tends to exalt and embellish modern, civilized life, for with all these things Nashville is abundantly blessed. But if these same citizens neglect to support its baseball team and keep the turn-style spinning, all this advertising and boosting will fall like sounding brass and tinkling symbals [sic] upon the ear of the baseball fan-and his name is legion."
Press release from Nashville mayor David Briley? Passage from former mayor Karl Dean's memoirs? Quote from Nashville Sounds owner Frank Ward? Not even close.
The paragraph above is an excerpt from a Nashville Tennessean article published in the sports section on February 24, 1916. Entitled "Baseball is Best Medium for Advertisement to City", the comments by A. P. Foster, secretary of the Industrial Bureau, extol the virtue of Nashville's professional baseball team and the impression it brings to the city.
Comparison is drawn to important league cities of the day: Detroit (with the famous Ty Cobb), Chicago, Philadelphia, Boston, and New York. Each has its own successful baseball team, and those successes bring attention to the cities. The article continues Foster's point:
"…nothing can do more than a winning baseball team to publish the name of Nashville abroad, and there is no other agency here that takes the name of Nashville into every daily paper in the entire country, every day for six solid months per annum."
Of equal importance is to give fans a winning team. Foster confirms his impression of manager Roy Ellam and the ball club's management. However, that is not all.
"It is impossible for a team to win, no matter how good it is material, unless the home fans support it. All loyal Nashville fans and others should consider it not only a pleasure and honor, but a duty to turn out in a body and attend the opening day of the baseball season in Nashville…
"…the officials of the Nashville Baseball Association have spared neither labor nor money to make the 1916 team a strong one, and they should be accorded the enthusiastic support and backing that they deserve."
Foster's praises Ellam's leadership, and the off- and on-field accomplishments of the Nashville Vols proved to work hand-in-hand.
Economically, Nashville was doing well. An article in the August 13 edition of the Tennessean continued Foster's praises by confirming the city's standing among its neighbors.
"Nashville has been on the commercial map as a market ranking second to none. Other southern cities, realizing this, have made their hardest fight against Nashville, because it was from Nashville that they had the most to gain by weaning the trade away."
The same held true for the seven Southern Association cities who chased Nashville but fell behind for the championship. The effort to stock the team for a pennant run paid off as the club finished on top the Southern Association standings with an 84-54 record. It was Nashville's fourth championship in the 16-year history of the league. Attendance would increase by just over 8,000, from 103,399 in 1915 to 111,418, nearly an 8% upsurge. With war looming on the horizon, that figure would be a season-high until 1923 when Nashville would draw 160,000.
At the end of the season the players were awarded 20-dollar gold pieces in jewel boxes and treated to a feast hosted by stock holders in the ball club. Ellam was presented with a new automobile and would soon earn a new contract with an increase in pay.
The regular season championship flag would not be hoisted in Sulphur Dell again for another 24 years. Through those years fan support waxed and waned at the triumphs and failures of the ball club, but perhaps no one had a better grasp of the economic impact of baseball of the day than did A. P. Foster in 1916.
Foster knew baseball would succeed in Nashville as long as the public spirit and strong team leadership worked hand-in-hand. The result was a championship and commercial achievement with financial rewards.
Sources
Nashville Tennessean
newspapers.com
© 2019 by Skip Nipper. All Rights Reserved.