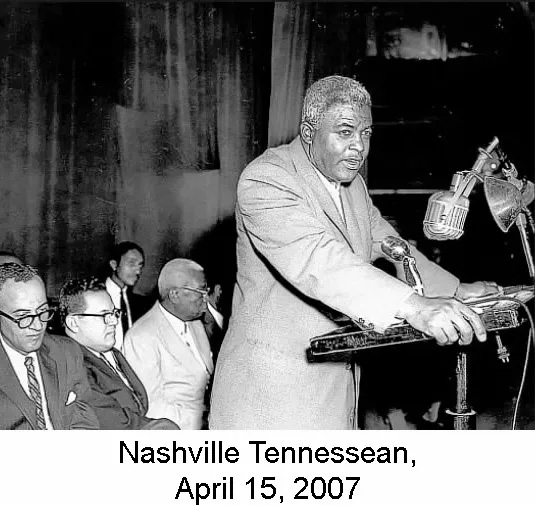 Jackie Robinson first visited Nashville as a member of the Negro League Kansas City Monarchs in a game played on June 7, 1945, against the Birmingham Black Barons in Sulphur Dell. His performance is unreported, but in a newspaper announcement of the game a few days before Jackie was noted as a star performer.
"Kansas City's top batter is Jackie Robinson, sensational shortstop and former Pacific Coast football and basketball All-American. Robinson is hitting .326…"[1]
After signing Satchel Paige, the Monarchs returned to Nashville for two more games in August. Once again, no box score was published.
Jackie came to Nashville again in 1952, this time with the Brooklyn Dodgers, five years after his heroic entrance to the major leagues. It was the first of five consecutive visits by the Dodgers and Braves as the two National League clubs journeyed home from spring training.
Each game drew large crowds to see the man who not only integrated baseball, but had been named Rookie of the Year in 1947, won the 1949 National League batting championship and was selected league MVP, been selected as an All-Star three times, and had played in two World Series.
In his first appearance at Sulphur Dell on Saturday, April 5, 1952, Robinson played second base for three innings before giving way to Wayne Terwilliger, but not before getting a single and driving in a run.
The weather was frigid and kept the attendance well below the expected 10,000 to 12,000. Still, 6,506 fans show up and were treated to extra innings before former Nashville Vols player Mickey Rocco singled in the winning run in the tenth as Brooklyn won over Boston, 8-7.
On Easter Sunday, April 5, 1953, the defending National League champion Dodgers returned to play the Braves, the club having moved to Milwaukee. It was the first time since 1871 the Braves did not call Boston their home.
The ballpark was packed with 12,059 fans that day, many from the African-American community, as the outfield hills were filled from those who flocked to the game with no place to sit in the grandstand. It had been only three years since Ray Dandridge appeared on an integrated team in Sulphur Dell when the Minneapolis Millers visited Nashville on April 9, 1950.
Displaced at second base by one of Nashville's favorite sons, Jim "Junior" Gilliam, Robinson played first and had a double and a single in three appearances in Brooklyn's 3-1 win. Warren Spahn was the losing pitcher as the Braves came up with only one run on catcher Ebba St. Claire's home run over the high right field wall.
Dick Williams doubled off the left field wall and drove in two runs, and Gilliam was two-for-four to lead the Dodgers. African-American players Bill Bruton and George Crowe of the Braves joined Robinson, Gilliam, and Dodgers catcher Roy Campanella in the starting lineups.
In 1954 the two clubs returned to the historic Nashville ballpark and the Dodgers were defending league champions once again. On Sunday, April 4, and in the cleanup spot once again, Robinson amazed the 12,006 cheering fans, many of them sitting on the ground in the outfield because of the overflow, by getting four singles in six trips to the plate. Jackie drove in two runs and scored twice as the Braves won a slugfest 18-14 over the Dodgers.
The game took three hours and six minutes to complete. Nine ground-rule doubles were called on balls hit among those seated on the outfield hills. Carl Furillo smacked a grand-slam, and George "Shotgun" Shuba, Duke Snider, and Ed Mathews each hit homers. Roy Campanella came up as a pinch hitter and worked the last inning behind the plate. This time Gilliam played third, and Jackie was at first once again.
Brooklyn won 10-8 on Monday, April 4, 1955, before 5,117 in attendance. The hero of the game was Milwaukee's Eddie Mathews who three homers; his first was hit off Don Newcombe and travelled 340 feet over the left field wall. Hank Aaron also hit a home run, and Johnny Logan had two doubles and a triple.
Jackie hit two singles and was walked twice while performing brilliantly at third base, and Sandy Amoros added two home runs. Tom Lasorda relieved in the 9th inning for the Dodgers.
Brooklyn would win its first World Series championship at the end of the year.
The Dodgers took their fourth win in five visits to Nashville on April 8, 1956, before 11,933 fans. Brooklyn won the game, 12-2. Jackie had dropped down in the batting order but still managed to get two singles and one RBI in four at-bats. Gil Hodges hit a home run, and the Dodgers collect a total of 17 hits in the win. Del Rice, catching for the Braves, lifted a high fly over the right-center field wall for a homer.
It would be Robinson's final season. His batting average diminished to .275, and he was dealing with diabetes. Traded to the New York Giants at the end of the year, he chose to retire.
However, that last game would not be his last appearance in Nashville. On April 15, 1962, three months after being named to the Hall of Fame, he returned to give a speech at the Ryman Auditorium as principal speaker at a rally of the Davidson County Independent Political Council.
The next day Nashville Tennessean sportswriter F. M. Williams quoted a line from Jackie's speech.
"The game was too good to me not to be grateful to it," Robinson said. "I am using it today to build myself and to build my people."[2]
From the time he took his position on the field in Sulphur Dell in 1945 until he stood behind a podium at the Ryman Auditorium in 1962, his legacy was building as a torchbearer for his race, not only in baseball, but as a voice in his community and across the United States. His most famous epithet remains as a lasting expression of his human quality.
"A life is not important except in the impact it has on other lives."
Sources
Aaron Stilley, "Jackie With the Monarchs – Reliving the 1945 Kansas City Monarchs Season," http://jwtm1945.blogspot.com/, accessed May 29, 2019
Ancestry.com
Baseball-reference.com
Newspapers.com
Sabr.org
Notes
[1] "Hitting vs. Pitching At Dell Thursday," Nashville Tennessean, June 6, 1945, 11.
[2] F. M. Williams, "Not Bitter Toward Baseball, Just Dodgers – Robinson," Nashville Tennessean, April 16, 1962, 17.
© 2019 by Skip Nipper. All Rights Reserved.