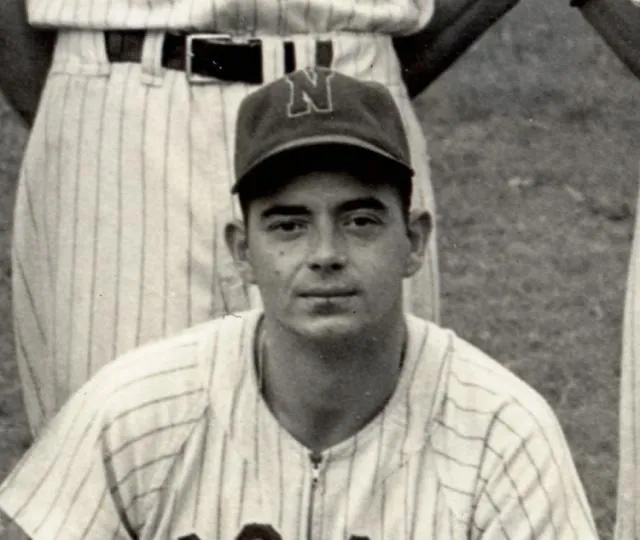 On June 5, 1955, Birmingham trounced Nashville 11-8 in what was supposed to have been the first game of a doubleheader. A torrent of rain made it impossible to play the second game. However, most of the 3,555 fans at Sulphur Dell were able to witness the Nashville debut of former major leaguer Tommy Brown, recently acquired from Los Angeles of the Pacific Coast League.[1]
Brown's flight from the west coast delayed for seven hours due to weather conditions at the Ft. Worth airport. Arriving in Nashville at 6:30 AM that Monday morning, and with only a few hours of sleep, the 6'1″, 170-pound third baseman, hit two singles, scored twice, was hit by a pitch, and walked once. In five fielding chances, he was perfect and started three double plays.
His success story had begun 10 years earlier, while World War II was going on. At the age of 16 years and seven months old, on August 3, 1944, he started the first game of a doubleheader for the Brooklyn Dodgers at Ebbets Field against the Chicago Cubs, becoming the youngest position player to appear in a major league game. He was also the second youngest ever behind pitcher Joe Nuxhall who had first appeared in a game earlier in the season.[2]
Known as "Buckshot", a name given to him by Dodgers manager Leo Durocher because of his erratic throwing, Brown's first hit was a double off Chicago left-hander Bob Chipman in the seventh inning of the Cubs win, 6-2.
The next season, on August 20, 1945, in front of 6,332 paid fans and 1,046 members of the armed forces at Ebbets Field, he became the youngest player to hit a home run in the majors when he clubbed one off Preacher Roe in the seventh inning. It was the Dodgers' lone run as Pittsburgh won, 11-1.[3]
Five days later, he had his second career homer. Facing New York Giants left-hander Adrian Zabala in the seventh inning of the first game of two, Brown popped one over the Ebbets Field outfield wall, making him the second-youngest major league player to have a round-tripper.[4]
His remarkable story began a few years before when at 15 years old he attended a Brooklyn tryout camp in his hometown (he was born there on December 6, 1927). Impressed with abilities, the Dodgers invited him to spring training in Bear Mountain, New York, where he signed to free agent contract.[5]
Settling in at Newport News (Piedmont League – Class B) where his teammates included Clem Labine and Duke Snider, he played in 91 games and hit .297. Not wanting to answer the call up to Brooklyn because he felt he was hitting so well in the minors, Brown relented and started at shortstop the day he arrived in Brooklyn against the Chicago Cubs on August 3, 1944, his major league debut.
After hitting into a fielder's choice and pop-up in foul territory in his first two plate appearances, Tommy hit a double for his first major league hit. It began his career as a capable player even at such a young age.
In seven seasons he never appeared in more than 57 games for Brooklyn, mostly as a utility player and pinch hitter. Traded to the Philadelphia Phillies on June 8, 1951, for outfielder Dick Whitman but unable to break into the starting lineup, he was purchased by the Chicago Cubs on June 15, 1952, and given a chance to become the Cubs regular shortstop. When the 1953 season ended, Tommy's major league career ended at the age of 25. However, he was not finished playing professional baseball.
Before being acquired by Nashville, Brown had batted .263 in 152 games for the Los Angeles Angels in 1953, and with the help of Cincinnati Reds general manager Gabe Paul Brown was purchased outright by Nashville from the west coast club after appearing in 24 games.
For the next three years, he was a dependable third baseman for Nashville. During the 1955 season, he hit for a .299 batting average, and his play continued to improve. However, his best minor league season was just around the corner.
In 1956, Tommy got at least one hit in the first 12 games to open the season before his streak ended on April 22. On May 25 against Birmingham at Sulphur Dell, he entered the game having reached base either with a walk or hit in 16 straight appearances. When he walked four times in his first four times at bat, it extended his streak to 20 games.
In the eighth inning, he lofted a soft fly ball that was caught by Barons left fielder Vic Marasco, and his streak was over. Had he gotten a hit, it would have been his twelfth straight in 12 official plate appearances, which would have tied Pete Thomassie's Southern Association record.[6]
Leading the league in batting by mid-season, he was a unanimous selection to the league's All-star team but was unable to play due to a shoulder injury sustained in a play in Atlanta a few weeks before. Purchased by the Reds on July 15 and was on his way to Cincinnati, but when he was still unable to lift his arm over his head, the Reds sent him back to Nashville to finish the season.[7]
On August 5, Nashville turned its first triple play of the season with Brown starting things off. In the fourth inning against the Chicks in Memphis with the bases full, he scooped up Jim Landis' low liner and threw to catcher Frank Baldwin for a force out. Baldwin's return throw to Brown forced an out at third, and Brown's toss to second retired a third Chicks runner.
At season's end, he had a .316 batting average, hit 10 home runs, and had 85 RBI in 128 games while playing third base. The White Sox purchased him in October on a 30-day trial basis, but during the winter he refused to sign three contract offers, all the same, before relenting and returning a signed contract in March.[8]
Tommy needed 55 days of major league service to become a 10-year veteran, which would have only increased his pension by 10 dollars a month. He was eager to play and reported to spring training. The White Sox had a deadline of April 15 to decide whether he would remain on the major league roster or Chicago would owe Nashville $12,500. He was returned to Nashville on April 13.
Nashville Tennessean sportswriter F. M. Williams paid tribute to Tommy's willingness to return to the Vols.
"Tommy did well enough on the field to win himself a job with the Sox, but he simply didn't want to play for them. He is one who'd rather be playing for Nashville than for a big league club.[9]
He had injured the little finger on his right hand during spring training and in August chipped a bone in his index finger, and his performance was well below the previous year. On June his average was an anemic .201. He was named to the mid-season Southern Association All-Star game, mostly due to his previous season's output and his recent hot streak of having nine hits in 25 at-bats.
Nashville won the honor of hosting the game at Sulphur Dell on July 17, and Tommy was the star for the Vols. He had three hits, one a sixth-inning home run with no one on base, and scored two runs in a losing effort, 7-6.
The fans had to sit through a rain delay of an hour and a half, but most of the 7,542 in attendance were around to see Tommy get his third hit with two out in the bottom of the ninth. After an error and a walk, he was stalled at third when the game ended on a fly out.
He was selected outstanding player of the game.
At season's end, he had a .256 batting average in 139 games as the regular third baseman. In 1958 he returned to Nashville and led the club in hitting during spring training with a .348 average.[10] According to sportswriter Raymond Johnson, Tommy was in better shape than ever.
"He gives the appearance of a lean and hungry rookie and he is expecting to have one of his better years."[11] On May 28 after a game in Little Rock, it was announced Tommy had been traded to Chattanooga for short stop Lyle Luttrell. The trade came as a surprise to the Vols players, but not to Tommy. After 39 games his batting average matched the one he had the previous season, and the ball club needed a change. Manager Dick Sisler toll F. M. Williams that Tommy "took the news of his trade philosophically".
"He said it was part of baseball and that he wasn't too surprised," Sisler said. "He also said he had known changes would have to be made if the ball club didn't snap out of its slump."[12]
In 71 games with the Lookouts, he split his playing time between shortstop and third base. In his final season, he split 1959 between Chattanooga and the New Orleans Pelicans before retiring at the age of 31. Keeping his residence in Nashville, he spent the next 35 years working at the Ford Glass plant before moving to Florida.
His 1956 season in Nashville was a special one, but his claim as the youngest major league player to hit a home run will always be the special accolade he will hang his cap on.
Sources
Baseball-almanac.com
Baseball-reference.com
Newspapers.com
Retro-sheet.org
Sabr.org
Notes
[1] F. M. Williams, "Barons Crunch Vols, 11 to 8," Nashville Tennessean, June 6, 1955, 14.
[2] C. Paul Rogers III, "Tommy Brown," Sabr.org Bio Project, https://sabr.org/bioproj/person/7913ae6c, accessed June 1, 2019.
[3] Harold C. Burr, "Flock Crackup Weakens Grip on 3d Place," Brooklyn Daily Eagle, August 21, 1945, 11.
[4] "Home Run Records by Age," Baseball Almanac, http://www.baseball-almanac.com/recbooks/rb_hr6.shtml, accessed June 2, 2019.
[5] Rogers.
[6] "Brown Out On 21st AB," Nashville Tennessean, May 26, 1956, 11.
[7] Rogers.
[8] Raymond Johnson, "One Man's Opinion" column, Nashville Tennessean, March 11, 1957, June 6, 1955, 12.
[9] F. M. Williams, "Buckshot Back From Chisox," Nashville Tennessean, April 14, 1957, 1C.
[10] F. M. Williams, "Saturday Showcase," Nashville Tennessean, April 5, 1958, 9.
[11] Raymond Johnson, "One Man's Opinion" column, Nashville Tennessean, March 19, 1958, 18.
[12] F. M. Williams, "Vols Open Dell Stand; Four New Faces Due," Nashville Tennessean, May 30, 1958, 34.
©2019 by Skip Nipper. All Rights Reserved.