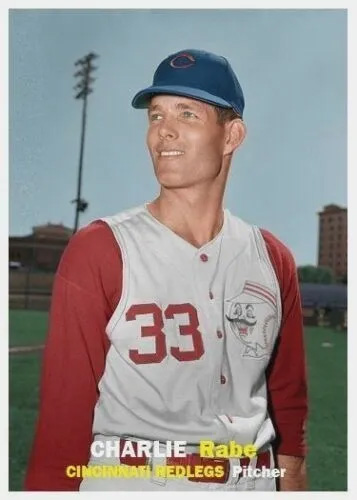 Charlie Rabe pitched for Ernie White's Columbia team in the South Atlantic league team in 1955, winning 21 games, had 219 strikeouts in 250 innings, and had a 2.01 ERA. He completed 22 of 30 starts. When White was named manager of the 1956 Nashville Vols, he wanted the left-handed Rabe to come to Nashville with him.
Born on May 6, 1932 in Boyce, Texas, Rabe was 6'1″ and weighed 180 lbs. In 1952, Charlie signed with the St. Louis Browns out of Waxahachie (Texas) High School and was assigned to their Class D team in the Sooner State league in Ada, Oklahoma. He was 17 years old. His manager did not think much of him, so he was cut. Picked up by the Cincinnati Reds' Lawton, Oklahoma team in the same league, and in his first appearance he relieved the starter and pitched five hitless innings.
The manager, Tuck McWilliams named him to the list of starters, and on his debut on June 24 against Ardmore he pitched a no-hitter and won, 2-0. On June 28, his next start, Charlie did not allow a hit until the seventh inning. His two starts in Lawton resulted in 21 straight no-hit innings, and he ended the season with a 13-7 record, started 17 games and completed 14. In 181 innings he struck out 255 batters.[1]
For two years he served in the military before returning to baseball in Columbia where he was named the outstanding major league prospect in the SALLY league for 1955. His 21-7 record came on an outstanding fast ball and a good changeup. Charlie was a good hitter, too, and White often used him as a pinch hitter.
Instead of Nashville he was sent to Havana, Cincinnati's International league team, where he was not successful. He won two games and lost 13, and Reds general manager Gabe Paul put pressure on Havana general manager Roberto Maduro to let Charlie to be optioned to Nashville on July 17.
When he was acquired by the Vols Nashville Tennessean sportswriter expressed White's plans for Rabe.
"It is no secret that Rabe wasn't happy at Havana. He didn't want to go there in the first place. Then when he lost six games by one run, he became even more discouraged.
"I know he can pitch," Ernie (White) said via long distance phone yesterday, "and I figure he can help us a lot. He'll be one of my regular starts and (Roy) Pardue will work in the bullpen. I cannot understand what has happened to him."[2]
Charlie's first start on July 22 was not successful as Chattanooga roughed him up for four runs before he was relieved with two outs in the fourth inning. He did manage to strike out five Lookouts as the Vols came back to win, 7-6, in the game played at Sulphur Dell.
He took his first loss on July 27 against New Orleans, giving up only six hits in 6 1/3 innings but two errors by Larry Taylor and another by Country Brown allowed the Pelicans to win, 6-3.
Playing through arm pain that had followed him from Havana and with a 1-3 record, he started against Atlanta on August 28 and pitched the Vols to a victory over the Crackers, 1-0. Charlie struck out seven and was only pushed one time. In the eighth inning when Crackers pinch hitter Ed McHugh hit a double with two outs and Rabe walked Jack Daniels before Rabe retired Sammy Meeks on a flyout.[3]
The scoreless game resulted in Charlie having allowed only one run in his last 18 innings, but he saved his best performance for last.
On September 4 against Birmingham at Sulphur Dell, he allowed three Barons runs on two doubles and three singles in the top of the first. Nashville matched the runs total in the bottom half of the inning. Then Rabe took over and scattered 10 hits into extra innings and helping his own cause by laying down a bunt to begin the bottom of the 13th.
Tommy Brown also bunted safely, and when Barons outfielder Country Brown dropped a single to center, the bases were loaded. George Schmees knocked in Rabe with the winning run with a sacrifice fly to left.
Ernie White named Rabe as starting pitcher against Chattanooga in the Vols final game of the season on Sunday, September 10, the same day Cincinnati announced his recall to Reds spring training for next season.[4]
Allowing only one hit over the first three innings, the Lookouts scored two runs in the fourth and the Vols could not muster a rally before losing 7-1. Charlie ended the season with three wins and five losses.
During 1957 spring training, Charlie was optioned to Seattle of the Pacific Coast League where he was 16-10 with a .337 ERA and tied a PCL record by throwing four consecutive shutouts. He was called up to pitch for the Reds in two games, on September 21 at Crosley Field against St. Louis. Entering the game in the seventh inning with two on and two Cardinals on base, he retired Joe Cunningham on a groundout.
In the eighth inning Charlie retired Wally Moon on a groundout, Hal Smith on a flyout, and Eddie Kasko on a groundout to retire the side before giving way to pinch hitter Smoky Burgess in the bottom of the ninth. The Reds won, 9-8, in 10 innings, but Rabe made his presence known with his four-up-four down performance.
Six days later on Friday, September 27 at County Stadium in Milwaukee, Reds manager Birdie Tibbetts named Charlie the starting pitcher. At the end of the seventh and trailing, 2-1 to the Braves, Rabe was lifted for pinch hitter Jerry Lynch even though Charlie's outing was steady. He gave up five hits, two runs, struck out six. His downfall was the two runs allowed were home runs by Andy Pafko and Del Crandall. The game ended with the score 2-1.
Charlie returned to the Reds in 1958 and pitched in nine games but only one as the starter. With no wins against three loses, he finished the season with Seattle and Montreal in the International League. Assigned to Seattle again in 1959, he also pitched 15 games for Toronto in the International League before being assigned to Nashville again for 1960.[5]
In spring training with the Vols in Tampa, on April 3 Charlie was loaned to the Reds SALLY league team from Columbia in a morning contest against Louisville of the American Association while the Vols were playing a team composed of various Cincinnati Reds minor leaguers. In seven innings, Rabe gave up two hits in shutting out his opponent. His manager was pleased with the performance.
"Rabe went seven innings and looked strong at the end. Next time he'll go as long as the hitters will allow him."[6]
Two days later Rabe reported to manager Jim Turner that his arm was hurting after throwing warmup pitches on the sidelines and Turner told him to stop immediately.
"I don't think it's anything serious, "Turner said. "The danger is in keeping on throwing and aggravating the injury. After all Charlie pitched seven good innings Sunday and maybe his arm just needs an extra day's rest."[7]
Turner ordered Charlie not to throw for five days, but when he did he had little success after Nashville's regular season began. After a rainout on May 19 in Memphis, Rabe and his 0-3 record were sent home to Nashville to wait reassignment by the Reds, and a few days later he was sent to Columbia.
Rabe regained strength in his arm and won 13 games, losing 8, as the ball club won the pennant with a record of 83-56 and Charlie was named to the South Atlantic League All-Star team.
After 1960, Memphis left the Southern Association and Macon moved up to take the spot left by the Chicks. Rabe signed with Macon, which brought him back to Nashville during the regular season. By late June he had eight victories and four of them came against the Vols. He increased his win total to 10 on July 6 in Macon against Birmingham, holding the Barons to five hits in a 3-2 win.
He was named to the Southern Association All-Star team along with six other pitchers. On April 10 the Barons hosted the All-Stars in at Rickwood Field and Atlanta manager Rube Walker used all seven of the hurlers on his squad. Rabe pitched the third and fourth innings, allowing three hits and no runs, and the All-Star pitching staff shut down the Barons, 6-0. Rabe was the winning pitcher.[8]
He ended the season with a 3.19 ERA and 15-10 record, and returned to the Peaches for the 1962 as Macon moved back to the South Atlantic League when the Southern Association folded. Rabe was 7-9 before moving to Syracuse in the International League, finishing two-and-three. His last season was in 1963 when he pitched very well with a 15-12 record and a 2.32 ERA and he was chosen to the league All-Star team.
Sources
Baseball-reference.com
Newsapapers.com
Sabr.org
Notes
[1] Raymond Johnson, "One Man's Opinion" column Nashville Tennessean, January 15, 1956, 25
[2] Johnson, "One Man's Opinion" column, Nashville Tennessean, July 17, 1956, 13.
[3] "Rabe's Gem Tips Crax, 1-0," Nashville Tennessean, August 29, 1956, 20.
[4] F. M. Williams, "Vols Club Looks, 8-1; Tie for 6th," Nashville Tennessean, September 9, 1956, 26.
[5] '60 Vol Roster Lists 14 Former Dellers," Nashville Tennessean, December 2, 1959, 29.
[6] Williams, "Rabe Job Gets Raves From Jim," Nashville Tennessean, April 4, 1960, 14.
[7] Williams, "Coles' Homer Only Bright Spot," Nashville Tennessean, April 6, 1960, 22.
[8] Johnson, "All-Stars Blank Barons 6 to 0," Nashville Tennessean, July 11, 1961, 14.