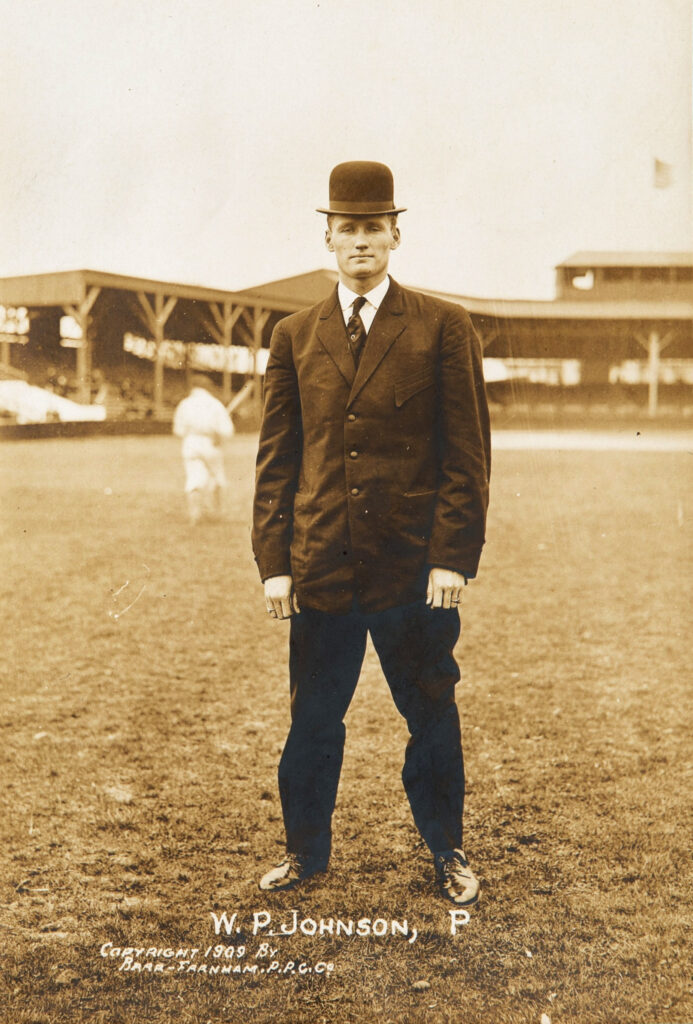 War was on the horizon in 1916 when Washington's Walter Johnson led the American League in wins (25), strikeouts per nine innings pitched (5.551), innings pitched (369.2), strikeouts (228), complete games (36), and batters faced (1,410). His 25 victories accounted for nearly one-third of the team's 76 wins as the Senators finished in seventh place, but 40 games ahead of the ridiculously hapless Philadelphia Athletics.
Johnson did not receive much offensive assistance, contributing to his 20 losses, but his 1.90 ERA kept Washington in most games. In his 48 games pitched, his teammates only scored 105 runs, and the Senators only had 1,564 total bases on the season, dead-last in the league. Outfielder Sam Rice was the team's best hitter for average (.299) as the team batted for an anemic .242 average.
Named "Big Train" by Grantland Rice in 1911 for the speed at which he threw his fastball (estimated to have been 91 miles per hour, probably one of the fastest of the day). The only thing faster was a speeding train, and the sportswriter honed the nickname for the side-arm throwing Johnson.[1]
The next season the Senators came to Nashville after spending training camp in Atlanta,[2] expecting to embark on a more successful year and certainly, more runs scored. On March 28 under clear skies, the fair and warm conditions were perfect for baseball at Sulphur Dell, and Johnson was scheduled to pitch three innings.
Upon arriving in Nashville on March 27, the 6'1", 200-lb right-hander renewed his acquaintance with former catcher Gabby Street, now a backstop for the Vols. The two had played together for four years beginning in 1908 and spent most of the afternoon "fanning over by-gone years", and Street gave an illustrious description of their friendship.
"He not only is a wonderful pitcher, but a fine gentleman…"
"Last year, so he told me, he got off his stride in pitching by using an overhand system, but now is depending more upon a side-arm delivery. A man who lives the perfect life of Walter Johnson should go on for ten more years, even in a league as fast as the American. He is not a fellow who grows fat or puffy, his habits are perfect, and always he keeps in prime condition."
"It was good to see him again. Mighty good."[3]
Johnson kept his promise of starting the game, and indeed, pitched the first three innings. To the surprise of many, three Vols were able to scratch out hits: Larry Pezold, Howard Baker, and Street.
Pezold had faced Johnson once before as a member of the Cleveland Naps. On August 5, 1914, in one of 20 games Pezold played third base that season, he socked a triple against the future Hall of Famer in his team's win over the Nationals, 3-2.
Baker, who would toil for 20 seasons in the minor leagues, was a dependable outfielder who had begun his career at second base before coming to Nashville in 1915.
Street had faced his teammate before as a member of the New York Highlanders in 1912. On April 15 Johnson threw a four-hit shutout in a 1-0 win. Street did not get a hit but walked once. He faced Johnson two more times that season: hitless on April 15, but gained a single and double against him on May 28.
When Johnson's three-inning appearance was over, he stopped long enough to have his photograph taken with Street before leaving the field together.
Charlie Jamieson relieved Johnson in the fourth inning and scattered 11 Nashville hits, but held the Vols to three runs. The Nationals won under clear skies, 6-3, as the game took one hour and 50 minutes to complete.
Note: The image of Johnson included in this post was not taken in Nashville.
References
baseball-reference.com
Nashville Tennessean
newspapers.com
retrosheet.org
Notes
[1] Ken Melley, The Anatomy of Baseball Nicknames (New York, New York: Page Publishing, 2018), Chapter 6.
[2] Mark Hornbaker, Washington, D.C. Baseball History – Spring Training, https://dcbaseballhistory.com/2019/02/washington-d-c-baseball-history-spring-training/, accessed March 29, 2019.
[3] "Gabby Street Greets Walter Johnson After 5-Year Separation," Nashville Tennessean and The Daily American, March 27, 1917, 11.
© 2019 by Skip Nipper. All Rights Reserved.