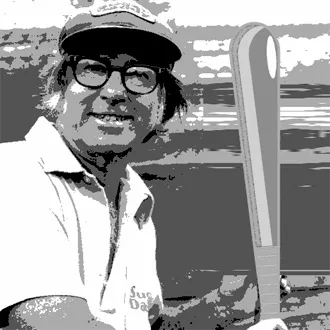 In the early years of the 20th Century, baseball players would often form a team to go on the road for several weeks, visiting towns where fans were thirsty to see their favorite player in action. "Barnstorming" baseball teams, once the regular season ended, was often lucrative, and profits could generate more income than a yearly salary. In the 1920s, Babe Ruth and Lou Gehrig formed two teams for successful tours: the Bustin' Babes and the Larrupin' Lous.
Some Negro League teams would drop out of a regular-season schedule to play in town-to-town games, sometimes on a day's notice, because there was more money in barnstorming. Big crowds would turn out to see players that had only been read about in the newspaper or heard about over the radio, especially in towns that were far away from the major leagues. In some cases, a black team would play a white team, and teams might be integrated even though the major leagues were not.
The practice continued through the 1940s, but became less popular as baseball became integrated beginning in 1947, and all eyes were on Brooklyn once Jackie Robinson began playing for the Dodgers. Newspapers would carry big headlines, and radio broadcasts were stretching from coast-to-coast, and fans could read and sense the action of games.
Nashville was a popular location for late-season barnstorming games, and crowds would fill the ballpark to see how the stars would handle the quirky outfield hills of Sulphur Dell.
Tennis star Bobby Riggs became a promoter of a barnstorming tour in 1950 along with Washington Senators co-owner John Hachym. Riggs had experience in the business of touring tennis matches, and he and Hachym thought they could capitalize on what had once been an off-season highlight.
In September of 1950, Riggs announced in New York that a 28-city, 32-game tour would begin October 10 in Montreal. Cities on the circuit would include Syracuse, Rochester, Miami, New Orleans, Fort Worth, Fresno, Birmingham, with the tour ending in Oakland on November 5. Nashville was on the list for a game to be played October 23.
American League stars were to face National League stars in the series. Walt Dropo, Al Rosen, Vern Stephens, Dizzy Trout, and Ned Garver were to be just a few of the American Leaguers, and Clyde McCullough, Sam Jethroe, Larry Jansen, Sid Gordon, Alvin Dark, Wes Westrum, and Red Schoendienst were among the National League representatives. Even Ralph Kiner committed to play in eight of the games. None of the players would earn less than $2,000[1], but Riggs promised the caliber of play would be just as expected during the major league season.[2]
It was not a successful venture. On Sunday, October 22 in New Orleans, Riggs called it quits. Between games of the day-night doubleheader (the National League stars won the first game, 9-8, and finished off the American League, 7-3 in the second), he announced the cancellation of the tour due to poor weather conditions and poor gate receipts. Estimations were that he "lost his shirt", as only $14,000 had been brought in.[3] The players agreed to settle for 50% of their contracts[4], and the debacle cost Riggs and Jachym and their partners in the enterprise $70,000.[5]
"It looked like a sure thing, even though it was obvious that the promoters would have to do better than $125,000 on the four-week junket to get out of the red[6]," wrote one sportswriter.
The game scheduled for Nashville's Sulphur Dell on October 23 was to have included additional players Ted Kluszewski, Gil Hodges, Gus Zernial and Paul Trout, according to the promoter. Still, it is doubtful very many would have attended the game anyway since the game's date was a Monday.
Jachym did not retain his interest in the Senators much longer, while Riggs concentrated on tennis. He continued to promote his game, culminating in "The Battle of the Sexes" winner-take-all tennis match played on September 20, 1973. Once again, Riggs "lost his shirt" as King took three matches from him 6-4, 6-3, 6-3.
Even in losing, he is given credit for advancing the acceptance and popularity of women's tennis worldwide, as over 90 million viewers watched the televised event.[7]
It was better that he stuck to tennis.
Notes
[1]Chic Feldman, "Hatchin' 'Em Out," The Tribune (Scranton, Pennsylvania), October 26, 1950, 20.
[2] Lawton Carver, "Bobby Riggs Adds Baseball to Annual Jaunts of Tennis Pros," Muncie Evening Press, September 23, 1950, 9.
[3] "Riggs Cancels Tour For Barnstorming Nine," Baltimore Sun, October 23, 1950, 16.
[4] "Major League Game Cancelled," Nashville Tennessean, October 23, 1950, 13.
[5]Feldman.
[6]Forrest R. Kyle, "Once Over Lightly," Decatur Herald, October 28, 1950, 9.
[7]JuliaKate E. Culpepper, "On This Day: Billie Jean King defeats Bobby Riggs in Battle of the Sexes," Atlanta Journal-Constitution, September 20, 1917, https://www.ajc.com/sports/this-day-billie-jean-king-defeats-bobby-riggs-battle-the-sexes/gQnyRmg9uAbJPv9aTkejqN/, accessed October 23, 2019.
©2019 by Skip Nipper. All Rights Reserved.