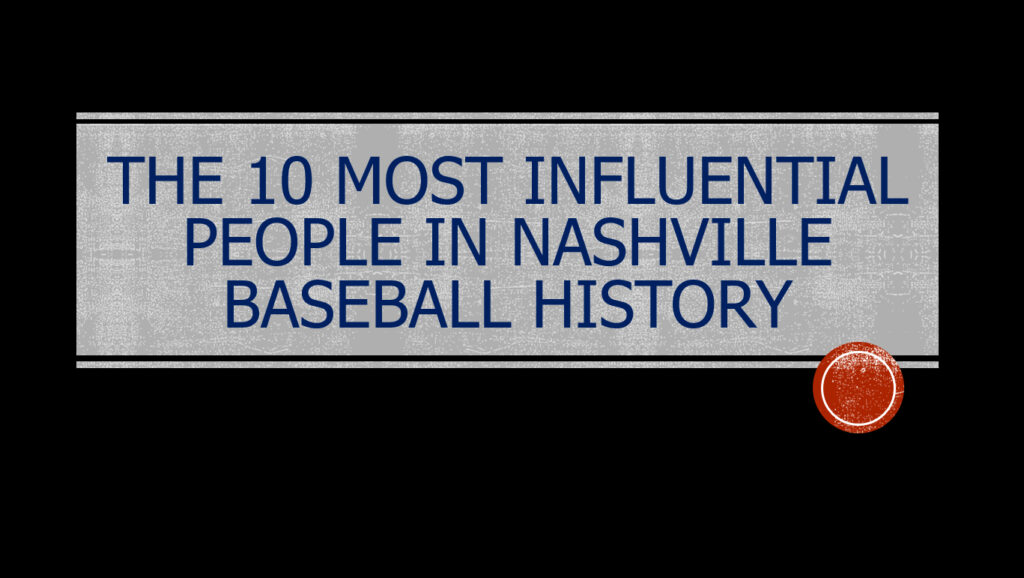 Much of my summer was spent determining who I felt were the most influential people in Nashville baseball history. The criteria were broad, so I understood that many will have a different opinion. Needless to say, the research and study have been most enjoyable.
Produced as separate videos published on YouTube, they may be accessed by scrolling down below from here to each one. I thought it would also be helpful to list them in short order as a summary of the entire project; these are my selections for the top 10 influencers of local baseball, in reverse order:
10: Harry "War Horse" Rogers, founder of the Nashville Old Timers Baseball Association
9: Grantland Rice, Nashville sportswriter who named Sulphur Dell and gave the Nashville professional team the name "Volunteers" in 1908
8: Willie White, Sulphur Dell groundskeeper, trainer for the Nashville Vols, and manager of the Sulphur Dell Giants
7: Herschel Greer, president of Vols, Inc., a public company formed to keep the Vols in Nashville
6: Tom Wilson, founder and owner of the Nashville Elite Giants and Tom Wilson Park
5: Ken Dugan, Lipscomb Bisons head coach who won two NAIA championships and wrote four books on instructional baseball
4: Fred Russell, Nashville sportswriter for over 70 years and with sportswriter George Leonard co-wrote "Vol Feats, 1901-1950," a history of the first 50 years of the Nashville Vols
3: Larry Gilbert, manager of the Nashville Vols for ten seasons, he won three pennants and five league titles, and was an iconic figure in all national baseball circles for his ability to handle players and win championships
2: Tim Corbin, successful head baseball coach at Vanderbilt, who won College World Series championships in 2014 and 2019 and is known for his recruiting and management skills
1: Larry Schmittou, a former amateur coach who led Vanderbilt to its first SEC championship in 1973 and had the vision to bring professional baseball back to Nashville in 1978
I am grateful to sportswriter Mike Organ for writing about my project in the Tennessean (one must be a subscriber to view the online article but is available in print), to author Derby Gisclair for his inspiration, and David Nipper for providing the background music.
© 2019 by Skip Nipper. All Rights Reserved.