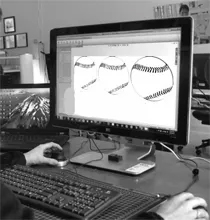 To receive requests for information about a relative has been one of the joys of my baseball research about Nashville baseball. I have received requests for statistics, teams played for, or the number of home runs for a grandfather, father, or some other relative.
Having never claimed that I would be able to come up with answers, I want to help when I can. I remember my relatives talking about playing baseball or watching a game, usually as kitchen table chatter, sometimes just when there was a moment or two to reflect on both the joy of remembering and the joy of sharing a good story.
To be able to help, I ask for more information as I always do: full name, date of birth, place of birth and death, any known teams or teammates. Photos or documents are still helpful, especially a birth or death certificate.
Research on subjects such as these is almost impossible without extra information. There is a myriad of online sources, but the most data available from the beginning gives the best results in the end. Online search engines have become a valuable tool to save time and expense as trips to the library are slowly becoming a thing of the past.
I once received an email from a woman who wanted information about her grandfather, who had played for the Nashville Vols at Sulphur Dell. Upon researching the name, I found nothing – nothing in any roster information, nothing in any book or internet source for Nashville teams, nothing in any of my files. Disappointing people by telling them there is no information for that person is not pleasant in any circumstance.
In this case, the woman told me that it impossible that her grandfather did not play for Nashville – at his funeral, she said, there was a team photo of the Nashville Vols next to his casket.
And, if grandpa said he played in Sulphur Dell, we want to assume that he played for the minor league team that called the famous ballpark "home." That is not always the case, as many amateur teams used Sulphur Dell for regular season and playoff games.
Over time the stories sometimes get twisted, too. For example, there was more than one amateur team in the 1930's, 1940's, and 1950's called "Nashville Vols."
Sometimes we have to realize that some things are lost.
My appeal is this: Research your family history, document your family treasures, ask your relatives questions, and write down your conversations. Finally, scan photos and other documents and archive them in some order.
I am always happy to help, to look through what I have. I keep a list of names and dates for my next internet search. It can be time-consuming, but it is satisfying to assist families in piecing together the baseball history of a loved one. It is not my intention to disappoint anyone, but I do have to be honest if I find little or nothing, or cannot find a connection.
If someone thinks I can help, I hope to be a resource. Nothing would please me more than to connect a dot or two.
© 2020 by Skip Nipper. All Rights Reserved.