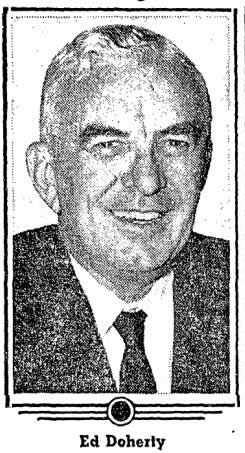 Ed Doherty, president of the American Association for seven seasons who served as general manager of the Washington Senators for the previous two years, was hired by the board of directors of Vols, Inc. on January 12, 1963, with full responsibility to run the Nashville Vols. He would answer to no one; previous former GMs had to report to the board of the directors of the ownership group.[1]
Nashville had been without professional baseball in 1962 but became a member of the South Atlantic (SALLY) League for 1963. Without baseball for an entire season, hopes were high for fans to flock back to Sulphur Dell in a renewed passion for the Nashville team. Doherty was willing and determined to make the organization a successful one.
From previous baseball experiences, he knew there were two things he had to do besides acquire players: sell tickets and sell advertising. Doherty spoke at civic organizations and to just about anyone else who would listen. During the winter, spring, and summer, he made 78 speeches to various groups.[2] He had a particular slogan he would recite during his campaigns:
"Let's air-condition Sulphur Dell," he would say. "Let's put a fan in every seat." [3]
But his failure to secure an AM radio station to broadcast Nashville Vols games during the season resonated loudly. The only station to agree to carry Vols broadcasts was WNFO-FM, with Hickman Duncan and Jimmy Denton doing the play-by-play.[4] The station was the first in the station in the South to apply for permission to operate in FM stereo format.[5]
According to Nashville Tennessean sports writer Raymond Johnson, Doherty even offered broadcast rights for free, which probably irritated his friends at the FM station.
"I never felt so remorseful about FM stations as I did today after talking with Hickman Duncan," Doherty said. "I didn't mean to hurt them when I said I would give it to any AM station. The FM stations are reaching approximately 80,000. They say there are 45,000 sets in and around Nashville. Their network reaches some 35,000. The network goes to Franklin, Pulaski, Shelbyville, Manchester and McMinnville with Lebanon and Dickson added for Sunday games. McMinnville, Lebanon, and Dickson outlets are AM stations." [6]
​To prove to fans who were not coming to the ballpark that the Vols were a club worth watching, he took a cue from the major league clubs and turned to television. In only the seventh home game of the season, on May 5, WLAC televised the first game of a doubleheader from Sulphur Dell.
The game proved to be a good one, as Nashville right-hander Ken Sanders held Asheville to seven hits as the Vols defeated the Tourists by a score of 4-2. Sanders walked only one, with a single and home run by second baseman Felix Santana accounting for both Asheville runs. Nashville totaled eight hits, including a double by Don Ross. Jim Orton drove in two runs with a single.[7]
In the second game, Asheville had 13 hits and returned the favor to Nashville by winning 10-3. A crowd of 1,767 was on hand despite the television broadcast.
Vanderbilt student Warren Corbett replaced Hickman Duncan on May 10 during a reorganization change at the station. Corbett was to handle all sports announcing.[8] In his article for SABR's (Society of American Baseball Research: sabr.org) Biography Project, Corbett recalls the final days of his broadcasting opportunity:
"The team attracted only a few dozen fans on some weekday evenings, many of the gamblers who sat behind the third-base dugout and bet a few dollars on foul balls. The radio sponsor canceled in June, ending the broadcasts that had been carried only on a low-powered FM station." [9]
For the year attendance stood at 52,812, and at season's end, Doherty reported the franchise had lost $32,958.59 for the year.[10] On September 16, after conveying the dismal figures to the directors of Vols, Inc., a vote was taken without dissent to surrender the club's South Atlantic League franchise.
"I tried every way under the sun to get people to come to the park. Interest just wasn't there," he told the directors.[11] Raymond Johnson's words from nine months prior proved prophetic:
"With Doherty's background as a club and league official, there is no reason he shouldn't have been given a free hand…Because, if Ed cannot get the job done here, then Sulphur Dell will become only a memory." [12]
Doherty left for home on September 25, and on January 5, 1964, he joined MLB commissioner Ford Fricke's office as a liaison between the big-league clubs and college baseball programs. Doherty passed away in 1971.
Sulphur Dell never hosted professional baseball again and was demolished in 1969.
Sources
Baseball-reference.com
Nashville Tennessean
Newspapers.com
Paper of Record
Sabr.org
The Sporting News
Notes
[1] Raymond Johnson. "One Man's Opinion" column, Nashville Tennessean, January 13, 1963, 56.
[2] Johnson. "One Man's Opinion" column, Nashville Tennessean, September 24, 1963, 14.
[3] F. M. Williams, "Ed Doherty Death Severs Tie," Nashville Tennessean, July 9, 1971, 28
[4] Williams. "Legalize Spitter or Stop It – Turner," Nashville Tennessean, February 10, 1063, 53.
[5] Albert Cason, New Stereo Station On Air Here Soon, "Nashville Tennessean, March 20, 1962, 20.
[6] Johnson. Nashville Tennessean, April 24, 1963, 18.
[7] Williams. "Vols Split With Asheville," Nashville Tennessean, May 6, 1963, 20.
[8] "Corbett Announcer For Vol Baseball," Nashville Tennessean, May 11, 1963, 16.
[9] Warren Corbett. "Sulphur Dell (Nashville)," https://sabr.org/bioproj/park/dac74af0, retrieved May 5, 2018.
[10] Williams. "Vols Owe," Nashville Tennessean, September 17, 1963, 16.
[11] The Sporting News, "Birmingham May Join Sally After Nashville Drops Out," September 28, 1963, 29.
[12] Johnson. January 13, 1963, 56.
© 2020 by Skip Nipper. All Rights Reserved.