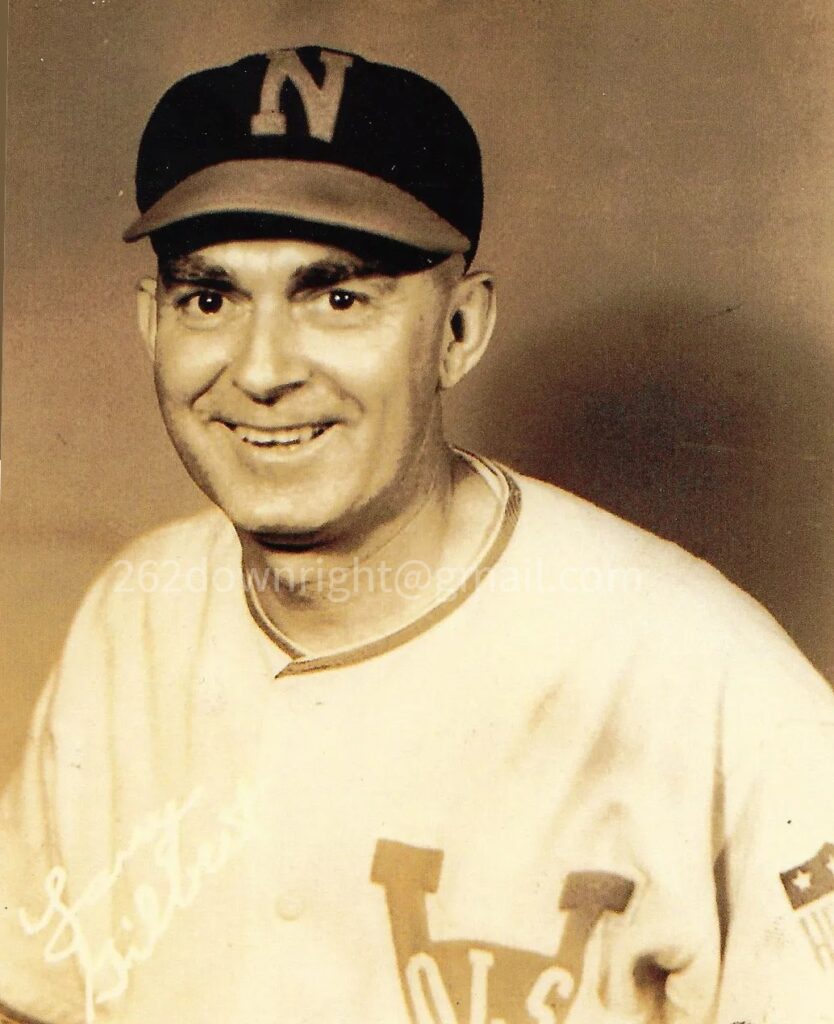 On Sunday afternoon, July 27, 1941, Larry Gilbert was honored as Sporting News "1940 Minor League Manager of the Year" before his team's doubleheader against Chattanooga at Sulphur Dell in Nashville.
It was the second ceremony of the year honoring Gilbert, the first on May 7, recognizing him for his 25 years in the Southern Association[1]. He received various gifts, including a gold lifetime pass by league president Trammell Scott, a silver set from Vols team owner Ted Murray and treasurer Jack Flanagan, and his players presented him with a silver service.[2]
Gilbert began his career in local sandlots of his hometown of New Orleans. He found his way to the majors as a member of the famous "Miracle Braves" of 1914, which had a 26-40 record in July but managed to win the National League pennant by winning 68 of its next 87 games[3]. Gilbert was a seldom-used outfielder and appeared in 72 games, hitting .268. His only appearance in the World Series was as a pinch hitter, drawing a walk from Philadelphia Athletics ace Bill James.
As a 23-year-old the next season, Larry was used very little and batted a paltry .151. His career would resume in Toronto (International League – Class AA) and Kansas City (American Association – Class AA) before he joined New Orleans (Southern Association – Class A). He would remain there for nine years, becoming manager of the club in 1923, leading the club to the league pennant that season, and remained there through 1938 (he moved to the front office in 1932, but returned to the dugout in 1933).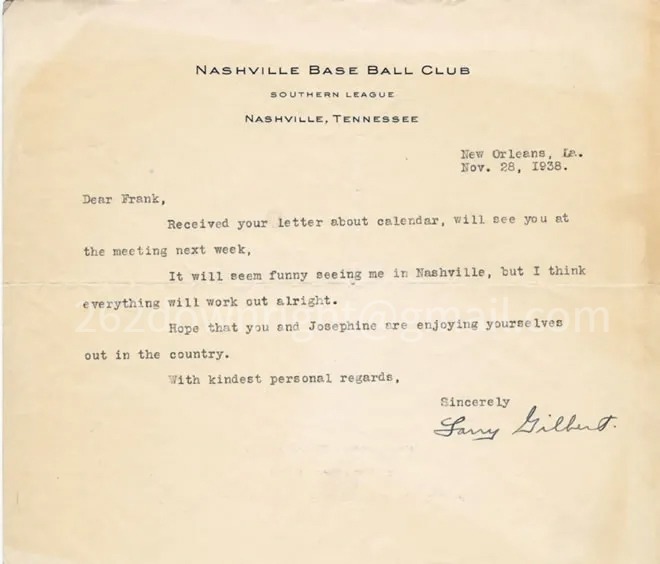 When Nashville owner Fay Murray was looking for a manager after the 1938 season, he convinced Larry to become part-owner, general manager, and manager of the Vols. He remained as field leader through 1948, moving to the front office until 1955, when he sold his shares in the club.
Larry Gilbert's rise to fame as the best manager in the minor leagues culminated in 1940 when his Nashville ball club led the Southern Association from opening day until the end of the season. His team won 101 games with a combined batting average of .311, pitcher Boots Poffenberger won 26 games, and reliever Ace Adams struck out 122 opposing batters.
In the league playoffs, the Vols eliminated Chattanooga, three games to none. They won the playoff championship against Atlanta by winning four games to two for the Crackers, sending Nashville to the Dixie Playoffs to face Texas League champion. They polished off the Houston Buffaloes in five games, ending a remarkable season. That club was selected as the 47th best minor league of all time in 2001 in celebration of Minor League baseball's 100th anniversary[4].
His two-year record at Nashville was 186-115 and included a Southern Association regular-season pennant, two playoff championships, and one Dixie Series title. He had previously led New Orleans to four pennants, two playoff championships, and two Dixie Series crowns.
On September 8, 1948, in his final game as manager, Gilbert was honored once again, this time for 25 years as a manager in the Southern Association, beginning with his first entering the league in 1923. 6,509 Nashville fans, Baseball Commissioner A. B. Chandler, George M. Trautman, president of the National Association, and Southern Association president Charlie Hurth, were there to bestow recognition to Larry Gilbert, the most successful manager in the history of the Southern Association.
With eight league championships, including six consecutive titles with Nashville between 1939-1944, his final record as the manager for the Vols and New Orleans was 2,128 – 1,627. It was an impressive record for an equally remarkable manager.
From the honors bestowed upon him, it was easy to tell that Baseball loved Larry Gilbert.
To view Gilbert's entire managerial record: http://www.southernassociationbaseball.com/managers/larrygilbert.php
Sources
Baseball-reference.com
Newspapers.com
Paper of Record
Retrosheet.org
Sabr.org
Southernassociationbaseball.com
Notes
[1] Raymond Johnson. "Fourth Celebration Due," One Man's Opinion column, Nashville Tennessean, July 28, 1941, 8.
[2] The Sporting News, May 15, 1941, 12.
[3] "1914 The Miracle Braves", http://www.thisgreatgame.com/1914-baseball-history.html, accessed January 27, 2020.
[4] Bill Weiss & Marshall Wright, "Top 100 Teams: 47. 1940 Nashville Vols," http://www.milb.com/milb/history/top100.jsp?idx=47, accessed January 27, 2020
© 2020 by Skip Nipper. All Rights Reserved.