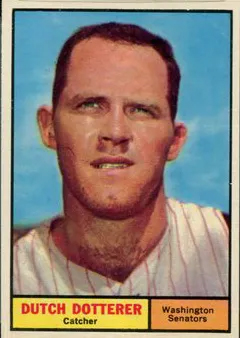 Henry John "Dutch" Dotterer was a catcher for the Nashville Vols during the 1955 and 1957 seasons. Born in Syracuse, New York, on November 11, 1931, he attended Syracuse University, where his roommate for two years was a fraternity brother, Dick Clark of American Bandstand fame.
Cincinnati signed Dutch for $10,000, and Dotterer began his professional career with Lockport, New York, of the PONY League in 1950, and played for two more seasons before military service. In 1953, in the first year of a two-year commitment to the U. S. Navy in Bainbridge, Maryland, he became friends with Willie Mays, who was playing for the Ft. Eustis, Virginia, Army team.
"I was a pool table repairman with the special services unit," Dotterer told Los Angeles Times sportswriter Fernando Dominguez in a 1992 interview. "That's when I found out Willie Mays could play pool. We used to shoot pool together. When I knew him, he would give you the shirt off his back. But now you read stories about him wanting a lot of money for personal appearances, and I say, 'That's not the guy I knew.'" [1]
Upon his discharge in 1954, he joined Cincinnati and traveled with the club for a month. When the Reds came up with a promotion to see if anyone could catch a baseball from a height greater than 555 feet, Dutch volunteered. That was the distance from which Chicago Cubs catcher Gabby Street caught a ball dropped from the Washington Monument on August 21, 1908. On September 2, 1954, Cincinnati Times-Star baseball writer Earl Lawson tossed baseballs from a helicopter hovering 557 feet in the air, first to Reds catchers Andy Seminik and Ed Bailey. When both failed to snag one, Dotterer stepped underneath and was able to make a catch. Another Cincinnati catcher, Hobie Landrith, accomplished the feat, too.[2]
Resuming his professional career in 1955, Dutch split time between Memphis and Nashville. Dotterer batted only .221 combined for both clubs, but after a full season in Havana in 1956, he returned to Nashville in 1957 and by May 1 was hitting at a .391 clip. On July 10, Dutch was seventh in the league at .319 and chosen for the Southern Association All-Star team as the only unanimous selection. Dotterer ended the season with a .303 batting average.
Sent to Seattle for 1958, he earned a late-season call to the Cincinnati Reds, appearing in four games. Dotterer had 339 plate appearances in five years in the majors, including 22 with the expansion Senators. The Reds had traded him to Kansas City, but the Athletics did not place him on their expansion draft protected list, and Washington selected him.
With Washington in 1961, his last season in the majors at a salary of $18,000, Topps mistakenly printed a photograph of his younger brother, Tom, with Dutch's biographical and statistical information on his baseball card. Tommy never made it to the majors but played outfield and shortstop for Nashville in 1959.
Their father, Henry, was a shortstop in the Cardinals chain and became a long-time scout with the Cleveland Indians, New York Yankees, and Reds. Dutch's son Mike is the only athlete at Stanford to have lettered for four years in two sports, football and baseball. Although drafted by the New York Yankees in 1979 and 1983, and the Oakland Athletics in 1982, he signed with the Oakland Raiders in 1983.
Dutch retired from baseball in 1961 after two years with Syracuse. He passed away on October 9, 1999, in his hometown at the age of 67 and lay to rest in Assumption Cemetery.
Sources
baseball-reference.com
baseballhistorycomesalive.com
newspapers.com
paperofrecord.org
sabr.org
Notes
[1] Fernando Dominguez, "Images of a Life on the Field: Baseball: Dutch Dotter," Los Angeles Times, June 27, 1992.Images of a Life on the Field : Baseball: Dutch Dotterer, a catcher with the Cincinnati Reds and Washington Senators in '50s, can fill volumes with anecdotes, accessed March 17, 2020.
[2] "Baseball Thrown From Helicopter Held by Catcher," The Times Recorder (Zanesville, Ohio), September 3, 1954, 20.
© 2020 by Skip Nipper. All Rights Reserved.