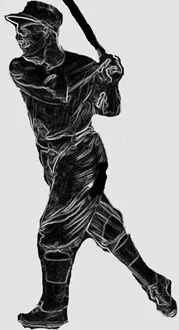 On July 29, 1945, Mobile catcher Harry Chozen laid down an unsuccessful sacrifice bunt[1] and ended his consecutive-game hitting streak at 49. It was the 11th inning of a 13-inning affair in Mobile, and Chozen finished the game 0-for-5[2].
While catching for Cincinnati eight years earlier in a game against Philadelphia on September 21, 1937, the unlikely batting hero stepped up to the plate in the bottom of the ninth inning to face Phillies pitcher Wayne LeMaster. Chozen was 0-for-3 in the game, having flown out to right field, popped up to the first baseman in foul territory, and grounded out to first, but he slapped a single for his only hit in his only appearance in the major leagues. The Reds lost, 10-1.
He played the next four years in the Eastern League for Albany and Williamsport, then in the Virginia League with Newport News before moving to Knoxville and Mobile in 1944.
In surpassing Nashville's Johnny Bates' 45-game streak set in 1925, Chozen admitted he used a broken bat for every hit of the streak.
"I broke my bat when I got my first hit of the streak on May 27 (in Memphis)," Chozen said. "I started to give it to my kid, but changed my mind and did a tack and tape job, and brother, it has paid dividends." [3]
He even hit a home run with it, in his first time up on July 22. It was the 46th game of his stretch, breaking Bates' record[4].
Some controversy surrounded Chozen's feat. On July 6, after having hit safely in 33 consecutive games, he was issued a base on balls in his first time at the plate. Catching in the fourth inning, he was hit in the head by Chicks player Pete Thomassie on his follow-through swing. Mobile manager Clay Hopper removed the unconscious Chozen from the game.
As there was no official plate appearance, Chozen's streak continued for another 16 games before it ended.
When his streak ended, he connected for a hit in his next eight games before being collared by New Orleans Pelicans pitcher Trader Horn on August 8. For the year, the 5'9″, 195-pounder had 103 hits in 292 appearances for a .353 average and played in 88 games for the Bears. According to his contract, he became a free agent when the season was over.
Chozen spent the 1946 season in Memphis before assuming the managerial reins at Greenville in the Class C Cotton States League for 1947. One of his starting pitchers was Bob Kelley, who would pitch for Nashville in 1950-1951 and 1956. Chozen also played in 97 games that season.
He played and managed for the next four seasons at Miami Beach (Florida International League-C), Pine Bluff (Cotton States League-C) for two seasons, and Lake Charles (Gulf Coast League-B) before finishing his playing career in 1952 at Greenville once again.
Chozen passed away on September 16, 1994, in Houston, Texas, at the age of 78.
Nashville's Johnny Bates had set the previous league record by hitting in 46 consecutive games during the 1925 season. His run began with two hits against Atlanta on July 30, ending with two hits on the last day of his streak against Milt Steengraffe of Little Rock on September 16[5].
In 26 of those games, he had only one hit to keep his pace intact. His 72 hits gave him a .370 average, and he scored 44 runs during the streak. Bates ended the season with a .349 batting average.
Bates had played in the Southern Association previously with Mobile and Chattanooga, and for Rocky Mount (Virginia League-B). He spent three seasons at shortstop with Nashville before moving to Mobile at the end of the 1927 season.
Not much else is known about Bates, as his baseball record and personal history are incomplete. With some questions about his birth date, generally accepted as August 21, 1882, in Steubenville, Ohio, which, if true, would have him as a 43-year-old during his record-setting year.
But comparing his and Chozen's records to Joe DiMaggio's widely-known 56-game major league hitting streak places them at the top of the all-time list.
The Yankee Clipper's personal best was set in 1933, when he was a member of the San Francisco Seals in the Pacific Coast League (AAA). His 61 consecutive hits were a close second to baseball's record champion across both major and minor league, established by Joe Wilhoit in 1919 while playing for Wichita in the Class A Western League.
But two unique players, each with average careers, had one extraordinary season of their lives each, and their feats were never matched in the history of the Southern Association.
The top hitting streak records of all-time in the major and minor leagues[6]:
69 Joe Wilhoit, Wichita, Western League 1919
61 Joe DiMaggio, San Francisco, Pacific Coast League 1933
56 Joe DiMaggio, New York, American League 1941
55 Román Mejías, Waco, Big State League 1954
50 Otto Pahlman, Danville, Illinois–Indiana–Iowa League 1922
50 Francisco Mejia, Lake County, Midwest League; Lynchburg, Carolina League 2016
49 Jack Ness, Oakland, Pacific Coast League 1915
49 Harry Chozen, Mobile, Southern League 1945
46 Johnny Bates, Nashville, Southern League 1925
45 Willie Keeler, Baltimore Orioles, National League, 1896-97*
45 Jamie McOwen, High Desert, California League, 2009
44 Pete Rose, Cincinnati Reds, National League, 1978
*Keeler had a hit on the last day of the 1896 season, then hit safely in the first 44 games of the 1897 season.
Sources
Russell, Fred; George Leonard (1950). Vol Feats: Records, History and Tales of the Nashville Club in the Southern Association 1901-1950. Nashville, Tennessee: Nashville Banner.
Major and minor league statistical information retrieved from www.baseball-reference.com. Major league game details retrieved from www.retrosheet.org.
Notes
[1]Wechsler, Bob (2008). Day by Day in Jewish History. Jersey City, New Jersey: KATV Publishing House.
[2] Anniston Star, July 30, 1945.
[3] Wilkes-Barre Record, July 27, 1945.
[4] Baseball Records, Southern Association from 1901-1945 Inclusive.
[5] Ibid.
[6] baseball-reference.com, https://www.baseball-reference.com/bullpen/Longest_Hitting_Streaks, accessed March 25, 2020
© 2020 by Skip Nipper. All Rights Reserved.