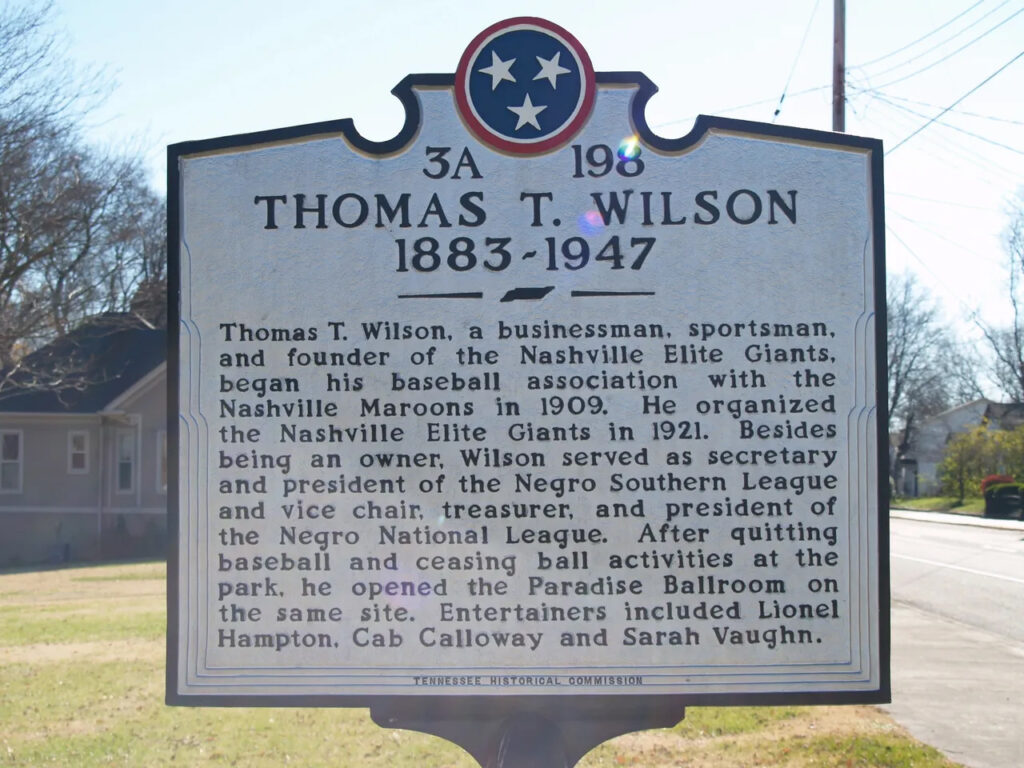 As America is celebrating the 100th Anniversary of the Negro Leagues in 2020, it is no wonder that today marks the 100th anniversary of Negro League baseball in Nashville. A man who loved the game of baseball, played on the sandlots of Nashville and longed to own a team, on March 26, 1920, Thomas T. Wilson and others formed a corporation with the State of Tennessee.
The charter read:
"Nashville Negro Baseball Association and Amusement Company", for the purpose "of organizing base ball clubs and encouraging the art of playing the game of baseball according to high and honorable standards and of encouraging the establishment of a league of clubs in different section(s) of the state; and also of furnishing such amusements as usually accompanying base ball games and entertainments. Said corporation to be located in Nashville, Tennessee, and shall have an authorized capital stock of $5,000.00.
T. Clay Moore, J. B. Boyd, Marshall Garrett, Walter Phillips, W. H. Pettis, J. L. Overton, and R. H. Tabor joined him as investors.
Wilson had purchased a local semi-pro baseball club, the Standard Giants semi-pro team, known in baseball circles as White Sox, and with Garrett at the helm entered his team in the newly-formed Negro Southern League. A 19-year-old future star who was born in Nashville began his professional career with the club, Norman "Turkey" Stearnes. In 2000, he became a member of the National Baseball Hall of Fame.
Seven teams made up the balance of the league: Atlanta Black Crackers, Birmingham Black Barons, Jacksonville Stars, Knoxville Giants, Montgomery Grey Sox, New Orleans Caulfield Ads, and Pensacola Giants. Nashville finished 40-40 at the end of the season.[1]
The next season Wilson renamed his team Elite (rhymes with delight) Giants. His mission was to ultimately own a team in the Negro National League, formed by Rube Foster in Kansas City on February 13, 2020. The Nashville owner bided his time in the NSL until gaining entry into the Negro National League in 1930.
Wilson learned how expensive it was for his Nashville Elite Giants to travel, as most teams where located in the north. He moved his club from Nashville to Cleveland in 1931 after signing Satchel Paige but returned mid-season when attendance was small, and Paige left the ball club. After the 1934 season, the Elites would no longer call Nashville home, as Wilson moved them first to Columbus, Ohio (1935), then Washington, D. C. (1936-1937), and ultimately to Baltimore (1938-1950).
Wilson would often travel with his team, but he maintained his residence in the countryside of Nashville's Couchville Pike until he died in 1947. In 1928-1929 he built his own Wilson Park in the Trimble Bottom section of Nashville, often his teams' spring training site, and when Sulphur Dell was too soggy for the Nashville Vols to practice and play, they would use it. Later Wilson demolished his park to build the Paradise Ballroom, an entertainment venue with a dance floor large enough for playing basketball games[2] that welcomed famous entertainers such as Cab Calloway and Lena Horne.
This day of celebration of the 100th anniversary of Negro League baseball in Nashville, would not be possible without the imagination, courage, success and love of the game of Tom Wilson.
Sources
baseball-reference.com
baseballhall.org
Negro League Baseball Players Association website: http://www.nlbpa.com/the-negro-league-teams/nashville-elite-giants, accessed March 25, 2020
Nashville Banner
Nashville Tennessean
newspapers.com
sabr.org
Notes
[1] William J. Plott, The Negro Southern League: A Baseball History, 1920-1951 (Jefferson, NC: McFarland & Co., 2015), 21.
[2] Richard Schweid, "Club Built Among All Odds," Nashville Tennessean, September 2, 1987, 19.
© 2020 by Skip Nipper. All Rights Reserved.