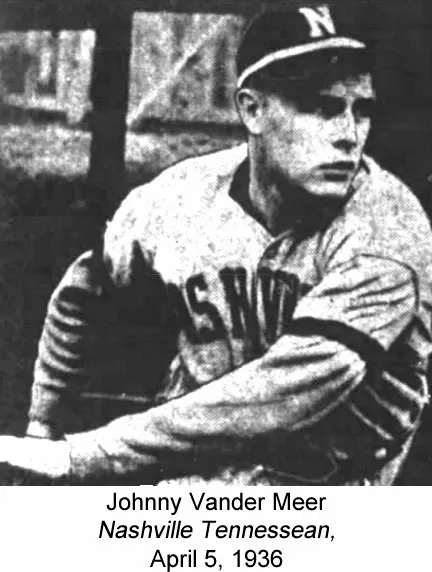 Johnny Vander Meer was born on November 2, 1914, to Dutch parents in Prospect, New Jersey, and grew up in Midland Park. Baseball became his love, eventually finding the attention of a Cincinnati Reds scout and signing to play in Dayton (Class C – Mid-Atlantic League)[1] and the next two seasons in Scranton (Class A – NYPL). In those first three years in the Cincinnati Reds farm system, he developed arm trouble. In 1936 he was sent to Nashville to consult with Dr. Lee Jensen, a noted sports doctor who determined there was an issue with a muscle in Vander Meer's back. After therapy and exercises, he hoped to become a starter for the Vols.
In a two-game exhibition series against the St. Louis Browns at Nashville's Wilson Park (built by Negro League team owner Tom Wilson) he started on April 7 and appeared as a reliever on April 8. In the first game, a cold and windy affair, with one out, he issued walks to four consecutive batters to force in a run before being relieved by Johnny Intlekofer. The Browns won 3-1.
The next day he relieved Junie Barnes in the seventh. Only giving up one hit, Vander Meer gave up five runs in the eighth; for the game, he struck out four, walked five, and hit batter Harlond Clift before being relieved by Ray Davis. Johnny was the losing pitcher.
On April 21, he faced the Atlanta Crackers in his first start for the Vols, another cold affair eventually called due to darkness that ended in a 4-4 tie. Continuing to relieve for manager Lance Richbourg, on May 3, Vander Meer had his second start, this time in Birmingham. He allowed two runs in five innings before being yanked for Red Ahearn.
In Nashville's Sulphur Dell on May 9, Johnny started against New Orleans but did not finish in the Vols 15-8 trouncing of the Pelicans. Having appeared in 31 innings in eight games but with no wins, he started against the Travelers in Little Rock on May 19 but did not last the inning after walking the first three batters he faced. He was the losing pitcher.
With 25 bases on balls in 32 innings, his lack of control was beginning to show. By June 1, he was gone, sent to Durham (Class B, Piedmont League). Still under contract to Nashville, Vander Meer miraculously found his curveball under the tutelage of manager Johnny Gooch and won 19 games while losing only 6 with a 2.65 ERA.
Most impressive were his 272 strikeouts in 194 innings. He struck out 20 in one game, 19 and 18 in two others. "Vandy" was named The Sporting News Minor League Player of the Year for 1936.
Sold by the Vols to Cincinnati and invited to spring training, he spent the season between the Reds, where he was 3-4 with a 3.84 ERA and Syracuse (Class AA – International League) where he was 5-11 with a 3.34 ERA.
He was an All-Star for Cincinnati in 1938 and threw consecutive no-hitters, the only player to ever accomplish the feat. His first came in Cincinnati against the Boston Bees on June 11, and the second against the Brooklyn Dodgers on June 15, the first night game ever played at Ebbets Field.
Four days later, on June 19 in Boston, he no-hit the Braves until one out in the fourth inning when Debs Garms hit a single. The streak ended at 21 1/3 innings, which included the batter Vander Meer retired in the game before his first no-hitter.[2]
Named The Sporting News Major League Player of the Year that season, he selected for the All-Star team in 1939, 1942, and 1943.
His lifetime 119-121 record included 1,294 strikeouts, and he led the league in that category for three consecutive seasons; 1941 (202), 1942 (186), and 1943 (174).
Upon his release from the Cleveland Indians in 1951, he pitched in 24 games for Tulsa and won 11, losing 10. But on July 15, 1952, 14 years and one month after his record performance, he hurled a no-hitter in a Texas League game against Beaumont.
Oddly enough, Beaumont manager Harry Craft was centerfielder for the Reds and made the final putout in the second no-hitter by Vander Meer on a ball hit by future Hall of Famer Leo Durocher of Brooklyn.
Upon retiring from active playing, Vandy managed in the minors for ten seasons, where his teams won a total of 761 games and lost 719. Future major-leaguers Jim Maloney, Vic Davalillo, Jack Baldschun, Lee May, Jim Wynn, Ed Kranepool, and Pete Rose played for "The Dutch Master".
When his baseball career was over, he worked for a brewing company and enjoyed fishing. Vander Meer passed away on October 6, 1997, in Tampa, Florida, buried with a baseball in his left hand.[3]
Sources
Ancestry.com
Baseball-reference.com
Nashville Tennessean
Newspapers.com
Retrosheet.org
Sabr.org
Notes
[1] Johnson, James W. Johnny Vander Meer, SABR Baseball Biography Project. Retrieved from ww.sabr.org
[2] Goldstein, Richard. "Johnny Vander Meer, 82, No-Hit Master, Dies", New York Times, October 7, 1997
[3] Johnson, James W. Ibid.
© 2020 by Skip Nipper. All Rights Reserved.