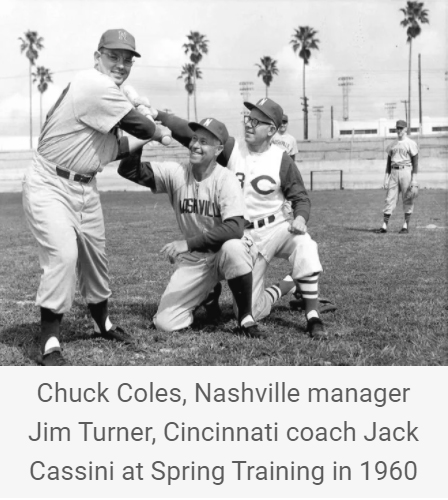 Charles Edward "Chuck" Coles was born on June 27, 1931, to Dorothy and Charles "Chalky" Coles in Fredericktown, Pennsylvania. He excelled at football, basketball, and baseball at Jefferson High School. His father had been a sandlot pitching ace in Greene County[1] and was a semi-pro player in the Middle-Atlantic League and managed in the local Big Ten baseball league, inducted into the Big Ten Hall of Fame's inaugural class in 1954.[2] He played American Legion ball for his father's Jefferson team and enrolled at Waynesburg College. Rex Bowen of the Brooklyn Dodgers signed him before the 1950 season.
At Newport News (Piedmont League – Class B) to begin his professional career, Chuck had seven hits in 39 plate appearances before being sent to Valdosta of the Georgia-Florida League (Class – B). It was there he began to show the promise of being a solid hitter. Joining the club nearly a month after the season started, he had 30-game hitting streak at one point.[3] Finishing with a .355 batting average to go along with 14 home runs and 161 hits, he was named Georgia-Florida League Co-Rookie of the Year.[4] Back to Newport News for the entire 1951 season, his average tailed off to .299, but he impressed the Dodgers during spring training in 1952, assigned to Mobile (Southern Association, Class – AA).
1952 with Mobile, on May 11, the 5'9", 180-lb. outfielder had his streak of seven consecutive games of two or more hits halted when he only had a single.[5] He was selected to the Southern Association All-Star game, Bears outfielders Bill Antonello and Bama Rowell[6]. Coles led off and played right field in the game at New Orleans, but had no hits in three turns at-bat. He was one of three rookies from Mobile to play in the game, along with Norm Larker and Don Zimmer.
Mobile finished third in league standings with an 80-73 record, but in the SA playoffs, Coles had a key home run in Mobile's 8-2 win over Atlanta to take a 3-2 margin over the regular season champions. In the final game of the series, Mobile won 3-2 as Coles knocked in two runs with a double.[7] In December, Coles notified Mobile club president John Toomey that he had been inducted into the armed services the previous month and to be stationed at Fort Gordon, Georgia[8]. Coles served in the military in 1953 and 1954.
Back to baseball in 1955, he began the season with the Bears in May was optioned by Mobile to Elmira.[9] Benched due to weak-hitting on July 10, the next day, he had a double and two triples, knocking in four runs in a 5-4 win over Johnstown.[10] He finished with a mediocre .278 batting average.
Sent to Pueblo of the Western League in 1956, he regained his hitting stroke and slammed 24 round-trippers during the season. He had two grand-slam home runs each against Sioux City and Des Moines. In 1957 he remained with Albuquerque for the entire year and was selected to the Western League's All-Star team at the end of the season.[11] He hit .354 with 26 home runs and 120 RBI.
On March 10, 1958, Nashville purchased Coles' contract outright from Albuquerque, and he reported to the Vols the next day at their spring training camp in Brooksville, Florida. Coles had been recommended to Vols general manager Bill McCarthy by Nick Cullop, who had managed him for the first half of the previous season. Once Cincinnati farm director Bill McKechnie approved, the deal happened.
"Cullop told me that Coles would make an ideal Deller," McCarthy said. "Apparently, Cincinnati thinks he can help us, too."[12]
Coles immediately made an impact. On April 23, 1958, he had two triples in successive innings in a 13-12 slugfest over Atlanta [13], and by May 20 had extended his hitting streak to 15.[14] The next day in the first game of a doubleheader at Rickwood Field, he extends it to 16 games, becoming only the second player in league history to hit three home runs (all three off Barons pitcher Ron Rozman) in a seven-inning game. The Vols beat Birmingham, 8-3. In his last at-bat, Coles hits a single as he drives in seven of the eight Nashville tallies. In the nightcap, Barons pitcher Bob Bruce ended Coles 16-game hitting streak. But Coles had raised his batting average to .425.[15]
On June 6, Nashville's fourth annual Knot Hole Night draws a crowd of 2,579 paid fans, with the club donating half of the proceeds to the Junior Chamber of Commerce-sponsored Knot Hole League baseball program. The evening is marred by an injury to Coles, hit in the head by a rock thrown from the stands. He was hitting .358 at the time but was not seriously hurt.
On July 1, he got Nashville's only hit against Little Rock right-hander Bud Black as the Travelers won over the Vols, 3-0. A few weeks later, his batting average dipped to .333. Still, he was selected for the 1958 Southern Association All-Star Game.
In the annual event, he hits a three-run home run off Atlanta's Bob Giggie and later doubles to lead the All-Stars to win over Atlanta 4-0. Just six days prior, Coles had hit one off Giggie at Ponce de Leon ballpark, then had another off the same pitcher on Tuesday night. In total, Chuck hit four home runs off Crackers' pitching, all but one off Giggie then added the All-Star homer to his feat. He had hit four-of-five home runs off the same pitcher.[16]
He ended with a .307 average with 107 RBI and 29 home runs, topping the league with 320 total bases. Called up by the Cincinnati, he made his big-league debut on September 19. Starting in left field against the Milwaukee Braves at Crosley Field, his first putout was on a fly ball by Vada Pinson for the third out in the second inning. In the Reds half of that inning, he struck out against right-hander Carl Willey, who would be named National League Rookie of the Year for the season. In the fourth inning, the bespectacled Coles hit a double to drive in Smokey Burgess, collecting his first RBI in the majors.
Playing center field at Milwaukee's County Stadium a week later, he gained his second (and last) major-league hit, a single in the fifth inning off Lew Burdette. Coles has the distinction of having played in five games for the Reds, all against the Braves; he wrapped up his stint with a .82 batting average in 11 plate appearances.
Chuck played winter ball with Valencia, hitting two home runs in the game that clinched the pennant for his team. Beginning in 1959 with Havana (International League – Class AAA), in 30 games, his batting average was a paltry .181, and he soon found himself back on the Nashville roster.
"We're glad to have Chuck back," general manager McCarthy said. "I talked with Dick (Nashville manager Dick Sisler) today, and he was quite pleased. I don't know where Dick will play him, but we can use a bat like Coles swings. We're fortunate to get him. Havana has been getting a steady diet of left-handed pitching and wants to add some right-handed power."[17] Coles never regained his batting ability. Used sparingly, he hit .203 when on July 1, he was traded to Atlanta by Nashville for Ray Shearer. Coles was a visitor in the press box during the game that night against Memphis at Sulphur Dell.
"Maybe it's all for the best," he said. "I just couldn't get going here. I have to play regularly. Maybe I'll get to with Atlanta. I hate to leave Nashville, but it's part of the game."
It was an unusual trade. McCarthy's negotiated deal with Atlanta owner Earl Mann meant both Coles and Shearer would return to the other club at season's end, as both player's contracts belonged to their parent organizations (Coles with Cincinnati, Shearer's with Milwaukee).[18] It took some coaxing by Coles to Nashville's new manager, Jim Turner. After a March 10 workout with the Vols, Turner was ready to give the former star a chance.
"I see no reason why he should not have five or six more good years left," Turner said. "It isn't normal for a man of his age (29) to have two seasons like he did in 1957 and 1958 and then suddenly not be able to do a thing. I don't believe he's through."[19]
Chuck promptly led the Vols in spring training round-trippers with six. Once the season began, he joined Erv Joyner and Crawford Davidson in the outfield and he regained some of his hitting form. By September, he got on base 11 straight times on five hits and six bases-on-balls, then popped out to end the string, and at year's end had hit 14 home runs, drove in 99 runs, and batted .290.
Surprisingly, he returned to Mobile to begin the 1961 season, but after 32 games and a .202 average, he was demoted to Charlotte (South Atlantic League, Class – A), a Minnesota Twins farm club. He hit .313 in 101 games, eight home runs and 47 RBI.
Remaining with the Hornets beginning in 1962, his manger was Spencer "Red" Robbins, who had managed Nashville the previous season. Used as an outfielder-first baseman at Charlotte, by late June he was leading the SALLY with a .369 batting average, and by June had increased his numbers to .376, six HR, and 22 RBI. But Robbins benched him when Ernie Oravetz reported from Syracuse (International League – Class A).
With 80 games under his belt, and a .305 average, on July 27 he was optioned to Wilson (Carolina League – Class B)[20]. The Tobs (short for Tobacconists) were in a pennant-chase and it was thought he would provide much-needed help at the plate. On August 1, Coles hit a home run with one on in the ninth inning to give Wilson a win over Winston-Salem, 3-1. The next day, he hit another homer against the Red Sox in a 6-0 win. here he finished the season by playing in 42 games. Wilson finished woefully 24 games out of first place, and as Coles' average was only .243, it seemed he was near the end of his career.
1963 was last season, with Tidewater Tides in Carolina League. In 27 games hit .260, but his career had indeed ended. He finished after 12 minor league seasons with a .292 average, 176 home runs, and 357 RBI to go along with two RBI earned in his brief period with Cincinnati. Upon retirement, he became a millwright in Jefferson, Pennsylvania.
He passed away on January 25, 1996 in Myrtle Beach, South Carolina at the age of 64, and was buried in Greene County Memorial Park in Waynesburg, Pennsylvania. In 2009 was inducted posthumously into the Washington-Greene County Sports Hall of Fame[21].
In addition to the sources cited in the Notes, the author consulted Ancestry.com, Baseball-Reference.com, and Retrosheet.org.
Sources
Marazzi, Rich. Baseball Players of the 1950s: A Biographical Dictionary of All 1,560 Major Leaguers. Jefferson, North Carolina: McFarland & Co., 2004.
Nipper, Skip. Images of Baseball: Baseball in Nashville. Charleston, South Carolina: Arcadia Publishing, 2007.
Wright, Marshall D. The Southern Association in Baseball, 1885-1961. Jefferson, North Carolina: McFarland & Co., 2002.
Notes
[1] The Evening Standard (Uniontown, Pennsylvania), July 6, 1956
[2] Von Benko, George. "Chuck Coles was another Jefferson baseball star". Greene County Messenger. http://www.heraldstandard.com/gcm/sports/chuck-coles-was-another-jefferson-baseball-star/article_be836705-bdb6-5729-b73d-cd26583d5b6e.html. Retrieved January 25, 2017.
[3] The Sporting News, August 9, 1950, p. 20.
[4] Ibid., August 16, 1950, p. 22.
[5] Ibid., May 21, 1952, p. 29.
[6] Ibid., July 9, 1952, p. 43.
[7] Ibid., October 1, 1952, p. 46.
[8] Nashville Tennessean, December 10, 1952, p. 28.
[9] The Sporting News, May 18, 1955, p. 34.
[10] Ibid., p. 41.
[11] The Sporting News, September 25, 1957, p. 41.
[12] Nashville Tennessean, March 11, 1958, p. 19.
[13] The Sporting News, May 7, 1958, p. 37.
[14] Ibid., May 28, 1958, p. 35.
[15] Ibid., June 4, 1958, p. 31.
[16] Nashville Tennessean, July 17, 1958, p. 27.
[17] Ibid., May 21, 1959, p. 30.
[18] Ibid., October 16, 1959, p. 43.
[19] Nashville Tennessean, March 11, 1960, p. 24.
[20] The Sporting News, August 11, 1960, p. 41.
[21] Washington-Greene County Chapter Pennsylvania Sports Hall of Fame, http://www.wash-greenesportshall.org/2009/Coles.htm. Retrieved April 26, 2020.
© 2020 by Skip Nipper. All Rights Reserved.