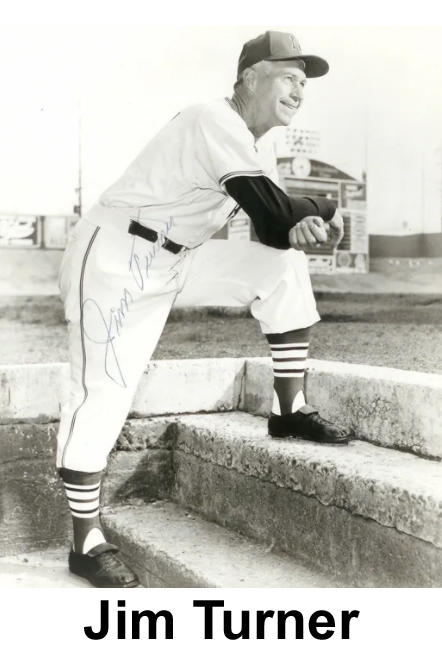 Jim Turner was announced as the new Nashville Vols manager in the evening newspaper's sports page on October 27, 1960. In bold font and all caps, the Nashville Banner headline read:
"JIM TURNER IS NAMED NEW MANAGER OF VOLS"
Underneath was printed, "Ex-Yankee Coach Surprise Choice to Replace Sisler"[1]
A few days earlier, Dick Sisler agreed to become the manager of the Pacific Coast League's Seattle Rainiers. Banner sportswriter George Leonard predicted Sisler's departure on October 16[2]. Nashville's manager for three years prior, Sisler pulled double-duty the first two seasons, playing first base while also directing the team.
Board chairman Jack Norman of Vols, Inc., the publicly-held ownership group, worked quickly behind the scenes, choosing a committee to find replacements for not only Sisler, but also general manager Bill McCarthy who resigned a week earlier. Norman named club president Herschel Greer as chairman of the selection committee. Board members Tyler Green, Kirby Primm, Dr. Cleo Miller, Joe C. Carr, Joe Sadler, John Witherspoon, John U. Wilson, Al Linx, Jr., Eddy Arnold, and J. R. Coarsey made up the balance of the committee. Other members of the board included Al Greer, John D. Ragsdale, Garland F. Turner, Harold L. Shyer, Wilfred Massey, Mack Cates Mike Holloran, and W. A. Potts of Dickson.
Quick action by the committee, working behind the scenes to broker a deal with Turner, meant for a near-seamless transaction. It was some achievement to negotiate with Turner without news being reported in the press, especially as other offers were expected. Turner had been Casey Stengel's pitching coach of the New York Yankees for 11 seasons.
Turner said he was expecting contact, as it came out of a "clear sky."[3]
To get Turner's signature on a contract, board chairman Jack Norman had to convince other owners to give full rein of the ball club to Nashville native, and unanimous approval came quickly. The former general manager, Bill McCarthy had run the Nashville franchise since 1955. When McCarthy left, it allowed Norman to promise the one thing Turner desired.
McCarthy gave a farewell statement that explained his resignation, perhaps with a tone of :
"The interests of baseball in Nashville will be better served by the selection of a general manager who would have the unanimous support and confidence of the board of directors."
It appeared Turner would have his hands full right away. Not only did McCarthy and Sisler leave, but Bill Lambie resigned as manager of concessions to take a job in Chicago, and Chuck Swope quit as team trainer to become the athletic equipment manager at Vanderbilt.
Norman held two board meetings to seal the deal for Turner, the first on the night of October 26 at Sulphur Dell and the second the next morning on the 12th floor of Third National Bank, where the board rendered the decision for approval.
Anti-climactic to the hiring of Turner, and before the board of directors got around to approving, a report was given by an auditor of the ball club's finances, John S. Glenn. He began the proceedings by disclosing the new corporation's first year included a slight loss, byt he stated his optimism for the club to continue.
"I don't know of any other business that doesn't stand to suffer a deficit in its first year of operation. I think this can become a profit-making corporation."[4]
Glenn gave a detailed accounting of the organization's income and expenses.
Finishing the first half of the split season in second place by ½ game to Birmingham, but in fifth place, 12 games out of first place in the second half. Nashville drew 129,125 paid fans. 46, 871, over a third (36.3% in fact), attended 16 promotion nights. Total attendance was nearly 40% above the previous season.
Gate receipts for home games stood at $127, 183. Concessions profit was $18,469.81, the second-largest source of income next to Sulphur Dell gate receipts.
Transportation, hotels, and meals totaled $22,422.96 when the team traveled while Nashville took in only $10,928.16 for those games for a net loss of $11,494.80.
For the year, the payroll of players and manager was $83,887.12; Sisler's salary was unreported, but McCarthy's salary had been $8,333.22. Turner's salary would be $17,500 for filing both posts.
Operating income totaled $185,407.54, including Major League player development funds of $12,500 and options and player contracts sold during the season. With operating expenses standing at $197,012.40, the resulting loss was $2,319.06.
Norman chalked the season up to one of mixed success.
"We have learned, Norman said, "and we see where we can do better next year."
The brunt of expected success rested squarely on the shoulders of Jim Turner. Within a few weeks, he announced Bill Giles, son of National League president Warren Giles, had joined the Vols as business manager, and Lem (Whitey) Larkins would become operations supervisor.[5]
Knowing experience when he saw it, he even hired Sisler at $100 a week as a ticket salesman until it was time to report to his new job in Seattle.[6]
Turner, from the Antioch community who maintained a home in Nashville, was off and running, with an eye on taking the Nashville Vols to greater glory than experienced the last few years.
Nashville Tennessean sports writer F. M. Williams touted Turner the day after he agreed to Nashville's terms.
"Jim Turner, who started his baseball career on Nashville's sandlots, returns home in the twilight of a great career for his first connection with the city's professional team."
"…nowhere in all of baseball could there have been found a man who would have the support of Nashville fans as Turner will have."[7]
It appeared to be a marriage made in heaven.
"In 37 years, I've never been home during baseball season, and I welcome the opportunity to be here next summer. I love Nashville, and always have.[8]
With attendance in the minor leagues waning, would it be a successful decision to bring Turner in, or would it lead to divorce in 1960?
Author's note: Nashville would draw 102,682 during 1960, a decline of 20% from 1959. In 1961, the final season of the Southern Association, only 64,460 fans attended games at Sulphur Dell. With no pro baseball in Nashville in 1962, the club was resurrected for one final year in 1963 as a member of the South Atlantic League. Attendance was 52,812. In comparison, in 2019 the Nashville Sounds drew 578,291 to First Tennessee Park.
Sources
Baseball-reference.com
Nashville Banner
Nashville Tennessean
Newspapers.com
Notes
[1] George Leonard, "Jim Turner is Named New manager of Vols," Nashville Banner, October 27, 1959, 20.
[2] Leonard, "Sisler to Seattle?", Nashville Banner, October 16, 1959, 25.
[3] Leonard, October 27, 1959, 20.
[4] Ibid., 21.
[5] F. M. Williams, "Giles, Larkins Added to Vols' Front Office," Nashville Tennessean, November 6, 1959, 50.
[6] Leonard, 20.
[7] F. M. Williams, "Jim Turner Fills Both Vols Top Jobs," Nashville Tennessean, October 28, 1959, 22.
© 2020 by Skip Nipper. All Rights Reserved.