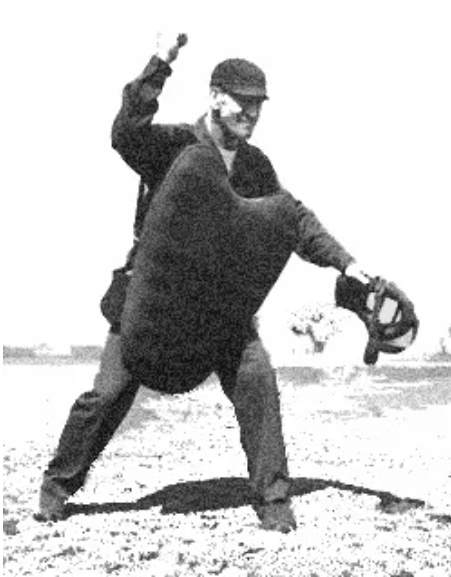 Baseball umpires have a seemingly thankless job, and Bill Brockwell often faced the un-forgiveness of Nashville managers and players for three seasons beginning in 1950. The Tulsa native previously umpired in the inaugural Sooner State League (Class D) in 1947[1] and West Texas-New Mexico League (Class C) in 1948[2]. He umpired in Texas' Big State League (Class B) in 1949, including a 16-inning game pre-season game won by San Antonio of the Texas League (Class AA) over Austin[3].
Elevated to the Southern Association (Class AA), there were no notable conflicts during his rookie season of 1950. Disdain for him did not begin until his second season in the league, especially by many on the Nashville Vols roster. "Nemesis" may be too strong a word to describe Brockwell, but it was pretty close.
For one, in the seventh inning against Birmingham at Sulphur Dell on May 31, 1951, Vols shortstop Daryl Spencer offered a few choice words to Brockwell as a commentary on the umpire's ability to call balls and strikes from behind the plate. The ump quickly sent Spencer to the showers, but that was not for the last time.
One week later, on June 5 in Birmingham, got the "heave-ho" again from Brockwell, this time for arguing on a missed force play that Daryl thought should have been an out. Tossed from three games on the season, his adversary had tossed him twice.
In Chattanooga on July 29, Vols catcher Bob Brady was chased for complaining too long about a called ball thrown by Nashville ace Pete Mallory. That seems to have set another confrontation off against the game's decision-maker. It appeared Barons left fielder Don Grate was hit by a batted ball while running from first to second, which should have been an out, but none of the three umps called it, and the entire Vols dugout erupted towards Brockwell.[4]
No further clashes seem to have occurred, and when Charlie Hurth named his selection of umpires for the 1952 season, William "Bill" Brockwell was to return.[5] When the season began, once again, Brockwell did not get off to a great start in the eyes of the Nashville players and manager.
There were no issues in the first game, when Little Rock invaded Sulphur Dell for a two-day, three-game set beginning with the home opener on April 12. Nashville lost, 9-6.
The next day was a doubleheader, scheduled to begin at 1:30 p.m. But the ire of Nashville Tennessean sports writer Raymond Johnson rained down on the umpire crew when Brockwell called both games at 2:12 p.m. due to rain and the condition of the field. According to Johnson, the umpires' decision was flawed.
"The field was already in bad shape," Brockwell told me (Johnson) in the dressing room after his decision, "and the groundskeeper said it would take more than an hour to get the field playable. It gets dark awfully early in this park. We didn't want to keep the spectators waiting and then not play…"[6]
Johnson chimed in on that reasoning.
"Brockwell and (Paul) Roy who insisted that he do most of the talking although he was not the umpire-in-chief, apparently didn't know that the field had been covered with large tarpaulins until about an hour before the game time…"
The rain stopped about the time of the decision not to play, and thirty minutes later, the field was dry.
Johnson continued. "Action like this causes a sour taste in the spectators' mouths."[7]
On June 3, one of the strangest calls in the history of Sulphur Dell transpired, and it involved Brockwell's indecisiveness. In the fifth inning, Nashville's third baseman Rance Pless, who at the end of the season would win the Southern Association's batting title with a .364 batting average, lofted a fly ball over the outfield screen, and Blackwell signaled the ball was a home run.
After a protest by Birmingham manager Al Vincent that lasted 10 minutes, the umpire reversed his decision and called Pless' stroke a foul ball. The Vols eventually lost to the Barons, 6-5; had the homer stood, Nashville would have won.
If Nashville fans in attendance at the game were expecting Raymond Johnson's wrath in the next day's newspaper, they didn't receive it. Johnson quoted Brockwell's explanation.
"The more I weighed the facts, the more I was convinced that I should reverse myself. I went over to (Nashville manager Hugh) Poland and said: 'Hugh, I know you are going to blow your top, but I'm going to have to change my decision. That was a foul ball. I cannot give you two runs and be honest with myself. Deep down I know I was wrong on that call. I know it's a jolt to you and to your ball players.' He accepted my decision in a much more gentlemanly way than I had expected."
Johnson backed up Brockwell's honesty.
"As a result of Brockwell's intestinal fortitude on this occasion, Poland has much more respect for Brockwell…I do, too…It takes real guts to change a decision that takes away two runs from the home club before 3600 home fans…"[8]
At that point, the umpire may have gained the confidence of Poland and Johnson, but that did not mean he would not make arguable calls.
In the June 22 game between Nashville and Mobile in the Vols' home park, Bama Ray swung at a pitch and missed, but the ball hit him in the back of his head. Brockwell called it a foul ball. The next game, working the bases at Sulphur Dell, he did not see the Bears' George Freese drop the ball thrown to him as Rance Pless advanced, and Brockwell called Pless out at third.
On July 12, when he ruled Vols catcher Rube Novotney had interfered with Memphis' Ed McGhee's bat, awarding first base to the Chicks right fielder, it was business as usual when Poland took up for his catcher. Surprisingly, no one was tossed from the game.
The next day in the second game of a doubleheader, Johnson was on Brockwell's wrong side once again, as Nashville's favorite son, Buster Boguskie, was tossed for arguing against a safe call at second base.
"Umpire Brockwell booted another in his usual fashion,[9]" Johnson wrote.
Then, in the fifth inning of the game of July 18, Brockwell ejected four Nashville Vols in their 10-3 loss in Chattanooga. Boguskie was sent packing again for arguing a strike decision, manager Hugh Poland was sent to the showers after continuing the debate, Johnny Liptak was chased for a comment as he passed Brockwell on his way to coach first base, and Ziggy Jasinski, who had taken Boguskie's place at bat, was banished after making another remark that Brockwell did not like. Out of infielders, Rube Novotney had to play second base.
But Novotney was tossed four days later for protesting a called third strike in a 7-2 loss to Atlanta in Nashville.
It appears there were no further conflicts for the rest of the year. Brockwell was on the umpiring crew for the Mobile-Atlanta first-round playoffs, but his umpiring career was soon to be over. Perhaps he had enough of umpiring, or the salary was not enough to support a new family. He returned to his hometown of Tulsa, Oklahoma, to take a sales position.[10]
At the time of his death, he and his wife Mary, whom he married on October 31, 1951, had seven children and had been married 63 years before his passing. They had nine grandchildren and twin great-grandchildren. Mary passed away on October 12, 2014.[11]
Note: An obituary for Bill Brockwell has not been found; Mary's obituary mentions the years of marriage.
Sources
Baseball-reference.com
Nashville Tennessean
Newspapers.com
Wright, Marshall D. (2002). The Southern Association in Baseball, 1885-1961. Jefferson, North Carolina: McFarland & Co.
Notes
[1] "Umpires Retained," Miami (Oklahoma) Daily News-Record, September 15, 1947, p. 8.
[2] "WT-NM Umpires Named; Brockwell, Odom Open Here," Lubbock Avalanche-Journal, April 18, 1948, p. 13.
[3] "Baseball Marathon (Box Score)", Austin American, April 3, 1949, p. 19.
[4] "Bama Ray Slams Out 2 Homers," Nashville Tennessean, July 30, 1951, p. 11.
[5] "Charlie Hurth Names Umps," Nashville Tennessean, March 16, 1952, p. 16
[6] Raymond Johnson, "One Man's Opinion," Nashville Tennessean, April 14, 1952, p. 15.
[7] Ibid.
[8] Johnson. June 5, 1952, p. 22.
[9] Johnson, July 14, 1952, p. 12.
[10] "Umpire Changes of Southern Association Made," Clarion-Ledger (Jackson, Mississippi), February 25, 1953, p. 13.
[11] Obituary, Mary Harpole Obituary, Mary Harpole Brockwell, Santa Fe-New Mexican, November 2, 2014. http://www.legacy.com/obituaries/santafenewmexican/obituary.aspx?pid=173002024 accessed April 18, 2020.
© 2020 by Skip Nipper. All Rights Reserved.