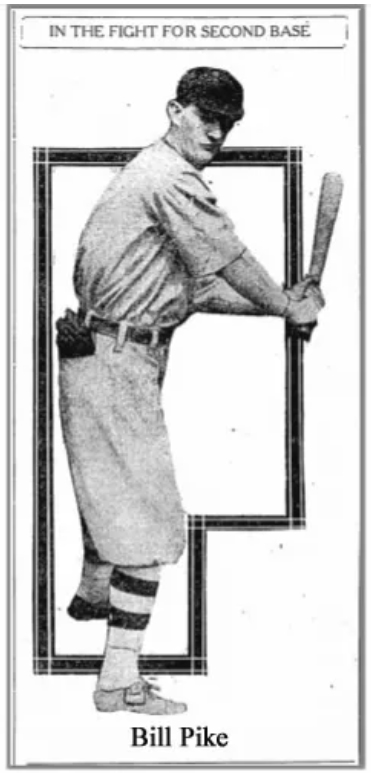 Bill Schwartz was handed the reins of the Nashville club soon after the current manager, Bill Bernhard, announced on September 23, 1910, that he would not manage the team any longer. Schwartz joined the Vols earlier that year and played first base for 62 games, hitting at a .288 clip. He came from Akron, where he played for five years, managing the champs to an 80-41 record and an Ohio-Pennsylvania League (Class C) pennant.
The 6'2″, 185-pound Schwartz had played 24 games for his hometown Cleveland Naps in 1904, his only major-league experience, on a team which included a future Vols teammate, outfielder Harry Bay. Future Hall of Fame members Addie Joss, Elmer Flick, and Nap Lajoie were on that Cleveland ball club. Those great players, along with Naps manager Bill Armour (in 1908, Cleveland announced that it would have two farm clubs: Toledo, managed by Armour, and Nashville, led by Bill Bernhard) must have been an influence on Bill and his future managerial skills.
After two fourth-, two fifth-, and one seventh-place finish, Bill had a final shot at improving his ball club. Aging Otto Williams had been a steady second-sacker, but at the age of 36 and a weak .246 average in his only season with Nashville, Schwartz saw an opportunity to bring in new blood at the position.
In 1915, Bill thought he had caught his big fish to fill the slot. On March 2, the Nashville Tennessean and American parodied a news story that about the signing of W. P. (Bill) Pike, and compared the potential of the new player to that of Boston Braves second baseman and 1914 National League most valuable player, Johnny Evers.
"Monday it was that Mr. Schwartz caught a big pike. One of the biggest pikes, according to Mr. Schwartz, that was ever landed in the vicinity. Mr. W. P. Pike of Falmouth, KY. (wherever that is) swallowed the bait which Mr. Schwartz sent out in the form of a contract for 1915.
"The new Vols is a semipro, but so flattering have been the reports that came to the boy manager concerning Pike that he finally decided to take the boy on and give him a chance. You know some of the best second sackers in the country got their start on the corner lots, and maybe Mr. Pike will turn out to be another Jawn Evers (writer's note: "Johnny" Evers of the Chicago Cubs trio "Evers to Tinker to Chance" fame). Who knows?
Bill Pike was a no-show as pre-season practice began. On March 14, he was still a "no-show" [1], but not necessarily an unusual circumstance, as only 12 players had reported at the time. Pike joined first baseman Gene Paulette, shortstop Dolly Stark, third baseman Johnny Dodge, outfielders Bert King, Tommy McCabe, and Jack Farmer, and pitchers Floyd Kroh and Heinie Berger.
Bill Ware, who would also vie for the second base position, had not shown up in Nashville as well, but the first exhibition game was not scheduled for another week when Vanderbilt would be the opponent on Saturday, March 20. The pro club won over the collegiate Commodores 6-2 in chilly Sulphur Dell, and Pike was hitless in two turns at-bat. Hoping that Pike would hold down the position at second base, Schwartz inserted Ware as a pinch-hitter in the seventh inning. After the strikeout, he replaced Pike at second for the last two innings.
When weather delayed the next game, the teams met at Dudley Field on Tuesday, March 23, and Pike was inserted as a pinch-hitter in the last inning as the Vols won, 11-4 in seven innings. Pike was hitless in two turns at-bat. Ware played right field, and Howard Baker was at second.[2]
For whatever reason, by April 11, Pike was gone[3]. Bill Ware disappeared, too. Three players shared playing second base during the season: Tom Sheehan, 67 games, George Kircher, 39 games, Howard Baker, 33 games, and Ben Diamond, 15 games.
Schwartz was not successful in Nashville, as his clubs never finished higher than fourth, and his Vols record in five campaigns was 350-360. In 1916 Schwartz became head coach of the Vanderbilt University baseball team and retired with a 155-112-1 coaching record in 19 seasons.[4]
Ware disappears from baseball history, and Pike is nowhere to be found, either. Did Schwartz's big catch turn out to be a throwback?
In addition to sources listed below, the author referred to Chris Rainey's biography of Bill Schwartz in the Society of American Baseball Research's biography project
Sources
2017 Vanderbilt University Baseball Guide
baseball-reference.org
newspapers.com
sabr.org
Notes
[1] Nashville Tennessean and American, March 14, 1915, p. 36.
[2] Ibid., March 24, 1915, p. 12.
[3] Ibid., April 11, 1915, p. 36.
[4] Traughber, Bill. "Vandy's Bill Schwartz remembered Commodore History Corner. tp://www.vucommodores.com/sports/historycorner/spec-rel/042512aaa.html, accessed March 1, 2017.
© 2020 by Skip Nipper. All Rights Reserved.